Residents of mudslide-prone Silverado Canyon brace for an El Niño winter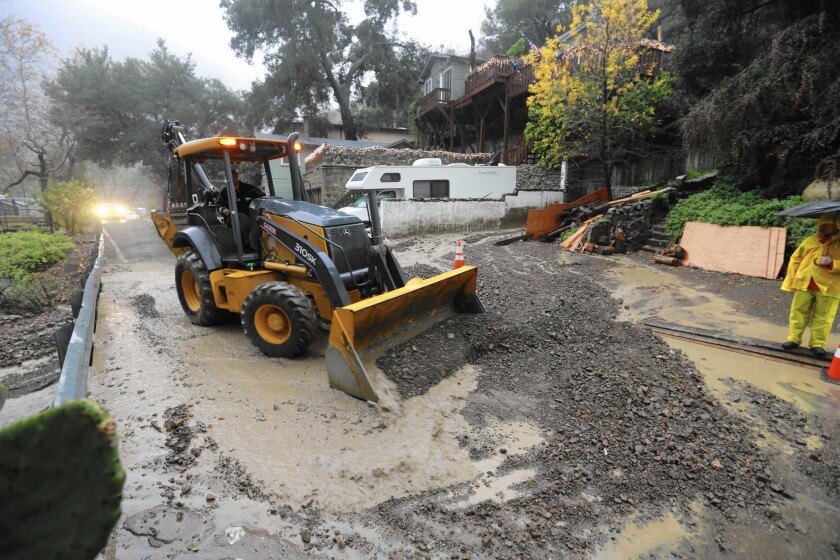 Deanna Spangler was manning the cash register last week at the Silverado Canyon Market while her fiance and the co-owner of the business, Jeff Hoagland, was pushing water out the back door.
He seemed to think the problem stemmed from a bad gutter, and with a creek running behind the shop, the couple, though they had owned the business for only five months, understood what they were up against.
As the Silverado Canyon burn area has dealt with on-and-off voluntary evacuation orders, the area's small business community has tried to keep humming.
"The last thing we want to do is close the store," Spangler said. "We're kind of a command post for the community."
This Orange County outpost, a funky space of hills, narrow roads and construction far removed from any model of beige stucco coherence, remains a sanctuary for those who appreciate its natural beauty. The dedication persists, despite the area's history of fires, resulting in mudslides during the rainy season because of denuded hills and rock slides.
Silverado Canyon feels Mother Nature's force — both in brush fires and the mudslides that often follow them. In 1969, five people were killed and 17 injured in a mudslide. In 2005, another mudslide killed a young girl.
The beginning of an El Niño winter has canyon residents on edge but also ready to defend their community.
"It's so worth it. I can't imagine living anywhere else," said Nikki Yorba, who has lived in the canyon since 1974.
She was leaving the library Tuesday, carrying tapes as she prepared to head to her mother's house in Anaheim Hills.
"Residents have to decide whether to stay in or out" and not wait until the situation requires emergency aid, Yorba said.
Marcy Lenk has lived in the canyon for 4 1/2 years. For Lenk, who grew up "in nature" in the Czech Republic, "this is the most nature you can get" in Orange County.
She, her husband and their two daughters, ages 4 and 2, have 16 pets, including dogs, cats, chickens, rabbits and a tortoise.
FULL COVERAGE: El Niño in California >>
She feels that the family lives in a safe zone in a home surrounded by concrete and pavers and not the sort of threatening hillsides found elsewhere. Lenk said the most they did to brace for the coming rains was cover their flat roof with tarp.
The wildfire of September 2014 left a "burn scar" on the landscape, Orange County Fire Authority Capt. Steve Concialdi said. Hundreds of acres burned during that fire, and mandatory evacuations were ordered.
"Experts say it takes about five years for enough growth to come back after a major fire," Concialdi said.
Conditions in the canyon are being monitored by the Orange County Sheriff's Department, the Public Works Department and the fire authority. Meanwhile, the Silverado Community Center, at 27641 Silverado Canyon Road, is functioning as an evacuation center.
A decision to go to a mandatory evacuation order is not based "on any one specific thing," said Lt. Jeff Hallock of the Sheriff's Department. "It's based on predictions from the National Weather Service, if we get to a point where we feel the service is predicting a certain amount of rain in a certain amount of time."
Even under a mandatory evacuation, people can't be forced out of their homes, Hallock said, noting "not great compliance" in Silverado under such orders. "Few people leave," he added.
"Most people here have lived here a long time and won't move until there is pending doom," said Hoagland, whose shop dates to 1964.
As he pointed out the propane, tools and emergency supplies he was building up at the store, Hoagland added, "People up here seem to be pretty prepared."
It's a "sturdy bunch here," said Lucille Cruz, who has been the community's librarian for about 40 years and was keeping the lights on with library assistant Ruth Loc last week.
"I used to live in the canyon," Loc said. "I wasn't a canyon person. I don't like the floods, fires and coyotes."
Isidoro Hernandez was serving food and beer at the rustic Silverado Cafe, another place where residents can congregate to "see what's going on."
"The community keeps an eye on each other," he said.
Zucco writes for Times Community News.
Join the conversation on Facebook >>
ALSO
As Powerball jackpot continues to swell, 'everyone wants a piece' of $1.3-billion prize
Demise of Klamath River deal could rekindle old water-use battles
How San Diego County educators are working to reduce suicides among transgender teens
---
The perils of parenting through a pandemic
What's going on with school? What do kids need? Get 8 to 3, a newsletter dedicated to the questions that keep California families up at night.
You may occasionally receive promotional content from the Los Angeles Times.