A feud over a text message ended with the fatal shooting of a teen. But was it really murder?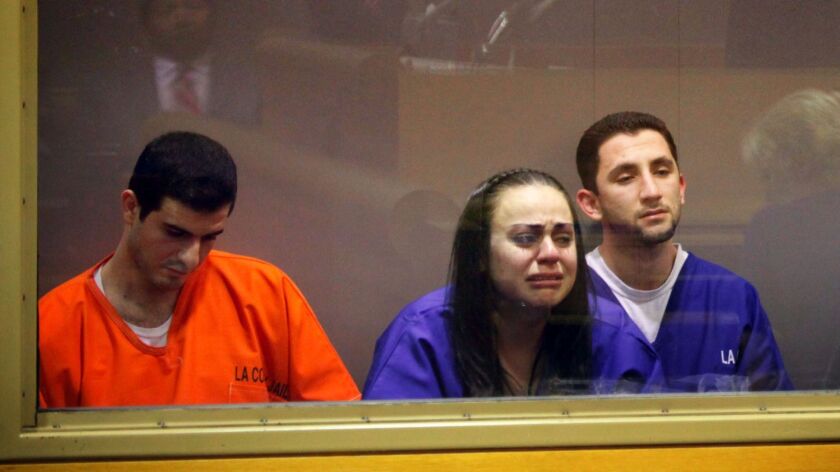 A single text message sent by a teenager set the deadly night in motion.
Within hours, the 19-year-old was dead, his skull pierced by a bullet.
The 2009 shooting garnered national attention and resulted in the first-degree murder convictions of two men who prosecutors say took offense to the text and killed the teen in an "execution-style" attack in a Sears parking lot in North Hollywood.
But now those convictions have been thrown into doubt.
Two key eyewitnesses say they lied during the trial about what they saw the night of the killing, according to a Times review of court records and transcripts.
Attorneys for the convicted men argue that the new evidence shows that Mike Yepremyan's death was an accident and that he was shot by his own gun during a struggle with one of the men. The lawyers are asking a judge to throw out the murder convictions.
Prosecutors say the guilty verdicts should stand and that the recantations can't be trusted. The witnesses backtracked from their new version of events when district attorney's investigators confronted them and surreptitiously recorded them, according to prosecutors.
Now a judge must weigh the conflicting and shifting stories about that night to decipher what really happened and decide whether the two men were rightfully convicted or if there might have been a terrible injustice.
::
The events of Nov. 18, 2009, began with a callow insult.
Yepremyan had gotten off work early and hoped to see his girlfriend. He was annoyed when she told him she was headed to a Burbank hookah lounge with her friend Kat Vardanian, whom he disliked.
In his text to his girlfriend, he made it known: "Every time u hang out with that bitch u guys get hookah I don't understand it is there something cool bout her n hookah that u enjoy so much?"
Vardanian saw the text almost immediately after it flashed up on her friend's phone. Angry and offended, she said she was going to call her brother to beat him up.
The phone calls to Yepremyan came in soon after. Strangers pressed him on why he called Vardanian a bitch. A meeting was arranged at the Sears parking lot to resolve the dispute.
Yepremyan began recruiting friends for backup. Guys who were tough, who would understand that the talk could get ugly. Five people showed up to support him.
Soon, two men rolled up in a black BMW with tinted windows and no front license plate.
The confrontation began peacefully with handshakes and a conversation, but quickly turned physical. Punches were thrown. A gunshot went off. A bullet flew through the back of Yepremyan's head, leaving him twitching on the asphalt in a pool of blood as the two men fled in the BMW.
Police found a 9-mm shell casing near the victim, but were never able to find the gun.
Vardanian's cousin Vahagn Jurian and his friend Zareh Manjikian were charged with murder. At their trial, all five of the victim's wingmen testified that they heard a loud bang during the fight in the lot. No one saw a gun.
The prosecutor argued that the weapon belonged to Manjikian, who witnesses said had been keeping his hands in his pockets before the fight and was throwing a punch when the gun was fired.
"There's a saying about alcohol, about liquid courage," Deputy Dist. Atty. Ed Nison said in his closing arguments. "Well, having that 9-millimeter handgun gave Zareh Manjikian a different kind of courage, and that's why he wasn't afraid to push things."
Both men were convicted by a jury and sent to prison for life.
::
With the verdict, any dispute over what happened appeared settled. But a lawsuit filed by the victim's family against the two convicted men led to fresh questions.
Days before the witnesses were scheduled to be deposed, the lawsuit was abruptly dismissed at the request of the Yepremyan family.
Michael Levin, an attorney representing Manjikian, said he was intrigued when one of his colleagues on the case told him he had received a notice of the dismissal from a plaintiff's lawyer who remarked that the depositions could be called off since the lawsuit was over.
"I go, 'Wait a minute, something's really funny here,'" Levin said.
He said the defense lawyers decided to press ahead anyway and ask witnesses if they wanted to give a voluntary interview under oath. Two of the men who had accompanied Yepremyan the night of his death agreed.
Transcripts filed in court detail what Gevorg Pashayan and Edgar Asaturyan told the lawyers under oath.
Pashayan, who was friends with the victim, said when he arrived at the parking lot that evening, Yepremyan lifted up his shirt and flashed a black pistol tucked in his waistband.
"I got a nine just in case," he recalled Yepremyan saying, referring to the 9-millimeter gun.
Both witnesses said Yepremyan pulled the gun from his waistband. Manjikian then reached for it, prompting a struggle over the firearm, they said.
I should have told the truth a long time ago.
— Gevorg Pashayan, a key witness, in a sworn interview
During the tussle, Asaturyan said, Manjikian took control of the pistol and was trying to use it to hit Yepremyan in the head when it accidentally went off.
"It was an accident," said Asaturyan, who didn't know the victim but drove Pashayan to the lot that night. "Not an act of murder."
Jurian and Manjikian drove off, leaving the gun behind, while two others there to support Yepremyan left in their dying friend's car, Pashayan said.
"We're going to go chase them," they told Pashayan.
Meanwhile, he said, he noticed the gun had vanished.
Too frozen to dial 911, Pashayan said he raced to Sears for help.
Pashayan said he felt guilty after testifying at trial and not mentioning the gun. He said he couldn't sleep at night. When he'd show up to church, he'd walk in and leave immediately.
"I can't live like this knowing that two people got convicted for a crime that they basically didn't do," Pashayan said. "I should have told the truth a long time ago."
::
Lawyers for the convicted men filed court papers seeking to toss out the convictions.
Prosecutors sent out investigators to secretly record interviews of the recanting witnesses. By then, more than two years had passed since their interviews under oath.
Two detectives grilled Pashayan on his new story, at one point telling him he was "playing with fire" and was "on an ice float" by himself, according to a transcript of the interview filed in court.
He was unequivocal — he saw a gun tucked in Yepremyan's pants. But whether that was the gun that killed him, he couldn't say for sure.
"I'm not trying to sugarcoat the situation," Pashayan said. "I'm just trying to say what I know, what I didn't say, what I should have said and this is what it is."
Before he testified in the trial, he said, he told a prosecutor about the gun under Yepremyan's shirt, but was told to keep quiet.
The prosecutor, Nison, told The Times that the allegation, as well as Pashayan's new story, was a "total fabrication."
"For some reason, he has decided to come up with a new story that is not based on what happened," Nison said.
Meanwhile, Asaturyan backtracked when those same investigators asked him if Yepremyan had the gun.
"The gun? No," Asaturyan replied, according to a transcript of the surreptitious recording.
"You never saw him with a gun?" an investigator asked.
"No, he —"
"Did he ever show a gun to Gevorg?"
"I wouldn't even be there if there was a gun. Like seriously, I'm starting — like I don't want to deal with people who have a gun," Asaturyan said.
Later in the interview, he said he assumed Yepremyan brought the gun and showed it to Pashayan in the parking lot. Ultimately, he couldn't definitively say who brought the gun.
"I can't know for sure because we didn't, like, frisk them," he said.
Remembering what happened, he said, was more difficult than his SAT.
::
Prosecutors argue that the recantations are not backed up by any reliable evidence.
Deputy Dist. Atty. Nicole Flood said all of the witnesses were interviewed multiple times up to the trial and none ever mentioned that Yepremyan had a weapon.
"The reality is nobody brought up any hint that the victim brought a gun that was struggled over," she said.
Also, she said, other evidence pointed to the death being a murder. The gun barrel was pressed against Yepremyan's skull when it was fired, suggesting he was shot point blank in the back of the head.
In a court filing, Flood cited evidence of a frantic phone call Abraham Jurian got from his son the morning after the shooting. The younger Jurian told his dad his friend took out a gun and struck the victim with it when it went off, but the shooting was an accident, according to the filing.
Pashayan and Asaturyan declined to be interviewed for this article.
At a recent evidentiary hearing, both appeared but would not testify after the district attorney's office refused to grant them immunity from prosecution for perjury.
Several witnesses did testify, including one absent during the trial who appears to have corroborated a key point in the pair's new story.
In the hours before Yepremyan was killed, Armond Aladadyan said he had gotten a phone call from one of Yepremyan's closest friends asking for backup. Aladadyan said he was unavailable because he was driving back to Los Angeles from Palm Springs.
But in the background, Aladadyan said, he heard Yepremyan say something.
"Ask him if he has a nine," Yepremyan said. "I have one. We need more."
At the same evidentiary hearing, however, the friend who had called Aladadyan — Ohan Barsamian — said there was no conversation about firearms before the meeting.
To overturn that verdict, you have to truly have a miracle happen. We're hopeful something is going to happen.
— Anna Jurian, the sister of one of the men convicted of murder
Meanwhile, another one of Yepremyan's friends testified about an awkward phone call he got a few months after the shooting. It was from Aladadyan, who said he heard from his friend or cousin that Jurian didn't know about a gun that night or what was going to happen.
"He wanted me to clear his name," Ali Hosseini said of the phone call, according to transcripts of the hearing. "I told him that I can't do anything for him and he should contact the police if he knows anything about what happened that night."
Aladadyan denied contacting Hosseini or any other witnesses after the shooting.
At the evidentiary hearing, Barsamian and Hosseini repeated what they said at the trial — that their slain friend didn't bring a gun. But they did admit that another friend had brought a shotgun in the trunk of Yepremyan's car — a fact that they had previously hidden but came clean about shortly before they testified at the trial.
On the last day of the hearing, Superior Court Judge Gregory Dohi said recantations should be viewed with skepticism.
"But you don't rule 'em all out," he said, later noting that it could take him up to two months to reach a decision. "I have a lot to think about."
While the judge considers the new evidence, Manjikian's and Jurian's families — who have long maintained the men are not murderers — see a glimmer of hope.
"Once you have a jury verdict, it's like a decision that God has made," Jurian's sister Anna said, through tears. "To overturn that verdict, you have to truly have a miracle happen. We're hopeful something is going to happen."
To read the article in Spanish, click here
alene.tchekmedyian@latimes.com
Follow me on Twitter @AleneTchek
ALSO
Child protection agency misses hundreds of payments due to computer glitches
1976 rape and murder case of Righteous Brothers singer's ex-wife is solved, detectives say
Man fatally shot by Alhambra police
L.A. tallies its homeless population amid concern about rising encampments
---
The stories shaping California
Get up to speed with our Essential California newsletter, sent six days a week.
You may occasionally receive promotional content from the Los Angeles Times.