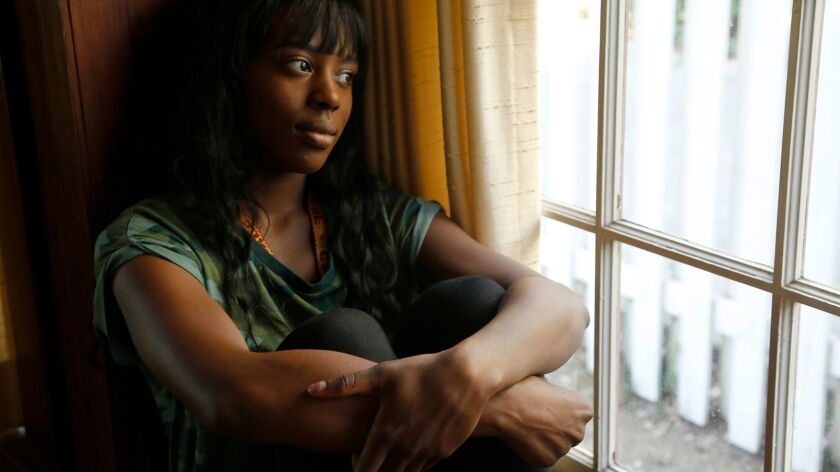 Glitches in a new computer system at Los Angeles County's child protection agency have caused hundreds of missed payments to foster care parents, group home managers and others receiving public assistance, according to county officials.
Those living paycheck to paycheck found themselves in dire straits. One young woman said she was kicked out of her apartment. Another had to wait in food lines to find something to eat. A group home manager said she had to borrow thousands of dollars from friends to make payroll.
The problem stems from a new digital case file system implemented by the Department of Children and Family Services late last year, a conversion that county officials said was required by state law. About 500,000 cases had to be moved to the new system, according to DCFS officials.
The missed payments come at a particularly sensitive time for DCFS as officials face a critical shortage in foster care beds. Thousands of kids in recent years were moved to facilities not meant for long-term housing.
Department head Philip Browning downplayed the problem, saying it affected only about 700 payments out of some 46,000.
There were bound to be hiccups with such a massive digital conversion, Browning said.
"There's no single conversion or implementation I've ever seen where everything worked 100% correctly," Browning said. "I don't think that exists."
It took a toll on me mentally, worrying about how I'm going to eat, worrying about how I'm going to get to school, things people shouldn't have to worry about.
Myeisha Jackson, student
He said the county has expanded the hours of a hotline and dedicated more staff to resolving the problem.
"I believe that all of those situations, for which a payment wasn't made, have been addressed," he said.
When the money finally came for 21-year-old Myeisha Jackson, it was a little too late.
Jackson was getting $883 a month under a DCFS program that helps ex-foster care youth like her transition to adulthood. She's a full-time student at Pasadena College, and the county assistance has been her only income.
She said after several months of missed payments she finally received her money in December.
By the time it arrived, her landlord had already thrown her out of her apartment, she said. For months, she scrambled just to eat and find a place to live, at times staying with a friend and then finally her sister.
Getting DCFS to correct the problem was a difficult task, Jackson said. Social workers told her there was a hotline to call for young people in her program, but the number was almost always busy. She said she called dozens of times a day trying to get through to someone.
"It took a toll on me mentally, worrying about how I'm going to eat, worrying about how I'm going to get to school, things people shouldn't have to worry about," Jackson said.
Trent Lee was also receiving assistance under the program. His checks stopped coming about three months ago. He wasn't eligible for food stamps because he had signed up for the DCFS money. When he didn't receive his monthly payments, he resorted to standing in the food lines at a local church to eat.
"It's kind of humiliating," Lee said. "Because you know you can't do this on your own."
Lee also said the county's hotline was busy when he called. One day he called right at 8 a.m. to try to beat everyone else calling. An automated system answered the phone, telling him he was No. 40 in line.
In the cases of Jackson and Lee, Browning at first disputed their stories, saying they had received all they were due and on time.
Jackson provided pay stubs to The Times that showed her payments were late, and included notations that said DCFS officials were unable to setup her checks through the county's case management system.
Lee also insisted that he hadn't been paid. After The Times' inquiry, he said he received a call from a DCFS official acknowledging his missed payments and blaming it on the new system.
In a subsequent interview, Browning acknowledged he had been mistaken about their cases.
Browning and other child protection agency officials said the missed payments resulted from a combination of glitches within the system and information — such as addresses and ID numbers — being entered in ways the system didn't understand. The cause of a missed payment could be as simple as an errant hyphen, Browning said.
In 2012, the county approved a contract with Accenture, LLP worth $730 million to implement the new case management system across two county departments, one that administers a broad range of social services and the other focused on child protection. A company representative referred requests for comment to county officials.
Leslie Heimov, executive director of the Children's Law Center of California, said her organization has been tracking more than 50 young people who have gone unpaid because of the system glitches. She said the county was slow to do anything until advocacy organizations such as hers got involved and started calling and emailing every day.
According to Heimov, many still haven't been paid months after not receiving their checks. Her organization has also received reports of kids being ousted from their homes for missing rent and "with their things thrown out." One had to drop out of college because he couldn't make tuition, she said.
"To have the entity helping them to learn to be responsible dropping the ball, and dropping it hard, so these kids are left without being able to pay their rent, and late fees…. it adds a whole other layer for why these kids leave the system so angry and frustrated," Heimov said.
ALSO
Child abuse in the military: The short, sad life of Rylan Ott
Head of L.A. County's child protective services agency to retire in early 2017
L.A. County supervisors call for study of child risk assessment tool after boy is found dead in closet
---