Ticketed and towed: Owner of minivan hopes his court victory inspires others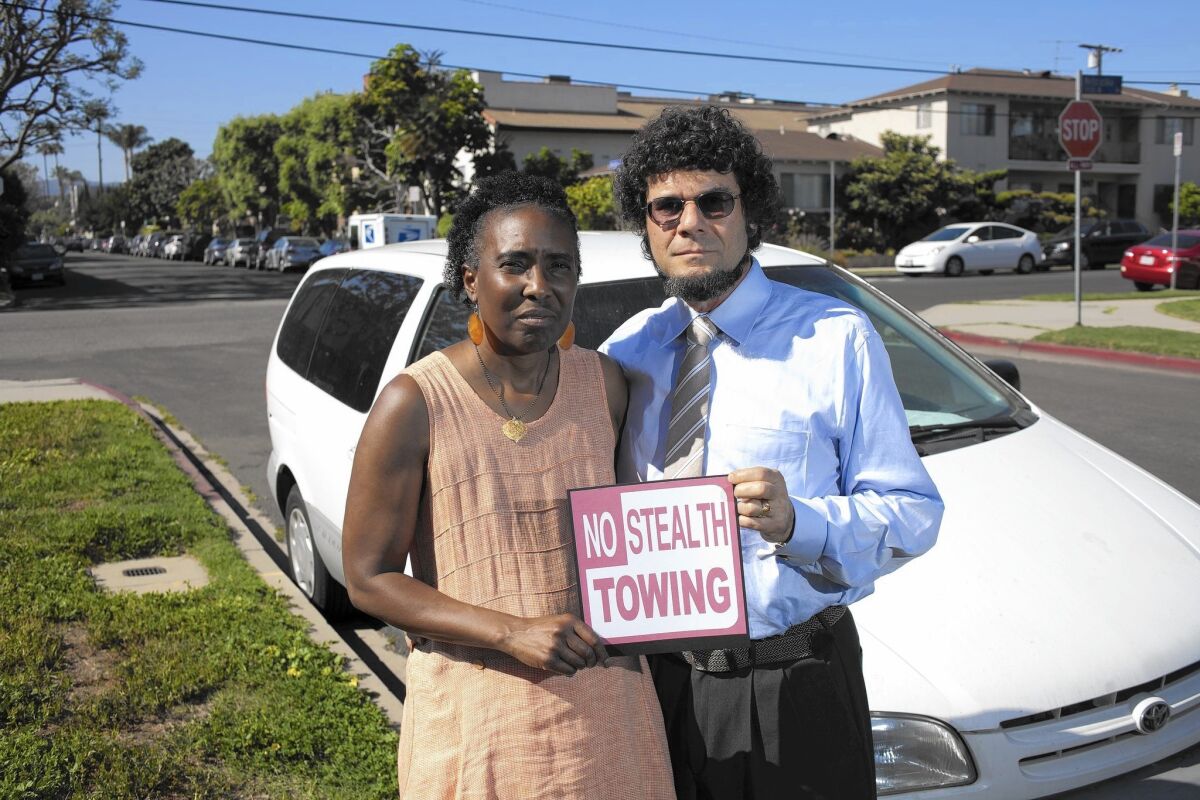 J. David Sackman won an unexpected court victory this month against Los Angeles parking officials.
The Westside lawyer got a judge to agree that he had been unfairly ticketed for leaving his minivan in the same space on the street for more than 72 hours.
Sackman explained to Superior Court Judge Mark Borenstein that he had returned from a short vacation last September to find his 1999 Sienna gone.
Only then did he learn that officials can tow any vehicle that sits in one spot for at least three days — a law meant to keep drivers from hogging a space given the city's short supply of street parking, especially in neighborhoods crowded with apartments.
But Sackman presented a novel argument: that by towing him, city officials had violated a section of the California Vehicle Code, which requires that a sign be posted to warn motorists of parking limits.
Previously, city lawyers acknowledged that no signs warning about the limit have been installed anywhere in L.A., which towed 4,539 vehicles last year. They said several court decisions had held that no such notice was constitutionally required.
NEWSLETTER: Get the day's top headlines from Times Editor Davan Maharaj >>
On that day in court, neither city lawyers nor parking officials showed up to defend the city's action.
The judge promptly sided with Sackman, reversing the ticket and awarding him the $93 he paid in fines and fees, according to court documents.
Because the only issue was the validity of Sackman's ticket, the judge did not have authority to order a refund of his $274.20 impound fee. Nor could he settle the broader legality, which Sackman is also contesting in federal court.
In May, U.S. District Judge Dolly M. Gee dismissed that case, saying the parking citation placed on Sackman's van constituted proper notice of the towing law. Sackman's appeal of that ruling is pending in the U.S. 9th Circuit Court of Appeals.
In an email, Rob Wilcox, a spokesman for City Atty. Mike Feuer, said the parking ticket victory has "no bearing" on the federal court case.
Bruce Gillman, a spokesman for the city's Department of Transportation, said the city follows state laws that govern which signs are posted and where.
"An argument can be made for his [Sackman's] case," he said. "But the counter-argument is ... you can't have signs for all the things that would get your car towed."
Interested in the stories shaping California? Sign up for the free Essential California newsletter >>
Requiring that local governments post signs for every law on the books could "open a Pandora's Box" that would reach far beyond the 72-hour parking restriction, said Jessica Levinson, an associate clinical professor at Loyola Law School in Los Angeles.
From watering a lawn on a restricted day to not signaling a left-hand turn, "there are things we do every day that are legal or illegal and don't have a sign to advertise them," Levinson said. The Court of Appeals could accept the overturned citation as new evidence, she said. "But honestly, a traffic court's decision having any bearing?" she said. "I guess I'm kind of dubious."
One ticket being overturned "won't open up a can of worms for every similar ticket," said Gary Means, a spokesman for the International Parking Institute, an industry trade group.
But consider this: At least one other Los Angeles resident has gotten a 72-hour parking ticket overturned based on the state vehicle code.
In 2013, Robert Moffie of Studio City challenged the parking restriction on behalf of a disabled friend whose pickup truck was towed although it displayed a handicapped placard. The state code, it turns out, also requires that vehicles with disabled placards be free to park for any length of time on city streets.
In that case, Superior Court Judge Michael J. Raphael tossed out the ticket. And without admitting any wrongdoing, the city settled with Moffie in a related civil case by reimbursing him $2,897 for legal fees, the fine, the impound costs and court fees.
Gillman said city officials maintain that motorists with disabled placards are not exempt from the 72-hour limit because it is state law.
Though no one can predict whether the vehicle code will become a new tool to fight the 72-hour parking limit, Sackman said he hopes his success will inspire others.
"This isn't a legal precedent," Sackman said. "But we're hoping that it can help other people challenge the rule on the same basis."
ALSO:
South L.A. residents resist oil firm's plans to burn gas at drilling site
Executives at second L.A. County youth home are accused of embezzlement
LAPD broke labor laws in requiring some officers to repay training costs, court rules
---
The stories shaping California
Get up to speed with our Essential California newsletter, sent six days a week.
You may occasionally receive promotional content from the Los Angeles Times.