High stakes for California's Chinese connections as Trump-Xi summit begins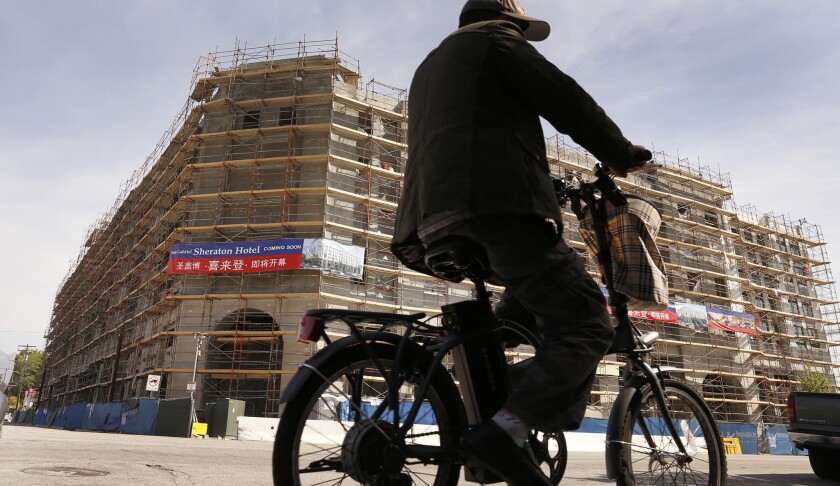 As Chinese leader Xi Jinping and President Trump forge a new future for U.S. and China policy after their first summit Friday, few places have more to gain or lose than California.
For several years China's booming economy has poured money into California, thanks to healthy relations between the U.S. and China.
Chinese developers are reshaping downtown Los Angeles' skyline, and buyers have kept the state's real estate prices high.
Chinese students — and their elevated international tuition rates — provide important income for cash-strapped universities. And Chinese visitors — Los Angeles County saw 1 million last year — spent $1.2 billion in the county in 2015.
But in certain sectors, China's robust contributions to California's economy were already slowing in recent months. And some in the San Gabriel Valley fear that Trump's tough rhetoric about trade and North Korea could make things worse.
China is getting nervous.
Syaru Shirley Lin, a professor at the University of Virginia
At America Asia Travel Center, a Chinese tour company in Monterey Park, business hasn't been this bad since 2009, said assistant president Jonathan Ming Ren Liu.
"Hotels are all calling us looking for reservations," Liu said.
The Chinese New Year travel rush was particularly slow this year, and many of the smaller tour bus companies are suffering, he said. His company, which employs about 100 people, has avoided downsizing, but he's had to cancel two bus tours for May.
Canceled tour buses mean empty rooms at hotels, and declining profits at the ginseng stores, gift shops and restaurants clustered around them.
"We're still looking at the positive side. It's still early. Maybe if we have a big May," Liu said.
Chinese tourism to Los Angeles has seen seven straight years of double-digit growth. But China has shown its willingness to retaliate economically after talks fail. Beijing recently restricted Chinese tour groups from traveling to South Korea after leaders there deployed a U.S.-made missile defense platform.
"We stand to lose a lot," said Robert Kleinhenz, an economist at Beacon Economics who analyzes California's economy.
Some of the new administration's stances have already alarmed Beijing.
During his confirmation hearing, Secretary of State Rex Tillerson appeared to threaten a blockade of islands China is building in disputed territory in the South China Sea.
Trump's decision to accept a phone call from Taiwanese president Tsai Ing-Wen appeared to be a rejection of the One China principle — until his administration released a statement affirming the U.S.'s long-standing acceptance of it.
"China is getting nervous," said Syaru Shirley Lin, a professor at the University of Virginia who studies international politics. "People are moving in unpredictable ways."
By most metrics, China and California's economic relationship remains strong.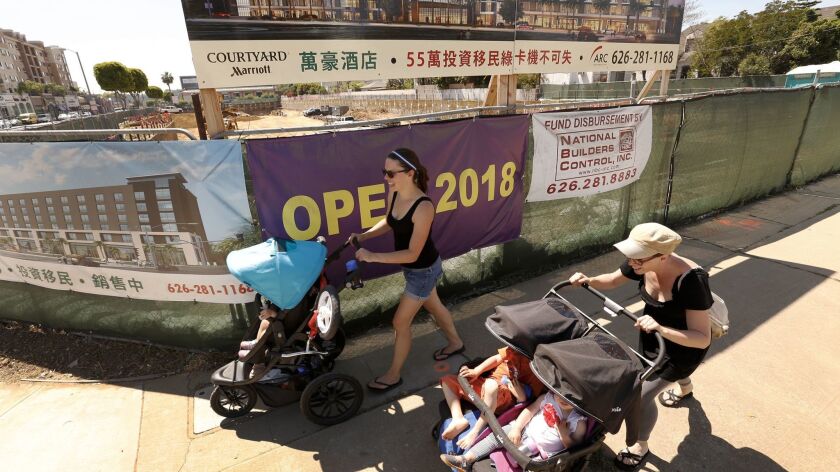 The specter of uncertainty can have a cooling effect on our economy.
Robert Kleinhenz, Beacon Economics
Chinese investment in the United States, which has grown for the past five years, tripled to $46 billion last year, and California was the most popular target among investors, according to the Rhodium Group, which tracks Chinese investment in the U.S.
But tighter controls on how money leaves China have caused slowdowns in other industries.
Chinese nationals are buying fewer houses in California, said Jordan Levine, senior economist for the California Association of Realtors. International buyers — more than half Chinese — now account for just 3% of the state's home sales.
And the state's booming international education market — which saw nearly 150,000 students bring $5.2 billion to the state's economy last year according to NAFSA, an international education nonprofit — is showing signs of a slowdown.
At the University of California, the number of foreign applicants declined this year for the first time after several consecutive years of growth.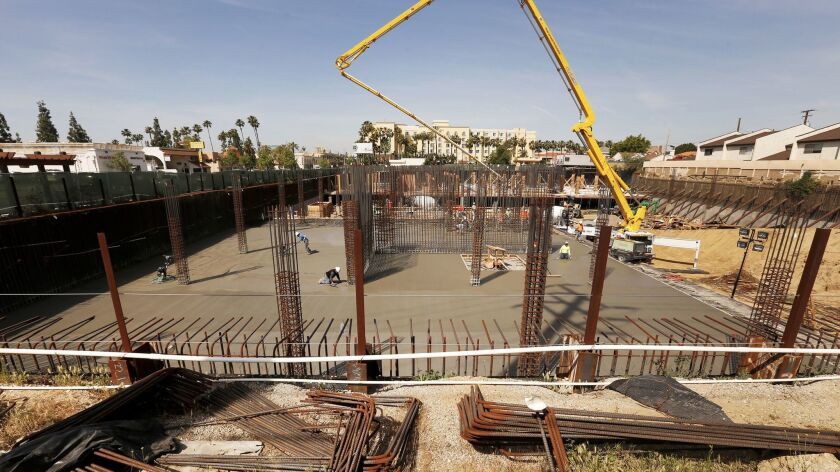 A recent national survey of 261 universities and colleges found that 39% of institutions saw declines in foreign student applications this year, with many of those also reporting declines in applicants from China.
Students told colleges that they did not apply because they were worried about new restrictions on visas and travel, according to the survey by the American Association of Collegiate Registrars and Admissions Officers. Others were concerned that the U.S. attitude toward outsiders was becoming less welcoming.
State-owned enterprises, China's largest companies, are also spending less money in the U.S., Lin said. That's because the Chinese government is narrowing the kinds of foreign investments companies and individuals are allowed to make.
"Real estate, Hollywood, hotels — all of these will be under closer scrutiny going forward," she said.
Under Trump, Chinese businesses also expect stricter standards from the Committee on Foreign Investments in the United States, a federal panel that reviews significant business deals with foreign nationals.
And on the campaign trail, Trump called for a 45% tariff on Chinese goods.
Even if real policies don't materialize, Kleinhenz said, "the specter of uncertainty can have a cooling effect on our economy."
In the end, experts said, it's hard to know exactly how Trump's tough talk and seeming unpredictability will change the relations with China.
And Friday's summit offered few specifics. Trump told reporters Friday that the two countries had made "enormous progress," but he didn't elaborate.
Xi was equally vague in a statement posted to China's Foreign Ministry website. He urged cooperation on trade but did not give details.
"We have a thousand reasons to get China-US relations right, and not one reason to spoil the China-US relationship," Xi said in the statement.
Still, the prospect of uncertainty is rattling nerves as several projects built with Chinese clientele in mind are nearing completion across the San Gabriel Valley.
In San Gabriel, a five-story, 288-room Sheraton hotel on Valley Boulevard that could open by the end of the year is expected to create about 300 jobs and bring in $2 million from occupancy taxes, city officials said. Down the street, workers are digging the foundation for a six-story, 222-room Hyatt Place also expected to create hundreds of jobs and generate millions in tax revenue.
A few blocks down Valley Boulevard in El Monte, a 133-room Hilton Garden Inn funded by Chinese investors opened this year. In neighboring Monterey Park, city leaders are expecting a six-story Courtyard by Marriott hotel, as well as a six-story Doubletree hotel.
San Gabriel officials are counting on revenue from the two new hotels to help pay for a new $27.5-million police station. And Chinese tourism is an essential part of the hotels' success, said City Manager Steve Preston.
Local industries that rely on Chinese money are making adjustments. Raymond Tsai, a real estate broker in the San Gabriel Valley, says Realtors who depend on Chinese buyers are suffering. Luxury homes listing for more than $1.5 million don't sell as quickly anymore.
"High-profile, high-asset clients want to stay low key because they don't want to attract political attention for wiring money out of the country," Tsai said.
Tsai has had to adjust: Half his clients were Chinese buyers two years ago; now they form less than 20% of his business. If relations between China and the U.S. suffer after the summit, it could mean more capital controls and even fewer buyers.
"We are definitely paying attention," Tsai said.
Twitter: @frankshyong
ALSO
Trump's tough talk on North Korea will be put to the test in his meeting with Chinese leader
Nominee to head U.S. trade negotiations defends Trump, criticizes China
In Asia, China looks like the winner after scuttling of Trans-Pacific Partnership
---
UPDATES:
2:41 p.m.: This article was updated with new information from the summit.
---
The stories shaping California
Get up to speed with our Essential California newsletter, sent six days a week.
You may occasionally receive promotional content from the Los Angeles Times.