At a humble ceremony, remembering the L.A. County's unclaimed dead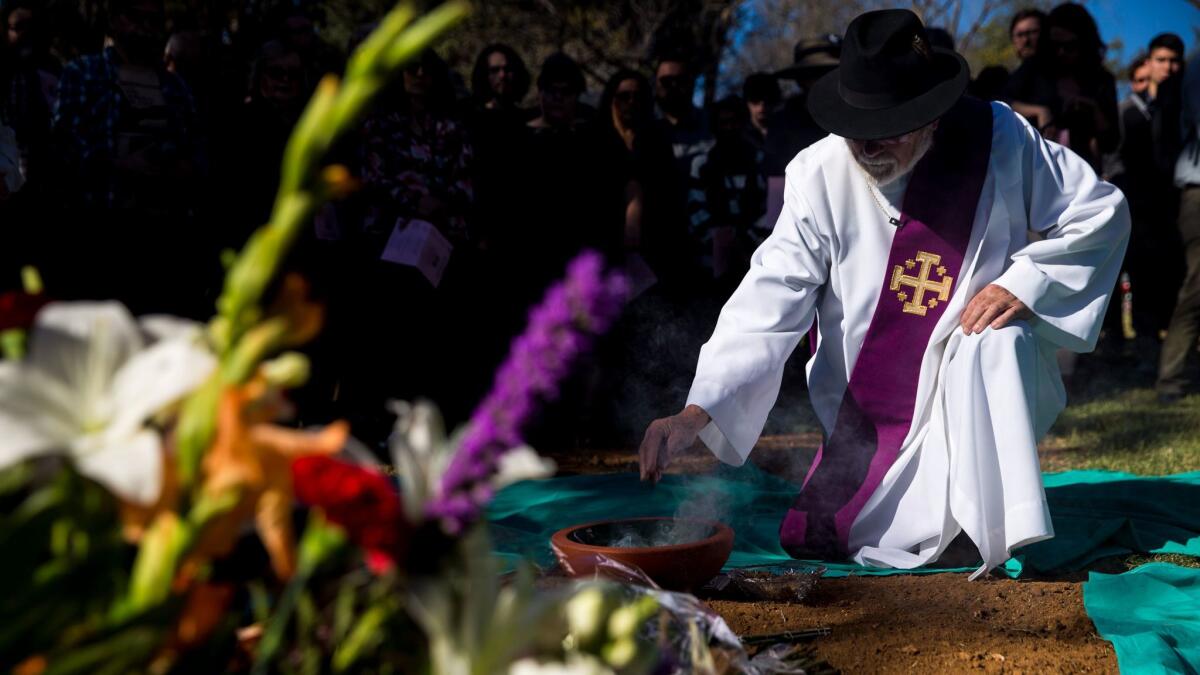 On her first visit, Mary Alice Swanson placed a bouquet of yellow daisies on the plot where more than 1,400 people's ashes were laid to rest.
Swanson, 53, said she picked yellow because "to me, yellow is a symbol of Christ, happiness and peace."
She was one of more than 250 people who went to the annual burial of the unclaimed dead at the Los Angeles County Cemetery on Wednesday morning.
Many of the dead have "no one but the county" and those in attendance to mourn them, said L.A. County Supervisor Janice Hahn.
Hahn stepped onto the teal sheets surrounding the plot and laid down white and purple roses next to blue, red, orange and yellow ones.
For Swanson, bringing flowers "felt like the right thing to do … a respectful token," she said.
The people buried died and were cremated in 2014. The county waits three years to bury the ashes, giving any possible relatives a chance to claim them.
Matthew Santogrossi, 52, has attended at least six ceremonies since he was 15.
"I feel for the people" who died and whose families "can't afford to pick up the burial services … even the babies who had one day of life," he said.
Some families left toys — action figures, trucks, cars — at the plots where children were buried.
Kim Cooper wept during the ceremony, dabbing her eyes with a red and black handkerchief. She remembered discovering how Leonid "Leo" Vaisman, a local street performer, was one of the unclaimed.
Vaisman was loved for his "fortune telling cats," said Cooper's husband, Richard Schave. When he disappeared, the couple looked for him — and found he was on the list of unclaimed dead.
For some of the families of the unclaimed, "it's not like they don't want to give them a burial," Cooper said.
Burying the dead and all the expenses that come with it are simply too expensive for some people, she said.
Cooper lamented "so many stories" left untold.
"So many lost people who fell through the cracks," she said.
Sign up for Essential California for news, features and recommendations from the L.A. Times and beyond in your inbox six days a week.
You may occasionally receive promotional content from the Los Angeles Times.