More than 400 new USC students are the first college-goers in their families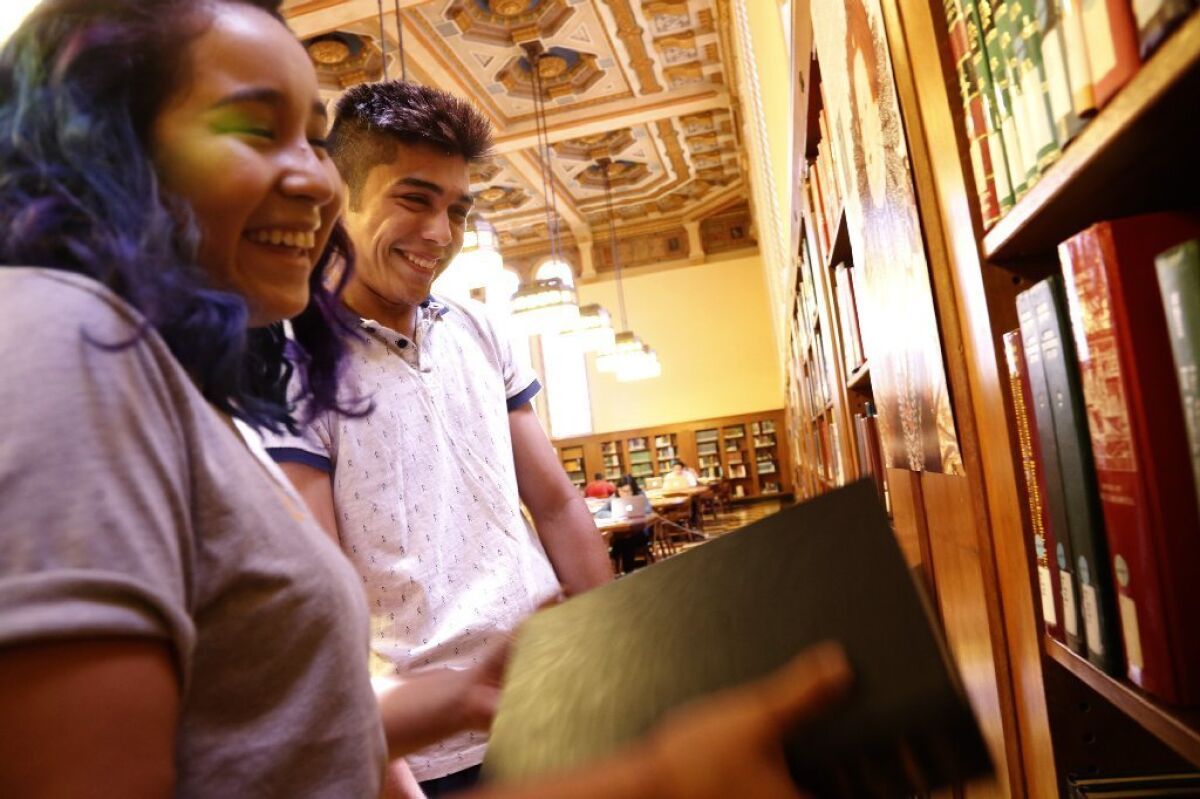 Victoria Perez grew up in the Mexican "barrios" of Houston and said it still feels surreal that she moved into a USC dorm this week. At home, going to college was an exception, not an expectation. Her parents made it through high school and encouraged her to reach higher.
When her doctor heard where she was going to college, he put down his stethoscope in surprise. His daughter had also applied to USC a few years before but did not get in.
The doctor reminded her, she said, that USC was known as the school for spoiled children.
But her mother, so proud of her daughter's tenacity, shook her head. "SC," she said, "stands for the steadfast and the courageous."
On campus last week, Perez was one of more than 400 students who became the first in their families to unpack suitcases in dorms, join campus orientation groups and embark on a four-year journey through college. Unsure what to expect at a private school known for its football and rich kids, many were surprised on move-in day to find others who shared similar backgrounds and desires not only to prove themselves, but to inspire friends and family back home.
All told, about 20% of the university's undergraduates, including the student body president, are first generation. Most are supported by some form of financial aid.
Being the first in the family to experience college at a private school can feel different than at a public one. There's evidence of privilege all around, even in the shared assumptions in classmates' conversations about the future. How do you fit in with those toting new laptops, posting summer vacation Instagrams, already discussing law-school application strategies and planning where to study abroad?
The university has boosted efforts over the years to help students navigate the culture shock of joining such an environment. There are crash courses on how to use the many resources at the library, sessions on fellowship opportunities and tutoring centers. Seminars to help students think about what steps they need to take toward graduate school and future careers — because as the first in their families to go to college, they will also be the first to figure out what to do with an undergraduate degree.
Getting more first-generation students into schools like USC is the first step, said university provost Michael Quick, but ensuring that they're happy on campus and that they graduate at the same time as their peers requires extra attention from faculty and administration.
"Where I see the big difference is they don't know all of the things that they can take advantage of at USC or at any school," Quick said. "They don't know who to ask, or are too shy to ask because they feel like they're not part of it or 'Everybody else seems to know, so I better not ask or else I'll look silly.'"
Empowering such students is personal for Quick, who was the first in his family to attend college. His father was a construction worker and chased jobs all over the country. By the time he got through high school, Quick had attended 16 different schools.
The college application process was uncharted waters. Quick first learned about the need to take the SAT for college admissions when he realized that all his classmates already had taken "something called the PSATs."
He found his way through an undergraduate program and went on to complete a doctorate in neuroscience at Emory University. He still remembers the many questions he had at every milestone and the people who helped answer them.
"For every student who really wants a USC experience, we're going to work to find a way for them to have that experience," he said. "Higher education is still the great road to prosperity. It's the safest bet toward a more fulfilling life."
On the evening of move-in day, after tucking sheets into twin mattresses and taking family photos next to numerous fountains and the Tommy Trojan statue, hundreds of first-generation students and their parents crowded into the Ronald Tutor Campus Center to learn about the questions they didn't even know to ask.
As they waited to enter the ballroom, some traced their fingers down a wall lined with donor names etched in gold. Others whispered to their parents and tried to stand up straight.
"First things first," Quick said as he stepped onstage, "what the hell is a provost?"
The crowd laughed. He reminded the students that their skill sets already put them ahead.
"Skills like how to make the right decisions with limited information, how to deal with failure …, how to motivate yourself, how to care about others, how to give back to make society better than it is today," he said. "That's what I hope for all our graduates, but what I've noticed over time is that first-generation kids already have that in spades. You had that when you were 5, and now you have it here as adults."
Linda Meyers nodded along. With no college graduate to help her, she had Googled the financial aid process, filled out all the paperwork, completed the many checklists to get her from a year at Santa Barbara City College to USC, where she wants to double major in English and "something interesting."
Her father, who works 18 hours a day as an operations manager, tugged her hair and gave her the thumbs up. "She's the administrator for the whole family," he said.
A few tables away, Perez stuck close to her mother. She had just moved into a dormitory floor dedicated to Latino freshmen, hoping it would help her feel less homesick. She is excited to study cinematic art and media but also worries about leaving her mother, who is her best friend, to run the family's photography business without her.
Her father left when she was young. Her little brother and sister hope to follow in her footsteps. Two cousins close in age to her are navigating pregnancies and life after jail. She wants so badly to exceed expectations, knowing that her success would empower so many at home.
"You hold such weight because you're not just smart, you have to be smart for your whole family, your whole community," she said.
The morning after her mother said goodbye, Perez explored Doheny Memorial Library for the first time with Isaac Lemus, a new friend from Phoenix. They craned their necks to look up at the stained glass and were amazed to discover how much they had in common.
They were both 18, both raised by single mothers, both unsure how to be themselves in such an unfamiliar setting. Lemus shared his ambition to study urban planning and listened as she pondered how to pursue her dreams without leaving her family behind.
"To take a phrase from my mom, 'we're under the same moon,'" he said. "Even though you might be far away, you're still connected in some way."
She smiled. She knew those words well.
Follow @RosannaXia on Twitter for more higher education stories.
ALSO
Students traumatized by loss and violence get a fighting chance to learn
As enrollment declines, L.A. public schools borrow a tactic from the charters: marketing
From Vietnam to Los Angeles: Photographer who captured iconic image on one road sees end of another
The stories shaping California
Get up to speed with our Essential California newsletter, sent six days a week.
You may occasionally receive promotional content from the Los Angeles Times.