From Vietnam to Los Angeles: Photographer who captured iconic image on one road sees end of another
Nick Ut stood on a road in a village just outside of Saigon when he spotted the girl — naked, scorched by napalm and screaming as she ran. He raised his camera and snapped the photo that changed his life.
Almost a half century later, Ut is driving east of Los Angeles International Airport, past the Forum in Inglewood where he once photographed Lakers games during the "Showtime" era. He has lived in L.A. for more of his life than in his native Vietnam. He knows its streets so well he never uses a GPS or maps.
Over his career for the Associated Press, Ut has been embraced by Marlon Brando at the murder trial of the actor's son and captured scenes in countless courtrooms, including those involving "Night Stalker" serial killer Richard Ramirez, Michael Jackson, the Menendez brothers and O.J. Simpson. Last month, the 66-year-old documented the scene at an only-in-L.A. kind of gathering between Mayor Eric Garcetti, LAPD Chief Charlie Beck and rappers Snoop Dogg and The Game.
On June 8, 2007 — exactly 35 years after his famous 1972 photo of the burning, crying 9-year-old girl on that dirt road in his homeland — Ut snapped infamous photos of socialite Paris Hilton grimacing and sobbing in the back of a car, after finding out she would be sent back to jail to serve 23 days for a probation violation.
Without his Pulitzer Prize-winning frame of the "napalm girl" — one of the most famous images ever captured in still photography — there is no Nick Ut, camera-carrying chronicler of L.A.
"I'm a lucky guy. They knew my picture and they welcomed me," Ut said. "That picture gave me respect and allowed me to keep doing my job."
Associated Press staff photographer Nick Ut in Saigon beside his car in an undated photo.
(Henri Huet / Associated Press)
Nick Ut won a Pulitzer Prize for this photo of Phan Thi Kim Phuc, center, as she and other Vietnamese children fled an aerial napalm attack on June 8, 1972.
(Nick Ut / Associated Press)
Nick Ut, left, and Kim Phuc Phan Thi, UNESCO goodwill ambassador, visit the exhibit "War/Photography: Images of Armed Conflict and Its Aftermath" at L.A.'s Annenberg Space for Photography in 2013.
(Damian Dovarganes / Associated Press)
Nick Ut on assignment at Echo Park Lake on July 15, 2014.
(Raul Roa / Los Angeles Times)
Nick Ut finds that Maria (aka Mario) the Goose is not quite ready for his closeup while meeting the press at the Los Angeles Zoo in 2011.
(Mel Melcon / Los Angeles Times)
Nick Ut on assignment at a crime scene in Altadena on July 6.
(Marcus Yam / Los Angeles Times)
Nick Ut, on assignment at Pasadena's Jet Propulsion Laboratory, shows Juno Spacecraft engineer Elsa Jensen a photo on June 9.
(Raul Roa / Los Angeles Times)
Nick Ut shoots a news conference at the Los Angeles County Sheriff's Department headquarters on May 26, 2015.
(Rick Loomis / Los Angeles Times)
After 51 years at the AP, Ut announced his retirement — saying he will hang up his camera, at least for the news service, March of next year.
His son, Michael Huynh, 36, the oldest of Ut's two children, said he's not so sure his father will follow through.
"Some chefs come home and don't want to cook. He never tires of it," he said. "In fact, I don't believe he's retiring. "It's not work to him. "It's like breathing. How do you wrap up a career like that?"
Born Huynh Cong Ut in Long An, in the Mekong Delta of southern Vietnam, Ut was 15 when his brother, Huynh Thanh My, was killed in 1965. An actor, Ut's sibling had left the movie business to become a war photographer for the AP, until he was hit by a Viet Cong bullet. After his funeral, Ut showed up at the AP's Saigon bureau, trying to get a job.
"The bosses didn't know what to make of him. They thought the war had already taken one son away — they didn't want to risk another son," recalled Peter Arnett, the famed journalist and former correspondent who won a Pulitzer for international reporting in Vietnam. "They told him to go back to his family. But he said, 'No, AP is my family now.'"
Ut began his career as a photographer — with help from his late brother's wife — in the darkroom.
The day he took the fateful picture unfolded in a barrage of heavy fighting and bombing in Trang Bang. Ut didn't think there were any civilians left when he saw villagers running in front of a fireball, including a group of children. They were hysterical. As he crouched behind his camera, a grandmother cradled a dead baby.
Then he spotted the girl. "Oh my God. What happened to her?" Ut thought amid the click of his Leica camera.
Using his first name, as is often customary in Vietnam, he said: "Nick see her skin coming off and stopped. I didn't want her to die too."
He put his equipment down and poured water over her.
The little girl was Kim Phuc Phan. She screamed: "Nong qua! Nong qua!" Too hot. Too hot. Her uncle begged Ut to take her and some of the boys and girls to the hospital. He obeyed, then rushed back to the office to develop photos that would run around the world within 24 hours.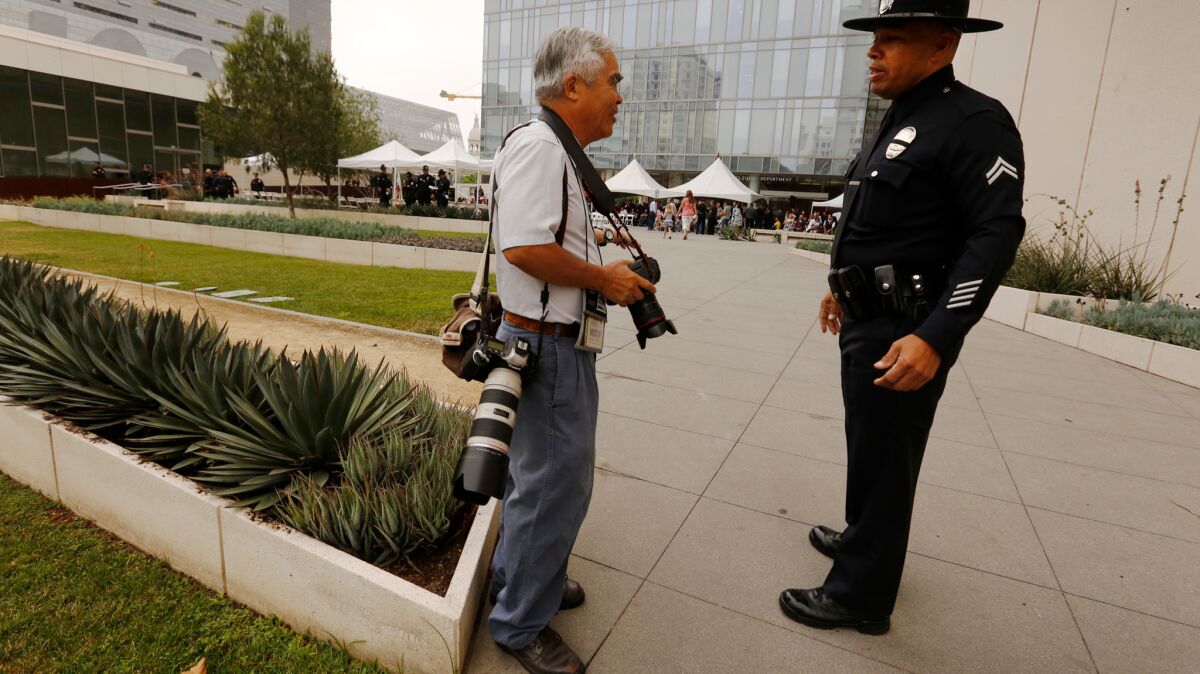 Ut's brother had told him about the power images had to transform hearts and minds. The photo of the "napalm girl" did nothing to improve the public's tolerance for a war that had become deeply unpopular in the U.S. In April of 1975, Saigon fell and the AP transferred Ut — wounded three times during the war, including in the stomach — to Tokyo.
He maintained a low profile in Japan. The photo he took was famous, but he was not. Two years later, he arrived in L.A.
"I remember everybody's running like the Viet Cong are chasing them. [I] have no idea why people were driving so fast," he said.
The AP had given him a choice: Washington, D.C., or Southern California.
"My dream is to work in Hollywood," he told his editors, inspired again by his brother. "I will meet celebrities. Mr. Beatty, Mr. Brando. They tell me: 'Nicky, forget the job. Come to my house and have lunch.'"
Years later, he reconnected with Kim Phuc, who had traveled overseas for medical care and who managed to defect from Vietnam during a honeymoon in Canada. Ut began documenting her new life. Her marriage. Motherhood. He traveled the world with the woman who is now a goodwill ambassador for the United Nations.
Ut is proud of the photo that put him on the map, but he can't help feeling occasional ambivalence about the large shadow it cast over everything else he has shot as a photographer, including his work from the Olympics and the L.A. Marathon.
Still, he is grateful.
"Kim's picture continue making me famous," he said.
"That photograph is more powerful than bombs," Phuc said this summer at a Los Angeles Press Club gala, presenting a career achievement award to her "Uncle Ut."
"You only need one picture to be fulfilled," she said in a phone interview from her home near Ontario, Canada. "You should remember that a memory is everlasting."
He drives around in a humble sedan with more than 140,000 miles on it. No matter how toasty it gets outside, Ut doesn't use air conditioning. He cracks open the windows, he says, "to get a taste of life."
Arnett, who considers him a close friend, said they were hanging once when Ut said he had to leave.
"I asked why and he explained, 'There's a full moon tonight. I've got to take off to line up a plane against the moon.'"
"But you've taken that shot 20 times," Arnett said.
"Yeah, but I've got to do it again," Ut replied. "I like it. It's my job."
ALSO
As enrollment declines, L.A. public schools borrow a tactic from the charters: marketing
Casino tycoon launches multimillion-dollar effort to boost Israel's image on campuses
Hollywood Target, still dormant, remains at the center of furious legal fight
The stories shaping California
Get up to speed with our Essential California newsletter, sent six days a week.
You may occasionally receive promotional content from the Los Angeles Times.