Can virtual reality reduce high blood pressure at a church in South L.A.?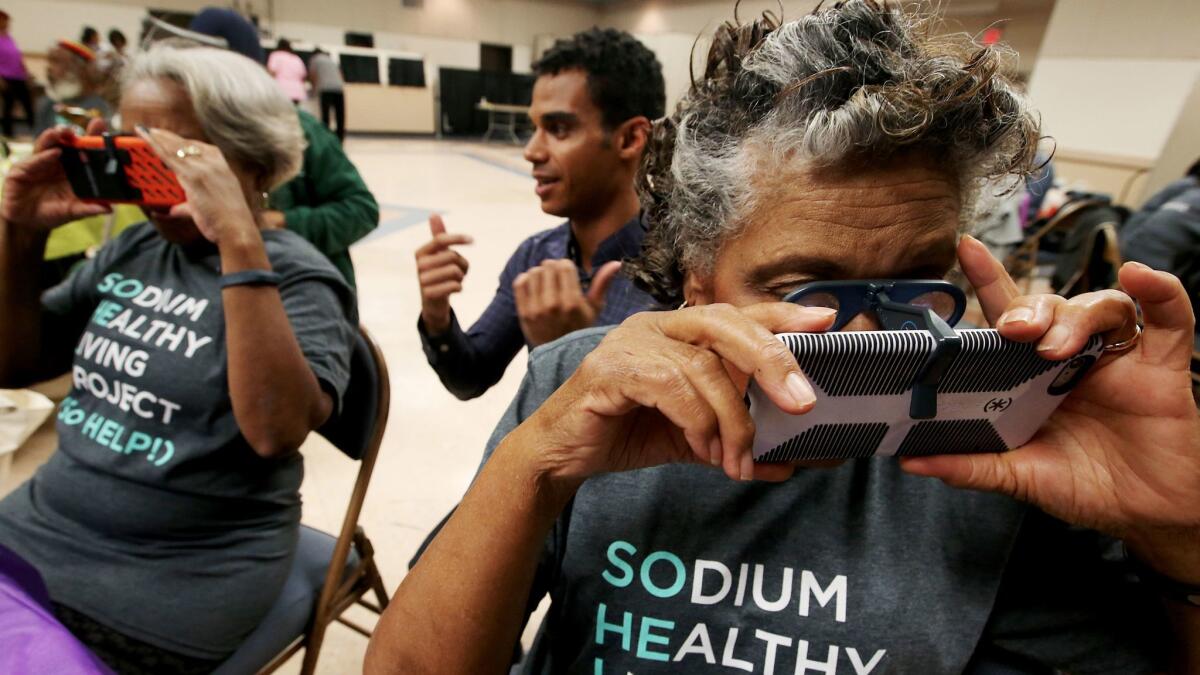 The Rev. Kelvin Sauls believes health and faith are two sides of the same coin.
He brings yoga and Zumba classes to his church in South L.A. because he knows African Americans are particularly vulnerable to diabetes and heart disease.
"We can't save people's souls in the sanctuary and kill their bodies in the fellowship hall," Sauls likes to say.
Now he's collaborating with Cedars-Sinai Medical Center to try to reduce high blood pressure in the community. The project has enrolled many of his congregants at Holman United Methodist Church and uses everything in the public health toolbox, including weekly dinners and classes, fitness trackers, nurse check-ins and even virtual reality.
African Americans suffer from high rates of hypertension, which makes them much more likely to have strokes or heart attacks.
But when they're diagnosed with the condition, the doctor leaves the room and the patient is left wondering what to do next, said Dr. Bernice Coleman, a nurse scientist who heads the project for Cedars-Sinai. She wanted to find a way to help without focusing on cutting calories or losing weight.
"Everyone's been on a diet," Coleman said. "The thing in the middle that nobody understands is salt."
---
How it works
On a recent Monday evening, people started filtering into the church for dinner — curried cabbage, salad with mushrooms, and for dessert, sliced watermelon. Coleman took the stage to teach the group about genetics and the importance of recording family medical history to know your risk factors.
"What happened to Grandma? What happened to Grandpa?" Coleman asked. They began filling out family trees.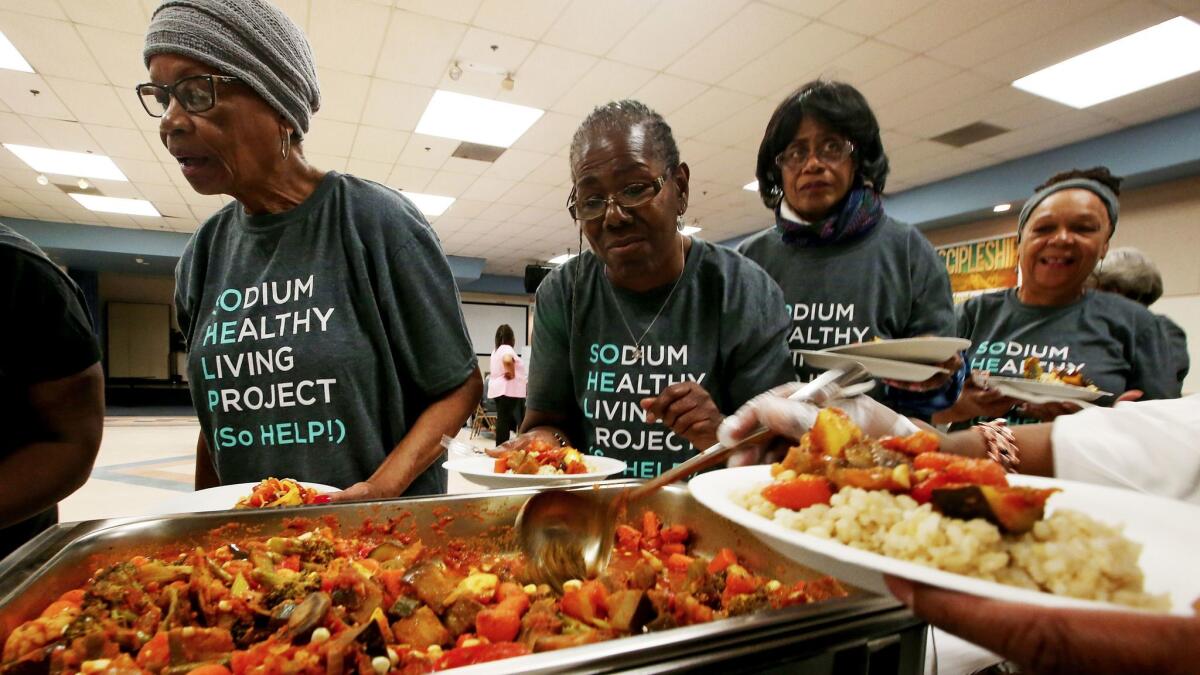 What are risk factors for hypertension?
Smoking tobacco
Drinking too much alcohol
Being obese
Eating salty foods
Not getting enough physical activity

Source: CDC
Each week consists of dinner and a class. They've learned about recommended salt intake and diabetes, and taken cooking and tai chi classes. Everyone enrolled was given a blood pressure cuff and a Fitbit fitness tracker to wear on their wrist to monitor their steps.
Sharon Jackson, 62, joined the program because she has high blood pressure. She wants to get off the medicine she takes to control her levels.
About 1 in 3 adults in the United States has high blood pressure, and the condition contributes to 1,000 deaths a day nationwide.
Jackson now checks her Fitbit to make sure she's getting enough exercise, and measures her blood pressure at home every morning and evening. It's already coming down, she said.
When someone has high blood pressure, the blood in their arteries — the tubes that carry blood from the heart to other parts of the body — pushes too hard against the arteries' walls. Eating salt can worsen the problem, because it makes the body retain water.
Jackson said she's now cautious and seeks out nutrition information when she goes to her favorite restaurants, like IHOP and Marie Callender's. "They put salt in everything!" she said.
Thresa Thomas and Princess Benson, also enrolled in the program, recently went grocery shopping together and stayed away from salty foods.
Popcorn? "I said heck no," Thomas said.
---
Virtual reality makes its way into medicine
Across the country, doctors are using virtual reality to practice surgeries, teach families about complicated medical treatments and to distract patients from unpleasant or painful procedures.
At Cedars-Sinai, Dr. Brennan Spiegel has been fitting patients with virtual reality goggles for two years.
"We've been focused on the inpatient side, using virtual reality to transport patients outside the four walls of the hospital … to fantastical destinations where they can relax or de-stress," Spiegel said .
Plus, virtual reality is such an immersive sensory experience that it prevents the brain from processing outside signals and can actually reduce the amount of pain patients feel, he said. Many studies have confirmed that virtual reality games can ease a patient's pain.
The project at Holman United Methodist Church gave Spiegel an opportunity to see how virtual reality might work in healthcare outside the hospital.
He designed a virtual reality smartphone app with the company-applied VR that each participant can watch by clipping a glasses-like device onto their smartphones.
When they launch the app, it appears they're in the middle of the kitchen, with different foods sitting on a counter: black beans, salmon, gumbo, lasagna, fruit smoothies. Each dish's sodium content pops up above it.
Look down, and they're transported to a 3-D rendering of the inside of a human body, where they can see how a pumping heart deteriorates with years of high blood pressure.
"You're sitting there, all of a sudden in your own chest, watching your heart beat," Spiegel said. "The whole idea is to just hijack the brain into rethinking the role of food, and in this case salt and health, and we're testing this now to see how people experience it and if it's helpful to them."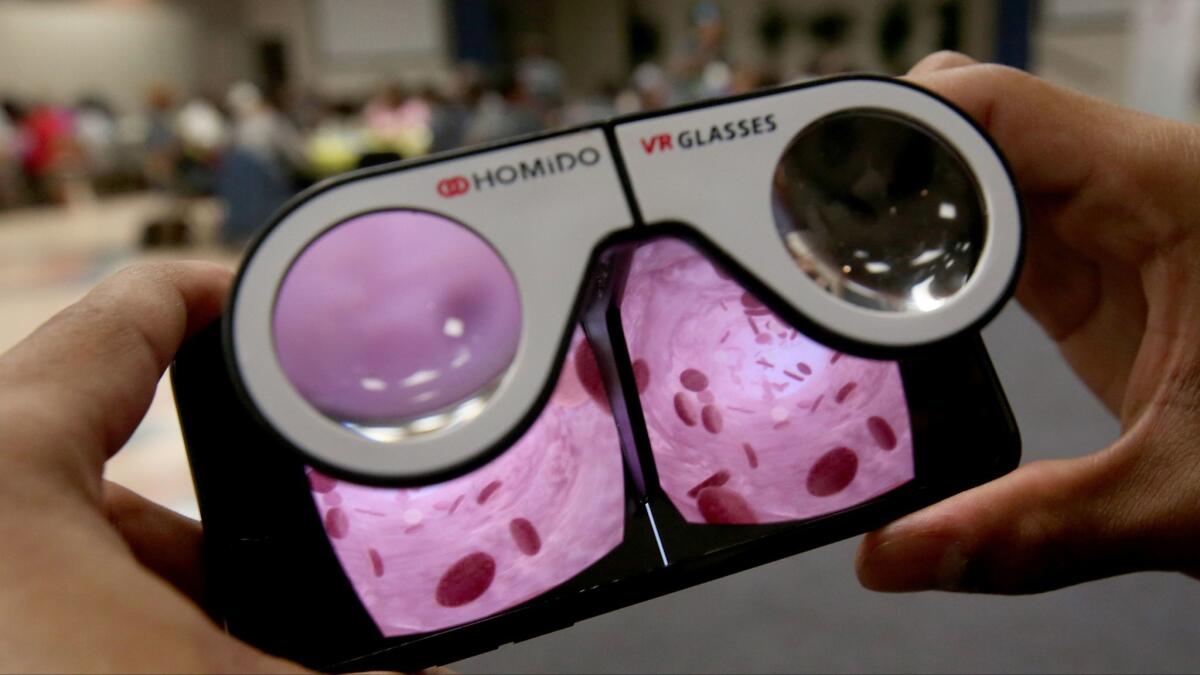 Spiegel said he was surprised by how much some people struggled to use the app or even just their smartphones.
"It was amazing how difficult it was," he said. "We have to really think about, if we're going to scale these technologies, what it actually takes to do it."
The app also offers a way to alleviate stress, which can contribute to high blood pressure. In the app, users can sit on a virtual beach at sunrise and listen to chirping birds, the sound of the ocean and Sauls, the church pastor, reciting a calming meditation.
"I want to get the real one," said Jackson, 62. Her son has virtual reality goggles, and she wants more apps that can help her relax.
Benson, 51, said the app revealed the sodium in raw chicken and shellfish.
"You wouldn't ever think of it, that foods already have salt," she said.
Recently, Benson noticed a packet of noodles her son was about to prepare for his child had 1,200 milligrams of sodium. She warned him against cooking them.
---
African Americans and high blood pressure
African Americans tend to develop high blood pressure more often and younger than other groups. One out of three African Americans in L.A. County said they'd been diagnosed with high blood pressure, compared with 1 out of 4 whites and 1 out of 5 Latinos and Asians, according to the most recent county health survey in 2015.
And that is those who know. Many people with hypertension aren't diagnosed because the condition doesn't always have symptoms — it's often called the "silent killer."
Dr. Paul Simon, chief science officer at the L.A. County Department of Public Health, said it's an important but difficult problem to address because it's affected by what people eat at home and in restaurants, how much they exercise and their stress levels, which are in turn influenced by their lifestyles and where they live.
"Even if you have the best intentions, it's very difficult, for example, if you want to be physically active, but where in your neighborhood is there a park?" he said. "If you want to eat more healthfully, there may not be a lot of food options in your neighborhood that are more affordable."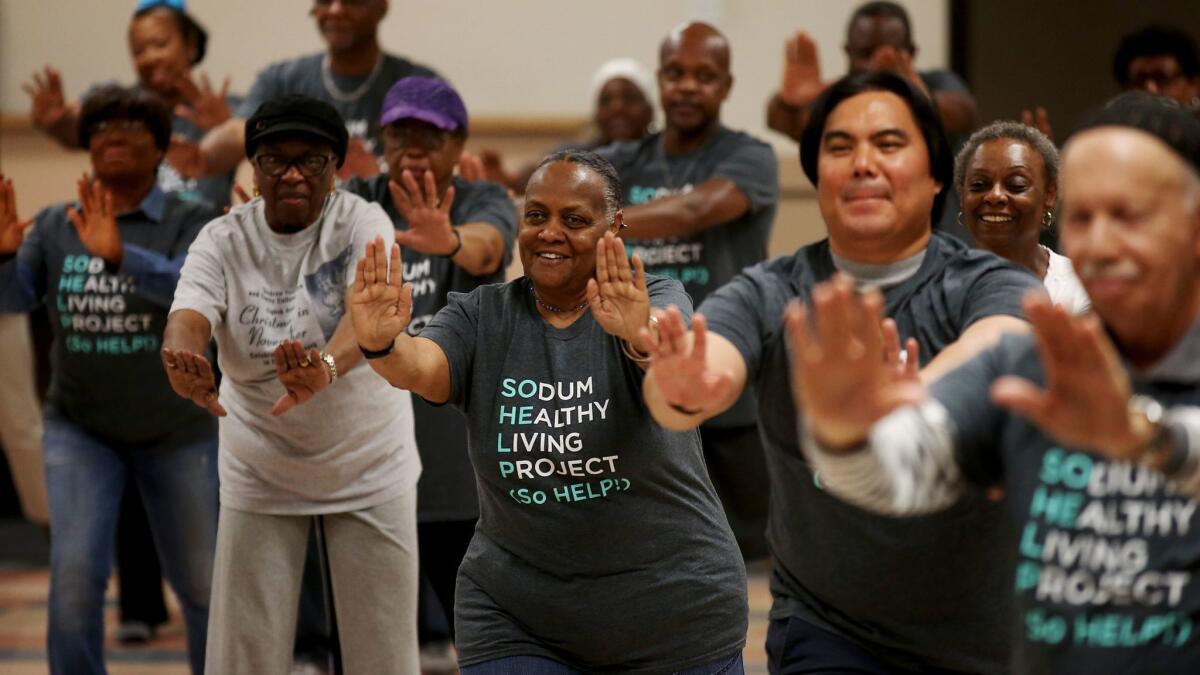 Juanita Cannon, 71, loves Southern cooking. But now when she cooks, she pours a little salt into her hand and sprinkles it over the pan, instead of shaking it in directly, she said.
Because the program has her paying attention to exercise and eating, she's also started doing water aerobics regularly. She set an hourly alarm on her phone to remind her to stand up — usually from quilting, her favorite hobby now that she's retired — and walk around a bit.
"I've even lost 10 pounds, which I've been trying to do for 50 years," she said, laughing.
soumya.karlamangla@latimes.com
Twitter: @skarlamangla
ALSO
The amputation rate for diabetics in poor areas is high. This Boyle Heights clinic is trying to change that
You know CPR. Now firefighters want you to treat shooting and bombing victims
Sign up for Essential California for news, features and recommendations from the L.A. Times and beyond in your inbox six days a week.
You may occasionally receive promotional content from the Los Angeles Times.