Sex scandal at West Hollywood City Hall sparks calls for less Grindr, more respect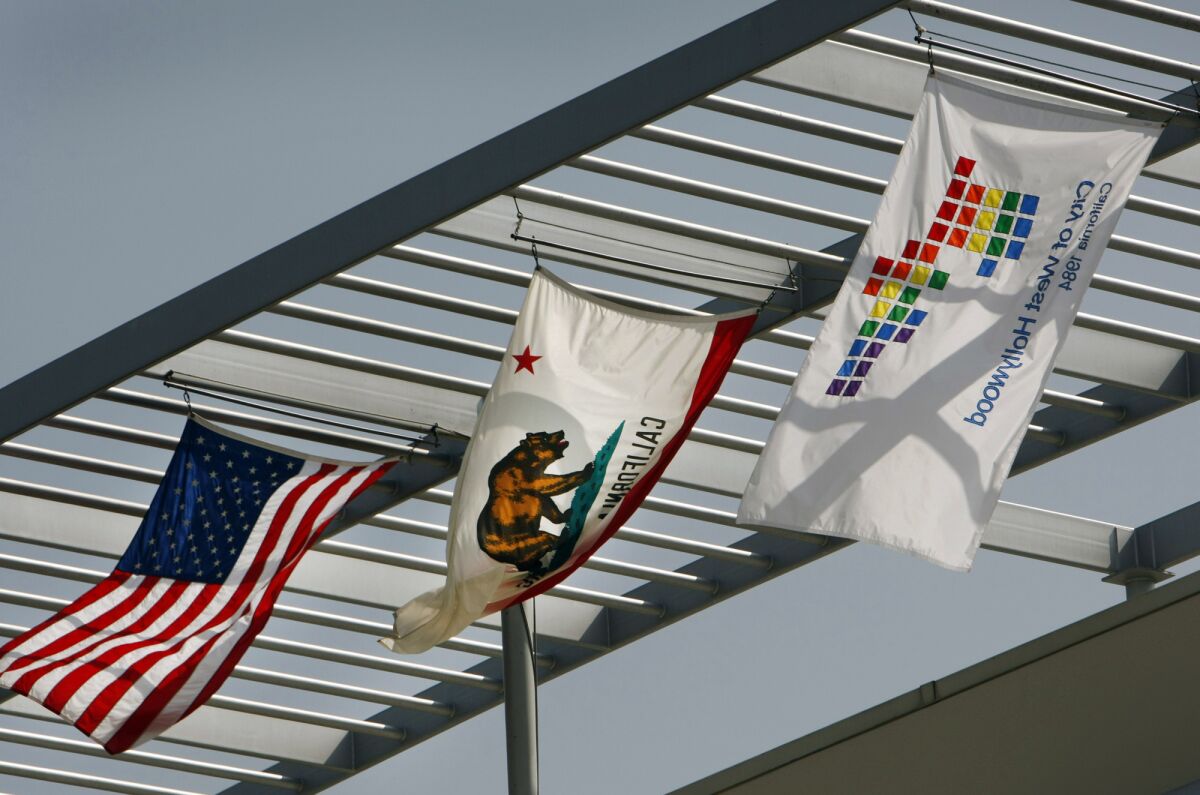 West Hollywood is not shy about sex.
When city officials held a public forum about anal cancer, they called it "Booty Call to Action." The City Hall lobby offers free condoms. A water conservation campaign encouraged residents to "have a morning quickie" by taking short showers.
But in February, West Hollywood agreed to pay $500,000 to settle a sexual harassment lawsuit against the city and Councilman John Duran. The suit was brought on behalf of Ian Owens, whom Duran hired as his deputy after meeting him on Grindr, the smartphone dating app for gay and bisexual men, and then having sex with him.
Now, some residents and politicians in this mecca of gay culture and the home of the Sunset Strip counterculture are wondering if City Hall's famously cheeky attitude about sex needs to be checked a little.
Councilman John D'Amico, who like Duran is gay, said he often looked over during public meetings and saw Duran "trolling for men on Grindr."
"This is not gay-life excuse time, or 'This is how we do it because we're gay,'" D'Amico said at a council meeting. "This is we-live-in-the-21st-century time, and treating people with respect and care and following not just the letter of the law but the spirit of the law is ... part of who we are as a city."
As part of the settlement, Duran and West Hollywood admitted no wrongdoing, but a private investigator's report commissioned by the city dinged Duran for openly talking about his sex life and making "inappropriate" comments that "were sexual in nature" in the workplace.
Duran publicly apologized last month for hiring "a friend," but he has repeatedly denied sexual harassment. He conceded in an interview that had the lawsuit against him and the city gone to trial, West Hollywood's "unique culture" might not have translated well with many members of a jury outside of the city.
"I'm not a stuffed-shirt politician," Duran said. "Yes, my humor is bawdy and funny and outrageous, but, you know what, so is everything else in this town. I could not get elected in Downey."
Indeed, West Hollywood council members occasionally engage in the kind of risque talk that in more strait-laced towns could possibly cost politicians voters or get them recalled. Here, residents sometimes playfully join in the banter during council meetings, whether it's a play-by-play about a visit to the gynecologist or riffs on porn collections.
But in an email, Owens said Duran crossed the line.
"I appreciate that West Hollywood is an open place that does not discourage free expression of sexuality and have nothing against that," Owens said. "However, conflating free expression on the one hand with bullying and demeaning a human being on the other is dangerous."
In the heavily redacted 129-page private investigator's report obtained by The Times through the state's open records law, Owens — whose name is blacked out but whose statements mirror those in his lawsuit — said Duran solicited him for sex and showed Owens nude photographs on his phone of men he'd slept with. Owens said Duran made objectifying comments about his appearance, telling him he didn't "have to worry about things because I'm pretty."
NEWSLETTER: Get essential California headlines delivered daily >>
Duran, in the report, said Owens had been a trusted friend and that they indeed had had intimate conversations. Duran said it was Owens who sent him "really graphic" explicit photographs.
In the report, Owens also accused Duran of having sex in his City Hall office, which Duran denied.
"I have never, ever had sex in the council office at City Hall," Duran told The Times. "Why would I? I have a home."
Duran also said that he was not ashamed of using Grindr, which has an instant messaging function, and that he was on it regularly not just for sexual reasons but also to chat with people around town.
The independent investigator, Steve Rodig of Anaheim, wrote that Owens had a duty to report any harassment but never did so until he was placed on paid administrative leave last year after being accused of bugging a colleague's office. Rodig found that Duran was "outspoken" about his personal life, but there was not enough evidence to show he sexually harassed his deputy.
Owens said city officials have mischaracterized his accusations after the settlement was reached and that the investigator's report was "unfairly redacted" to favor the city.
On March 30, Michelle Rex, the former deputy to D'Amico, also sued West Hollywood, alleging the city retaliated against her for substantiating Owens' sexual harassment allegations and other complaints by firing her. She is represented by Owens' attorneys.
In Rodig's report, people interviewed by investigators said Duran was well-known for saying suggestive things. One interviewee, whose name was redacted, gave an example in which a member of a swim team sat in the front row of a council meeting in a Speedo swimsuit and Duran joked that he was distracted.
"It's like, oh gosh, I can't believe he just said that type of thing, but everyone's kind of snickering," the person said. "It's very like eighth-grade humor to a degree."
Jessica Levinson, a Loyola Law School professor and president of the Los Angeles City Ethics Commission, said cities should be allowed to create a culture that reflects the community, but there's "a difference between being open and being lewd, and you have to walk that line."
"People who decide to run for office and be public servants owe their constituents a little bit more in terms of behavior," Levinson said. "No one has to be Mother Teresa — that's an untenable standard — and we should allow for variations in terms of what's appropriate in West Hollywood versus Fresno.... We should allow those leeways, but you don't want constituents to feel uncomfortable."
Steve Martin, a former West Hollywood councilman, said that residents are embarrassed by the scandal and that such issues have caused people outside the city to view it as "silly, immature and corrupt."
"People are dumbfounded that in the world of adults this is the norm, and it doesn't matter whether it's gay culture or straight culture, it still isn't right," said Martin, who is also gay. "We've become such a soap opera."
Twitter: @haileybranson
Join the conversation on Facebook >>
ALSO
Last flight-qualified space shuttle fuel tank in existence begins its journey to L.A.
California watchdog agency dismissed 90% of complaints about judges' conduct in 2015
Some state lawmakers collect two paychecks: It's legal, but 'the optics are poor'
---
The stories shaping California
Get up to speed with our Essential California newsletter, sent six days a week.
You may occasionally receive promotional content from the Los Angeles Times.