Port talks deadlocked over fate of arbitrator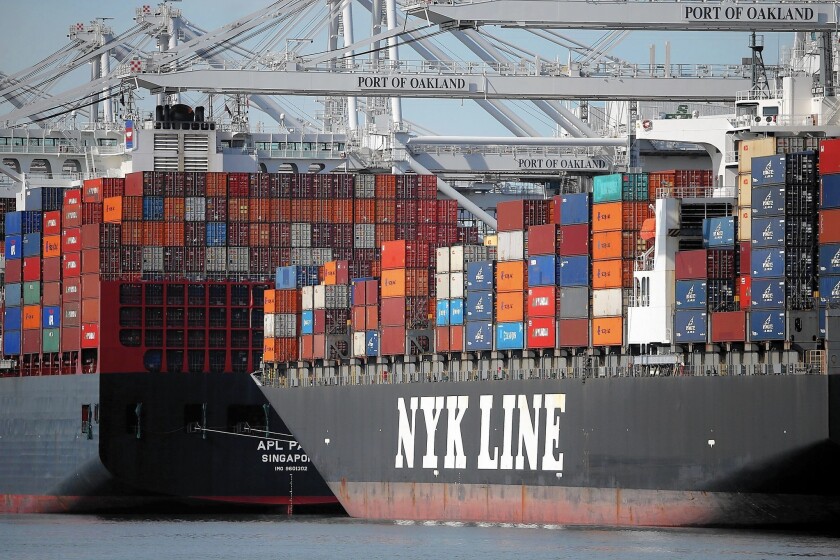 California political leaders voiced growing exasperation Thursday with a labor standoff that has clogged West Coast ports, as word spread that the main sticking point in negotiations has been the fate of a single, low-level official who rules on disputes involving Los Angeles and Long Beach dockworkers.
Talks between the International Longshore and Warehouse Union and shipping companies have stalled recently over a union request to change the rules for removing local arbitrators who decide on workplace issues. But sources familiar with the talks say the main obstacle to a settlement has been union leaders' desire to fire arbitrator David Miller.
In interviews and statements, several local and state elected leaders expressed frustration that disagreement over Miller's status between the union and the Pacific Maritime Assn., which represents shipping companies, has blocked a deal that could avoid dire economic consequences for the entire West Coast.
"It's crazy, and you can quote me," Los Angeles Mayor Eric Garcetti said Thursday, after spending the previous day in San Francisco trying to help move the talks forward.
Sens. Barbara Boxer and Dianne Feinstein echoed the sentiment in a letter sent to the union and shipping industry leaders.
"It is highly disappointing that with so much at stake, you have not been able to come up with a path forward on this one remaining issue," the California Democrats wrote.
Currently, both sides must agree to appoint and fire arbitrators. However, according to the employers, the union wants either side to be able to remove local arbitrators at the end of a labor contract.
The president of the union, without naming Miller, said in a letter to members that the dispute is over "retaining arbitrators who have openly engaged in conduct that clearly compromises their impartiality."
The Pacific Maritime Assn. has objected to allowing either side to unilaterally remove an arbitrator, saying it would give the union "veto power" over those judging workplace disputes.
The disclosure of the final snarl in negotiations indirectly affecting a large swath of the economy intensified pressure on both sides of the dispute to come to a quick resolution.
"The whole thing is all internal union nonsense, and one union guy going after another union guy," said Jim Tessier, a labor-relations consultant based in Seattle who has followed the West Coast contract dispute closely.
Tessier once worked for the Pacific Maritime Assn., the group that represents employers in the negotiations.
Later as an independent consultant, he said he has been involved in cases heard by Miller. He said that Miller, who took his job in 2002 with the backing of the ILWU, has shown a fiercely independent streak that earned him the nickname "Judge Roy Bean Miller" – a reference to the 19th century Texas justice of the peace who declared himself "The Law West of the Pecos."
In his view, Tessier said, Miller "was no better or worse than any other arbitrator."
Miller could not be reached for comment. Representatives for the shipping companies and ILWU declined to comment, citing a media blackout imposed by the federal mediator trying to help the sides reach a deal.
The exact reasons Miller would be singled out by leaders of the local ILWU — which represents dockworkers in Los Angeles and Long Beach — are murky. As key interpreters of the contracts between shipping companies and their employees, he and other labor arbitrators at West Coast ports enjoy significant power and autonomy, and have no shortage of chances to make enemies.
Rep. Janice Hahn (D-Los Angeles), an outspoken supporter of the ILWU, said union leaders have told her that Miller is "too close" to employers.
"A lot of my friends who are in the industry have called him personally and asked him to step down," Hahn said. But she said Miller "doesn't think he's done anything wrong."
Fears of a full shutdown and lockout of dockworkers have risen recently, as shipping companies intermittently halted the loading and unloading of ships.
The Pacific Maritime Assn. did so most recently for the three-day Presidents' Day weekend. The association alleges that the union is trying to gain bargaining leverage through a work slowdown, and shippers don't want to reward employees with overtime pay.
The local union in L.A. and Long Beach denies it is purposely slowing the movement of goods, and counters that shipping companies have failed to train an adequate number of skilled crane operators to safely keep up with the workload.
With dozens of international cargo ships idling off West Coast ports, businesses have become increasingly worried about imports and exports being choked off. President Obama this week sent U.S. Labor Secretary Thomas Perez to California to help the two sides reach an agreement.
Garcetti said Thursday that "the whole contract could be wrapped up in a matter of hours if this last issue is overcome."
---
The stories shaping California
Get up to speed with our Essential California newsletter, sent six days a week.
You may occasionally receive promotional content from the Los Angeles Times.