First & Spring: L.A. plans to undo 2012 pension cuts in new union pay deal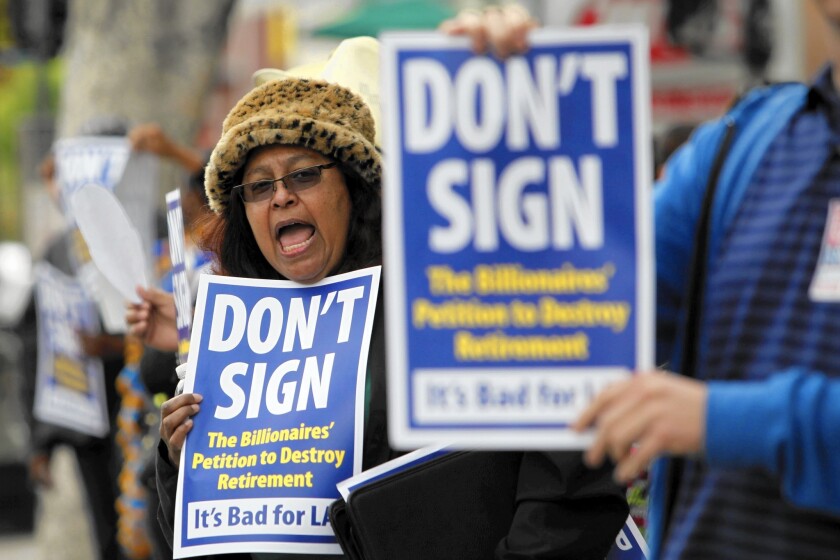 At L.A. City Hall, it was the most hotly debated policy initiative of 2012: a new law aimed at reining in retirement benefits for thousands of future public employees.
Alarmed by steadily growing pension costs, the City Council voted to scale back the size of pensions offered to each civilian worker hired after July 2013, over the furious objections of organized labor.
Since that vote, nearly 2,200 people — librarians, trash truck drivers and many others — have gotten city jobs that included those reduced benefits. Now, the retirement savings generated over the last two years are about to disappear.
A proposed four-year salary agreement with the Coalition of L.A. City Unions calls for the council to abandon that 2012 pension plan. Those nearly 2,200 workers would revert back to the older, more lucrative retirement benefits that have been in place for decades — and are increasingly viewed as financially unsustainable.
Non-sworn city employees, who make up roughly half the workforce, are now deciding whether to ratify the deal. Meanwhile, coalition leaders are sounding euphoric over the tentative agreement, saying in ballot materials to members that they turned "management's draconian agenda totally around."
City officials contend the pact includes budget-cutting provisions that will more than make up for the cost of starting over on pension reductions for new hires.
"The trade-off is worth it," said Council President Herb Wesson.
NEWSLETTER: Get the day's top headlines from Times Editor Davan Maharaj >>
The agreement, expected to come before the council for a final vote later this fall, offers no raises until summer 2017. It reduces starting salaries for most new hires by 8.25%, according to City Administrative Officer Miguel Santana, who served as the city's chief labor negotiator. And the deal would settle a union lawsuit that challenged the validity of the council's 2012 pension-cutting vote.
As part of the pending labor agreement, union leaders signed off on a new set of scaled-back retirement benefits for workers hired starting in 2016. That retirement package will be less costly for taxpayers than the one offered before 2012, but more expensive than the set of benefits now being abandoned.
Mayor Eric Garcetti described the pact as fiscally responsible, saying it would remove the legal cloud over the council's 2012 vote. "Rather than remaining tied up in costly litigation, this agreement secures billions in long-term savings which will allow the city to restore and expand services in a sustainable way," he said.
City officials had been expecting the 2012 ordinance to produce $309 million in pension savings over a decade and up to $4.3 billion over 30 years. Cost estimates for the new agreement, including the impact on retirement payouts, are still being calculated and won't be presented to the council for weeks, officials said.
That timeline troubles Jay Handal, co-chairman of the Neighborhood Council Budget Advocates, a group that monitors city spending.
"They're making an agreement without knowing the fiscal impact, and that is absolutely wrong," he said.
Handal voiced disappointment with a proposed 2% pay increase in 2017, followed by a 2.75% hike for more senior employees in 2018. And he faulted Garcetti for failing to secure larger concessions on pensions.
Santana said the city's long-term pension burden will be reduced, in part, because of smaller starting salaries and avoiding raises for three years. Getting rid of the pension lawsuit, he said, will help L.A. avoid the financial risks facing Chicago, another city hit with a suit over cuts to public pension benefits.
The ratings agency Moody's has downgraded Chicago's bond rating twice this year, voicing doubts about that city's likelihood of prevailing in court.
"Is [the contract] 100% of what we wanted? No," Santana said. "But it is still a much better scenario than the one we were on. The best part of it is that it's done and we can move on. It's not healthy for a city to live with so much uncertainty."
Union officials have boasted that workers are facing no new costs on healthcare, a concession publicly sought by Garcetti. The agreement also includes a commitment to hire 5,000 workers over four years, which will help reverse reductions in services, said coalition chairwoman Cheryl Parisi.
"City workers ... pushed back and won," she said in an email.
Santana stressed that the 5,000 figure is a hiring goal, not a promise. That numerical target is designed to fill positions that are vacated as aging baby boomers retire, he said.
"That counts against the goal of 5,000," he said. "We didn't commit to grow the workforce by 5,000."
In several areas, the two sides agreed to compromise. The council's 2012 pension-cutting vote increased the retirement age to 65, up from 60, for civilian employees who have worked at least 10 years. The latest plan for new hires moves that age to 63.
The 2012 vote also limited pensions to 75% of a retiree's final salary, down from 100%. The new plan increases that cap to 80%, officials said.
Interested in the stories shaping California? Sign up for the free Essential California newsletter >>
City negotiators conceded in other key areas. They restored a provision that allows workers' spouses to receive 50% of a pension after a retiree's death. That benefit had been eliminated for new hires three years ago.
The push for common ground on pensions comes as the city's retirement expenses may be reaching their peak.
Five years ago, city analysts projected retirement costs would consume $1.3 billion of the general fund budget by 2013. That did not happen, and this year that number is expected to reach around $1 billion, or 19.5% of the general fund budget, which pays for police, firefighters and other basic services.
City officials attribute some of the city's progress in controlling pension costs to a 2011 ballot measure that trimmed benefits for newly hired sworn personnel. Also helping, they say, is a 14% reduction in the city's workforce between 2010 and 2014. During that period, civilian workers also agreed to cover a portion of the healthcare costs given to retired employees.
Amid those changes, civilian city unions resisted efforts to roll back pension benefits for new hires, officials said. That's the reason the council imposed its own pension plan in 2012, said Wesson, the council president.
"In a lot of ways, we forced the dialogue," he said. "Here we are a few years later, with this new pension [package] that's going to save the city significantly over an extended period of time."
MORE L.A. POLITICS
Garcetti and Beck say city is working to halt rise in homicides
Deal to win City Council support for Olympics could hinder L.A.'s chances
Sen. Dianne Feinstein pushes bill to create more homeless housing on VA campus
---
The stories shaping California
Get up to speed with our Essential California newsletter, sent six days a week.
You may occasionally receive promotional content from the Los Angeles Times.