Michael Sanchez of the L.A. County Registrar-Recorder/County Clerk's office talks about weddings on Valentine's Day.
Their ceremony over, Miriam Lopez grabbed her new husband from behind by the collar of his dark blazer. The newlyweds then posed for a photo snapped on a smartphone as the groom, Henry Escalera, playfully pretended to escape.
After eight years as a couple, they did it.
"I finally nabbed him," said Lopez, cracking a joke after the photo. "He can't get away."
Lopez and Escalera, of Glendora, got married on a day dedicated to romance, but chose a less-than-sexy locale: the office of the Los Angeles County registrar-recorder/county clerk.
The couple and scores of others — some dressed formally, others more casually — flocked to the Norwalk office, where a handful of volunteers officiated at same-day, no-frills weddings inside the same building where government workers tally millions of ballots on election night.
"Some people might say it's cheesy, but it's special. I get to be with my wife," said Escalera, his voice trailing off before adding: "I need to get used to saying that."
Every year, more than 250 couples get married on Valentine's Day at registrar-recorder's offices throughout the county. Thousands also get married elsewhere.
Between 2008 and 2018, more than 7,000 couples who got marriage licenses in Los Angeles County got married on Valentine's Day. The romantic day was by far the most common day for weddings during that period — four times more popular than the average day, according to a Times analysis of marriage license data.
Also popular were dates with auspicious numerical combinations, including Aug. 8 and Oct. 10, and New Year's Eve. Least popular was Christmas Day, according to the licensing data.
INTERACTIVE GRAPHIC: Valentine's Day is L.A.'s hottest wedding day. What about the rest of the year? »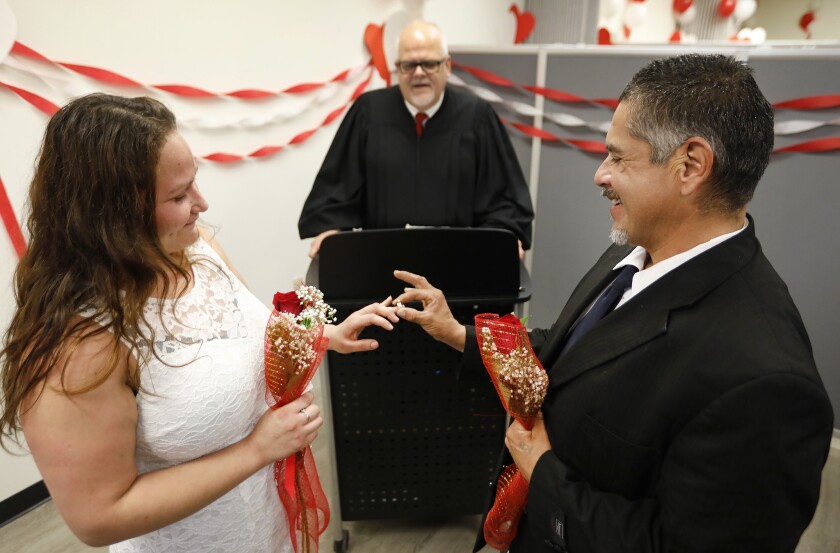 On Thursday, many of the couples who, despite the rain, crowded onto the 5th floor of the registrar-recorder's Norwalk headquarters said they came for the convenience — a cheap, fast and legal way to cement their relationship.
The ceremony costs $35, and the marriage license is a separate fee of between $85 and $91.
"It was more affordable at this time," said Jessica Brenes, 26, who married her longtime partner, Jose Gallardo, also 26. "Maybe in the future we can have a religious ceremony with more people."
The couple, who have a son and daughter and live in El Monte, said they were eager to make it official. They sat waiting and chuckling before the ceremony, Brenes' hand on Gallardo's leg, in a registration room decorated with flowered signs, pink-and-white streamers and heart-shaped balloons.
"I'm nervous," he said, "but it's excited nervous."
They and others made their way down a hall, its carpet taped, to a large room resembling an office, with tall gray cubicles separating the ceremonies.
Each was short and simple, largely sticking to a government script. The newlyweds then made their way to a reception room. Inside there were large "Just Married" signs where couples posed, some receiving congratulations in various languages, including Spanish and Mandarin.
Cheerful relatives grinned and snapped pictures on their smartphones.
Melina Galindo, 27, of Lakewood came in an elegant white dress with a flowered headband. After marrying her boyfriend of eight years, Oscar Galindo, 31, she tossed a small bouquet of flowers. A friend caught it.
"I just wanted something simple," Melina Galindo said, her family surrounding her. "Didn't want a big wedding."
Outside, several employees from a car company handed out red roses as part of the celebration.
"I don't think there's anything more special than seeing a couple surrounded by people they love, and expressing their love for one another," said A. Mauricio Lubong, a professional wedding officiant who volunteers with the county every other Monday — and on Valentine's Day.
Over the years, he has married people who have brought their dogs. Others dressed as though they were ready for the beach. "Others are dressed to the nines," he said.
One such formally dressed couple, Jeffrey Yi, 27, and Elaine Li, 26, of La Puente, said they chose the county office on Thursday because it's close to their home. Afterward they planned to attend a celebratory meal with family members.
Then it's back to work, they said.
"We love each other," said Yi, who immigrated from China. "This was special."
---