Retired L.A. Sheriff Lee Baca admits he lied to the FBI in the jail abuse scandal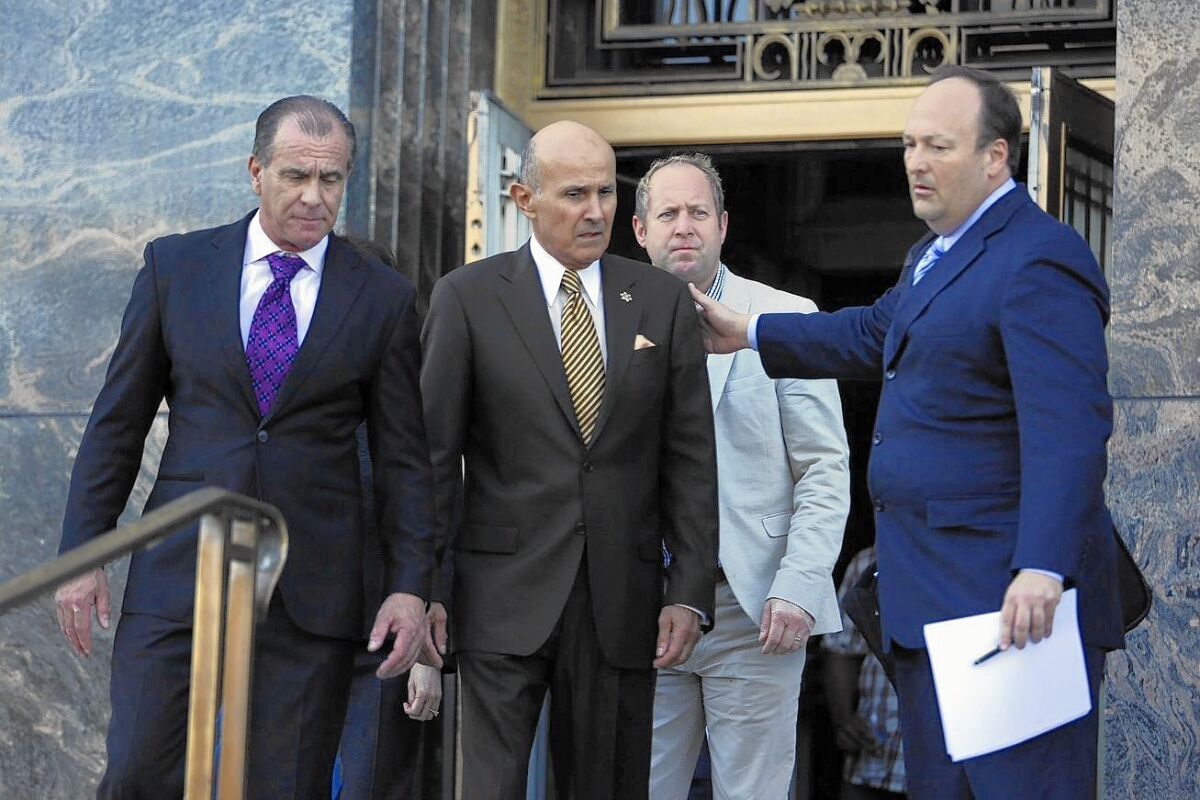 In the jail abuse scandal that has roiled the Los Angeles County Sheriff's Department and resulted in the convictions of more than a dozen officials, one question has remained open: How high did the corruption go?
Retired Sheriff Lee Baca admitted in federal court Wednesday that it went all the way to the top.
Baca, who left office two years ago, pleaded guilty to lying to FBI agents and federal prosecutors investigating the beatings of inmates and visitors at the nation's largest jail system. As part of a surprise plea deal with the U.S. attorney's office, Baca acknowledged for the first time taking an active role in trying to stymie the federal probe, even allowing a team of deputies to confront one FBI agent at her home.
Full Coverage: L.A. County jail system under scrutiny
Baca faces a maximum of six months behind bars and could be sentenced to probation under the terms of the plea deal. U.S. District Judge Percy Anderson is to sentence him May 16.
U.S. Atty. Eileen Decker, whose office pursued the jail investigation with the FBI for six years, said Baca's guilty plea brought no joy to case agents or prosecutors.
"It is indeed a sad day when a leader of a law enforcement agency fails to honor his oath, and instead of upholding justice, chooses to obstruct it," she said during an afternoon news conference.
The 73-year-old Baca appeared in court with his sheriff's badge pinned to the lapel of his brown suit and took calls from former colleagues as he waited for his arraignment. His involvement in a scandal that saw unarmed inmates and visitors beaten by his deputies appeared to deal a lethal blow to a reputation for integrity and community service he promoted for himself and his officers during his 15 years on the job. Baca had department business cards inscribed with what he said were the agency's "core values," including "respect for the dignity of all people," and required deputies to memorize and recite them.
"He had such a level of arrogance and importance," said Peter Eliasberg, the legal director of the American Civil Liberties Union of Southern California, which had long complained about abuse at the jails. "What happened to the inmates was horrible. He is in large part to blame for that."
Federal officials secretly launched an investigation into abuse at the jails in 2010 after receiving complaints from inmates. Advocacy groups said beatings by deputies were routine in the crowded jail system. Ultimately agents uncovered evidence of assaults, including attacks on a mentally ill inmate and a man visiting an incarcerated relative. So far, more than a dozen former sheriff's officials have been convicted of charges related to beatings and attempts to cover them up.
Prosecutors have been looking closely at possible criminal conduct by Baca for years, but it was only in the last week that they informed his lawyer, Michael Zweiback, that they intended to ask a grand jury to indict him, Zweiback said. Prosecutors didn't specify the charges they would seek, Zweiback said, but one possibility was obstruction of justice, a more serious charge than the false statements count to which Baca ultimately admitted. Seven sheriff's officials have been convicted of obstruction in the jail scandal and received sentences ranging from a year and a half to more than three years in prison.
Join the conversation on Facebook >>
Trying to avoid that sort of sentence, his lawyer began negotiating with prosecutors.
"He really wanted to put this whole ordeal behind not only himself but also the department," Zweiback said. "It was very important to him that this no longer be a distraction to the Sheriff's Department."
In the plea agreement filed in federal court Wednesday, Baca admitted lying in an April 12, 2013, interview with investigators. By that time, the scandal was front-page news, with The Times that day citing anonymous sheriff's officials claiming Baca had a significant role in trying to hinder the federal investigation. Baca publicly presented a different view, telling the paper, "I'm not a hands-on person."
He continued to maintain that he knew little in the meeting with FBI agents and prosecutors, according to the plea agreement. He told them he was not involved in hiding an inmate, Anthony Brown, an informant cooperating with the investigation by federal agents, and was not aware that one of his top lieutenants had intervened to stop agents from questioning Brown.
In addition, he told investigators that he was not involved in sending sheriff's officials to the residence of Leah Marx, an FBI agent working the jail case, to threaten her with arrest and only learned about it when an FBI official phoned him to complain. According to the plea agreement, Baca was at the meeting the day before where officials came up with the plan and told his subordinates they "should do everything but put handcuffs" on her.
In entering his guilty plea, Baca admitted only to lying to officials about his awareness of the visit to the FBI agent's home. Under the terms of the plea deal, he agreed not to contest the prosecutors' other allegations.
David Bowdich, assistant director in charge of the FBI's Los Angeles field office, noted that Baca continued to deny the truth even as rank-and-file deputies were "under the gun" and being prosecuted.
"He had the opportunity to lead and he did not lead," Bowdich said.
Zweiback said Baca had accepted that he might spend time in federal prison. "He is ready for whatever outcome is deemed appropriate by the court."
Baca has not offered any explanation as to why he lied, his lawyer said.
Baca's second-in-command, Undersheriff Paul Tanaka, is scheduled to go on trial in March for his alleged role in obstructing the federal investigation. Prosecutors contend that Tanaka took the lead role in trying to undermine the probe. Baca's plea agreement does not require him to testify at that trial, and his attorney said he expects the former sheriff to assert his 5th Amendment right against self-incrimination and refuse to testify if called to the stand.
The charge to which Baca admitted — making false statements — carries a maximum sentence of five years in prison. Under the terms of the agreement, Baca can withdraw his guilty plea if the judge indicates that a sentence of more than six months is warranted.
The disparity between the sentence negotiated with Baca and those of other sheriff's officials galled some in the department.
"He is one person who could have prevented these problems," said George Hofstetter, president of the Assn. for Los Angeles Deputy Sheriffs.
NEWSLETTER: Get essential California headlines delivered daily >>
Decker, the U.S. attorney, defended making the deal with Baca. She said that as in all cases, prosecutors analyzed the evidence and assessed the chances of winning a conviction from a jury. She said another important factor was Baca's willingness to plead guilty before prosecutors sought an indictment from a grand jury.
It was significant that "a law enforcement representative, particularly a former sheriff, has come forward in a way that no one else has at that level to accept responsibility," Decker said.
She said prosecutors would not decide what sentence to recommend to the judge until after reviewing materials Baca is expected to submit in advance of sentencing. Typically these include evidence of a defendant's contributions to society.
Baca stepped down in 2014 enmeshed in controversy. The county's blue-ribbon commission found troubling evidence of excessive force by deputies against inmates and sharply criticized Baca's leadership. And a 2013 federal investigation separate from the jail probe concluded that his officers had harassed and intimidated African American and Latino residents of the Antelope Valley.
Baca, flanked by his wife, declined to speak to reporters as he left court. In a statement read by his attorney, he said, "I made a mistake and accept being held accountable. I will always love the men and women of the Sheriff's Department and serve human life no matter whom and where they are."
Times staff writers Richard Winton and Kate Mather contributed to this report.
ALSO
2 sheriff's deputies in jail abuse case won't be retried on excessive force charges
After jury deadlocks, L.A. County sheriff's deputies to be retried on jail beating charge
L.A. County jail abuse trial starts off with vastly different accounts of what happened
---
The stories shaping California
Get up to speed with our Essential California newsletter, sent six days a week.
You may occasionally receive promotional content from the Los Angeles Times.