After jury deadlocks, L.A. County sheriff's deputies to be retried on jail beating charge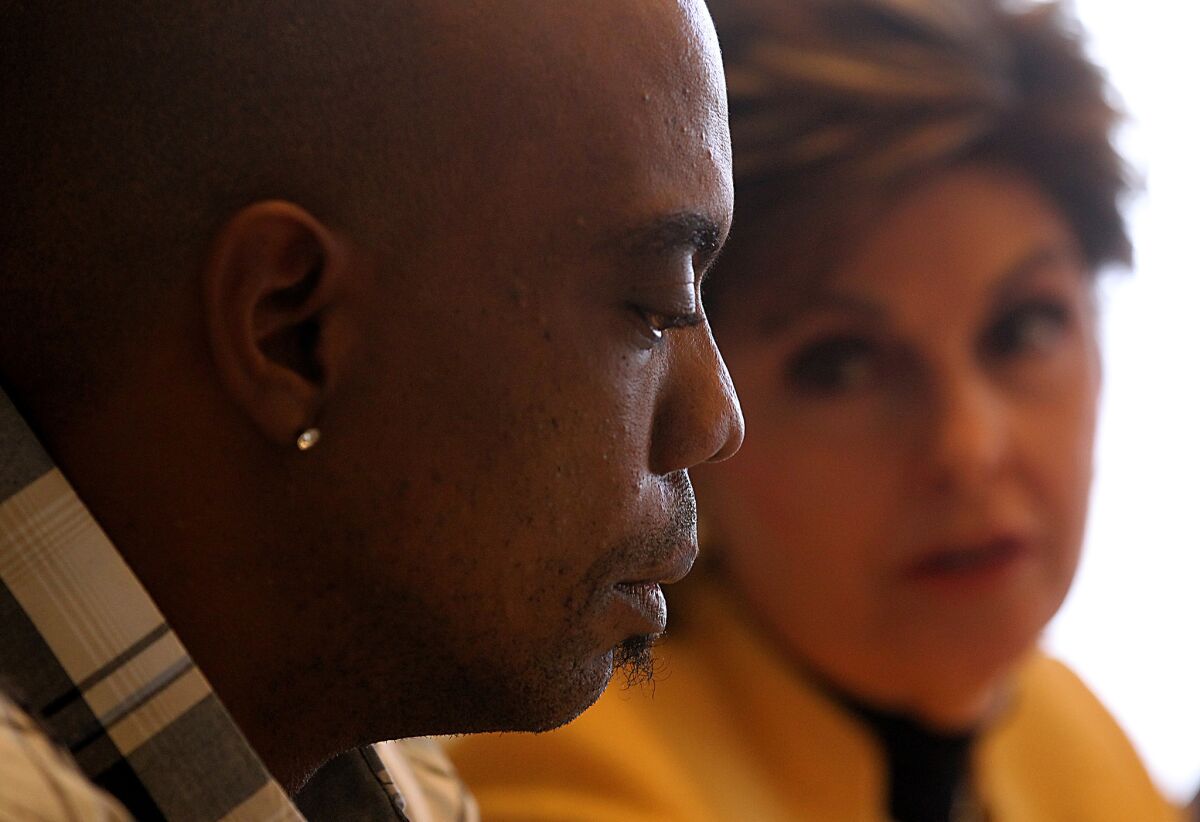 Federal prosecutors will retry two Los Angeles County sheriff's deputies after jurors deadlocked earlier this week on whether the pair used excessive force against a handcuffed jail inmate.
The eight-day trial of Joey Aguiar and Mariano Ramirez concluded Tuesday with a mixed verdict. Jurors acquitted the men of conspiring to violate the inmate's civil rights and convicted them of writing false reports about the February 2009 incident. Jurors, however, failed to reach a unanimous decision on whether the force they used was justified. Ten of the 12 jurors were in favor of convicting the deputies on the charge.
Prosecutors filed a letter late Thursday with U.S. District Court Judge Beverly Reid O'Connell alerting her to their plans to try Aguiar and Ramirez again on the undecided charge. They declined to comment Friday on the decision.
Interested in the stories shaping California? Sign up for the free Essential California newsletter >>
The retrial is tentatively scheduled to start Feb. 16, but a date is expected to be finalized at a court hearing on Monday.
During the trial, defense lawyers argued the deputies had used necessary force to subdue the inmate, Bret Phillips, after he attempted to attack Aguiar.
The deputies acknowledged in internal department reports they wrote at the time that they both repeatedly punched Phillips, and Ramirez struck him with a flashlight and pepper-sprayed him in the face. They said Phillips, now 44, had attempted to head-butt Aguiar and continued to struggle after being pinned on the ground.
Prosecutors countered, saying Phillips did nothing to justify the assault. They portrayed the deputies as angry and bent on punishing Phillips for acting out and said Phillips posed no serious threat since his hands were shackled to a chain around his waist.
In a brief interview after the verdicts, the jury forewoman said jurors quickly decided that the government failed to prove the deputies had conspired together to violate Phillips' civil rights.
They were also in strong agreement, she said, that the reports the two deputies wrote, which mirrored each other verbatim in places, could not have been truthful. The deputies each face as many as 20 years in prison on the false records convictions.
Discrepancies between medical records that showed Phillips suffered minor injuries and dramatic accounts of a brutal beating from the prosecution's witnesses were stumbling blocks for the two jurors opposed to convicting the deputies of violating the inmate's rights by using excessive force, said the forewoman, Janet Giampaoli.
The trial centered on a morning nearly seven years ago when Phillips was being held in a special unit of Men's Central Jail used to separate violent and other high-risk inmates from the facility's general population.
Phillips, who testified that he suffers from paranoid schizophrenia and bipolar disorder, was in custody after being arrested on a charge of domestic violence. He was housed in the high-security unit because he had been an informant while serving a previous prison sentence and was at risk of retaliation.
Two prosecution witnesses -- a Catholic minister and a former gang member serving time for manslaughter -- testified that they watched the deputies ruthlessly punch and kick Phillips as he lay motionless on the floor. Phillips testified he was attacked after angering the deputies by throwing milk cartons from his cell in frustration.
But Aguiar's attorney, Evan Jenness, and Ramirez's attorney, Vicki Podberesky, sought to expose inconsistencies between the various accounts of the incident and to cast doubt on the witnesses' credibility.
The chaplain, for example, made repeated claims of seeing blood on the floor beneath Phillips' head. In one statement to authorities shortly after the incident, he described a pool of blood about 2 feet wide.
A deputy working alongside the men that day testified he saw Phillips try to head-butt Aguiar. The unit's supervisor took the stand to say he arrived on the scene to find Phillips on the floor trying to break free from the deputies.
Twitter: @joelrubin
ALSO
Parole board gives ex-Mexican Mafia killer another chance at freedom
Washington murder suspect who fled on skateboard is in L.A., officials say
Doctor convicted of murder for patients' drug overdoses gets 30 years to life in prison
---
The stories shaping California
Get up to speed with our Essential California newsletter, sent six days a week.
You may occasionally receive promotional content from the Los Angeles Times.