He brokered deals for an empire of California charter schools -- and now faces a felony charge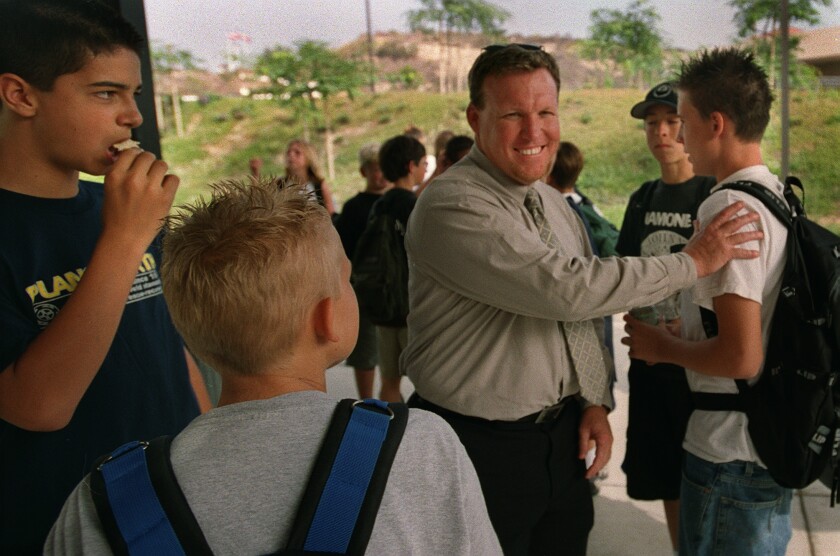 By the time Steve Van Zant left the Mountain Empire Unified School District in 2013, he had overseen the authorization of more than a dozen charter schools to operate in other districts throughout San Diego County — with several going on to hire his education consulting firm.
All the while, Van Zant coached at least one other district on how to approve out-of-town charters, according to emails obtained by the San Diego Union-Tribune. As more districts approved far-flung charters, Van Zant's EdHive consultant business took on some of the schools as clients.
The San Diego district attorney's office arraigned Van Zant on Jan. 15 on a felony conflict-of-interest charge from an undisclosed incident in May 2010 while he was superintendent of Mountain Empire.
See more of our top stories on Facebook >>
The district attorney's office declined to disclose details of its investigation, and it is unclear whether the charge relates to his work with charter schools. According to the criminal complaint, Van Zant violated laws that prohibited him "from being financially interested in contracts made by him in his official capacity."
The Union-Tribune has tracked a charter empire built by Van Zant by taking advantage of what some call a shortcoming in state law that gives districts a financial incentive to place charters in other school districts. By placing charters outside its boundaries, a district can raise new funds — up to 3 percent of a charter's revenue — without any threat to enrollment or state attendance funds.
More than 80 out-of-district charters have been approved in San Diego County, the vast majority of which were authorized by small East County districts — several with help from Van Zant, who includes a list of charter clients on his LinkedIn professional network profile.
Van Zant, 53, declined to comment on the criminal charges and the EdHive business model through his attorney Garland Peed.
When Van Zant accepted the job in 2013 as superintendent of the Sausalito Marin City School District, he was positioned to devote even more time growing his consulting business. He would commute from his Mission Bay home for the three-day-a-week position in Northern California with a starting salary of $165,000 and still run EdHive, which recently opened an office in Symphony Towers in downtown San Diego.
The EdHive website says it can "find an authorizing district for your charter and cut a deal that provides the financial incentive for the district and still save your school money" among services such as negotiating leases and setting salaries.
California secretary of state documents show that Van Zant's wife, interior designer Ingrid Van Zant, registered the corporation in 2011. Steve Van Zant listed himself as both president and vice president of EdHive in 2015 on financial disclosure forms filed with Marin County.
Follow the Times' education initiative to inform parents, educators and students across California >>
After leaving Mountain Empire in the summer of 2013, Van Zant helped usher through another charter in the Pine Valley-based district.
The former superintendent personally petitioned the Mountain Empire school board to authorize the County Collaborative Charter School. Van Zant would go on to serve as director, and he listed his EdHive consulting firm as the provider of back-office services in charter petition documents.
By soliciting business from the district so quickly after leaving office in Mountain Empire, Van Zant has raised questions about whether he violated the Political Reform Act, which calls for a one-year "cooling off" period before government officials can lobby their agencies — or do business with them — after leaving.
The County Collaborative charter enrolled 201 students in the 2014-15 school year, and lists Van Zant's downtown San Diego EdHive office as the school's address on a California Department of Education website. Van Zant is listed as the charter's director, a position missing from financial disclosure documents filed in Marin after taking office in Sausalito.
The school board approved Van Zant's charter petition. Mountain Empire school board President Kenneth Northcote did not return emails and phone calls requesting comment on the action.
County Collaborative would be located in San Diego. The agreement resembled other out-of-district charters approved, in that Mountain Empire would receive a portion of the charter's revenue without any significant threat to its enrollment. Mountain Empire would get 4 percent of the County Collaborative's revenue -- 1 percent for general oversight, and 3 percent for special education oversight.
The state does not track how many out-of-district charters operate across California. Contentious charter arrangements (with schools in Santa Clarita Valley, Los Angeles and elsewhere that are listed on Van Zant's LinkedIn profile) have stirred lawsuits throughout California.
Sarah Sutherland, an education attorney who represents several districts fighting charters they didn't authorize, is among those raising the issue about the Political Reform Act. Sutherland said Van Zant and his wife would "take their show on the road," traveling through California to promote charter schools and recruit clients in small districts.
"He took this concept and he ran with it, turning it into a business," she said.
Most charter schools operate within the boundaries of the district that authorized their charter. The goal is to offer innovative education alternatives to families and to stir competition in a district.
NEWSLETTER: Get the day's top headlines from Times Editor Davan Maharaj >>
Under state law, if a school district cannot provide space for a charter, the charter must notify the district it wants to move into before the charter is authorized. But the Charter School Act intends for charters to offer educational options to students within an authorizing district, Sutherland said.
Small and cash-strapped school districts often authorize charters to operate in other districts because of the financial incentive. The arrangements protect the authorizing district's enrollment and the state attendance funds that come with it.
"That's the profile, small districts that need money. The issue is the law that people are exploiting that allows charter schools to be located outside the district boundaries as part of a scheme that's designed just to make money," said Paul Cordeiro, superintendent of the Newhall School District in the Santa Clarita Valley, where the Albert Einstein Academy for Letters, Arts and Sciences operates under an agreement with the Acton-Agua Dulce Unified School District.
A San Diego sister school to Albert Einstein Academy, Endeavour Academy — both of which were represented by Van Zant — was shut down last year after the San Diego Unified School District sued the charter and its authorizer, the Alpine Union School District. The charter failed to notify San Diego Unified it was moving into its district, and incorrectly billed itself as an independent-study program, a court ruled.
You are a charter God. Like Matt Damon in 'Good Will Hunting.'
— Former Alpine Superintendent Tom Pellegrino in an email to Van Zant
Van Zant advised Alpine on authorizing Endeavour (originally called Albert Einstein), according to emails between Van Zant, an EdHive employee and then-Alpine Superintendent Tom Pellegrino.
On May 9, 2013, Van Zant responded in an email to a question from Pellegrino about who must be notified about the Endeavour charter: "It's independent study. They are not locating a school. You don't need to send them anything because they are not site based...," Van Zant wrote using his Mountain Empire email account.
In an email exchange — with the subject "charter thoughts" — from Feb. 18, 2001, Van Zant advises Pellegrino about how new independent study charters should pay Alpine in fees. "The district eats first. So you take 7% (That's the cut we take from ours)." It's unclear from the email exchange how the fees would be justified. He also offered mathematical calculations that considered charter grants, labor costs and leases.
Pellegrino thanked Van Zant for his help and detailed calculations. "You are a charter God. Like Matt Damon in 'Good Will Hunting,' " he replied.
Pellegrino resigned in 2014 and moved his family to Costa Rica.
The one-campus Dehesa School District authorized 16 charters — some represented by Van Zant — or storefront "resource centers" to operate in other districts between 2001 and 2014. Before Van Zant took office in Mountain Empire, he was superintendent in Dehesa from 2006 to 2008.
Dehesa Superintendent Nancy Hauer declined to discuss why the charters were approved or how the district provides the required oversight, citing pending and potential litigation.
Districts that find themselves unwittingly hosting a charter are put in a situation of having no control or oversight over the education delivered to its own students, said Brian Marshall, superintendent of the La Mesa-Spring Valley School District.
"For the district of residence, we have no authority or information about the quality of any of the programs or curriculum the charter is operating," he said. "As the duly elected representative of the community charged with overseeing in the community, this is absolutely abhorrent. It's like the wild, wide West where anything goes. We have to clean this up."
Gov. Jerry Brown vetoed legislation in 2014 that would have imposed restrictions on where charters can be located, instead assigning a team to research the matter. New legislation from Sen. Fran Pavley (D-Agoura Hills) would prevent financially troubled districts from putting charters outside their boundaries.
The California Charter School Assn. opposed the bills, but it has called for the law to be strengthened.
"It is clear from the numerous lawsuits that have been filed by school districts against other school districts, in relation to charter school authorization practices, that the law needs to be clarified," said Miles Durfee, the association's managing regional director of Southern California.
Van Zant has been placed on indefinite paid leave in Sausalito. He was seen leaving EdHive's Symphony Towers office Friday.
Magee writes for the San Diego Union-Tribune.

MORE FROM EDUCATION
What's wrong with single-sex schools? A lot.
The problem with your lottery tickets and school funding
UC officials scramble to prep housing for biggest boost in California students in years
---
The stories shaping California
Get up to speed with our Essential California newsletter, sent six days a week.
You may occasionally receive promotional content from the Los Angeles Times.