Education Matters: New group names 49 L.A. schools -- more of them magnets -- as models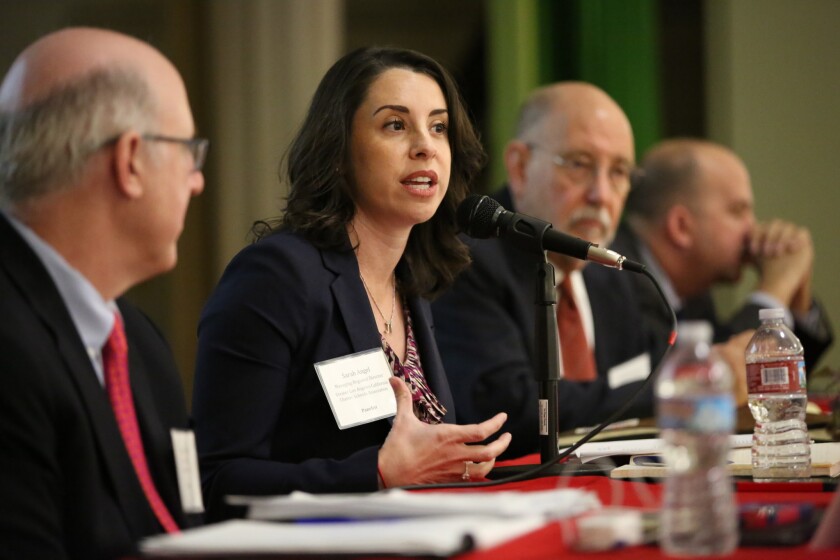 A new organization set up to create new, higher-performing public schools in Los Angeles has released a list of 49 successful campuses that it said would serve as models.
------------
FOR THE RECORD
Dec. 8, 5:50 p.m.: An earlier version of this article was based on incomplete data provided by Great Public Schools Now. The group originally listed 28 schools as meeting its criteria for success: 16 charters, eight magnets and four traditional neighborhood schools. After publication, the group said it should have included 49 schools. There are more magnets than charters on the expanded list.
------------
Those schools, which include charters, magnets and traditional public campuses, are viewed as stellar examples of how to educate students in the L.A. Unified School District. They are being touted by those who, at least initially, had proposed enrolling half of L.A. students in charter schools over the next eight years.
These schools are the kind of high-quality campuses that the group, Great Public Schools Now, wants to replicate, Bill Siart, chairman of the locally based nonprofit, said in a news release.
"It's critical that we identify what is working in our education system and seek to expand those successes," he said. "Through our effort, we will be targeting our resources to grow these kinds of proven models in specific areas of need."
The successful schools cited include Garfield Computer Science Magnet, in East Los Angeles, where, according to the group's data, 94% of students are from low-income families and 77% met or exceeded the state's academic targets for English Language Arts based on state testing in 2015. Another highlighted school is Synergy Quantum Academy, a charter high school in South Los Angeles. At that school, 96% of students are low income, while 67% met or surpassed the state learning goals in English, according to the data.
The full list includes 23 magnet programs, 19 charter schools and seven traditional neighborhood schools. Each has a low-income enrollment of at least 75% and more than 60% of students met state targets in English.
"Each of these schools proves that all students can learn, regardless of socioeconomic background," according to the group's release. "While there are challenges in educating students of need, those challenges are not insurmountable."
Charters are independently managed and exempt from some rules that govern traditional schools. Most are nonunion. Magnets are district operated and typically offer a special academic program. They were set up initially to encourage voluntary integration.
Charter groups with schools on the list include Alliance, Camino Nuevo, KIPP and Green Dot.
The traditional schools include Libra Academy at the Marquez Senior High complex and Green Design Community School, a high school at Rivera Learning Complex.
The magnets include those based at Commonwealth Avenue and Canterbury Avenue elementary schools, at Madison Middle School and at Fremont and South East high schools.
Questions still surround Great Public Schools Now, including the names of the financial backers and how much money they hope to raise. A confidential draft proposal, obtained by The Times, called for raising $490 million. Critics have questioned whether the underlying goal of the original draft plan — which called for more than doubling the number of charter schools — has changed. That draft was apparently intended for supporters and potential donors. At the time, philanthropist Eli Broad was spearheading the effort through his foundation.
The project will be carried forward by a board that is being assembled through the efforts of Siart, a former banker who started a company to run the office operations of charter schools. The Eli and Edythe Broad Foundation will control a seat on the governing body, but Eli Broad is not expected to take part personally, said Glenn Gritzner, a spokesman for the new group.
The L.A. Board of Education postponed action, initially scheduled for Tuesday, on a motion by board member Scott Schmerelson that criticizes the original charter expansion plan and all "external initiatives that seek to reduce public education in Los Angeles to an educational marketplace and our children to market shares."
Charter school advocates also have planned a rally for Tuesday. In a release Monday, they asserted that "charters are outperforming district schools on every measure," a contention district officials dispute.
The Times receives funding for its digital initiative, Education Matters, from the California Endowment, the Wasserman Foundation and the Baxter Family Foundation. The California Community Foundation and United Way of Greater Los Angeles administer grants from the Broad Foundation to support this effort. Under terms of the grants, The Times retains complete control over editorial content.
Twitter: @howardblume
---
The stories shaping California
Get up to speed with our Essential California newsletter, sent six days a week.
You may occasionally receive promotional content from the Los Angeles Times.