Proposals to boost Cal State enrollment pass key trustees committee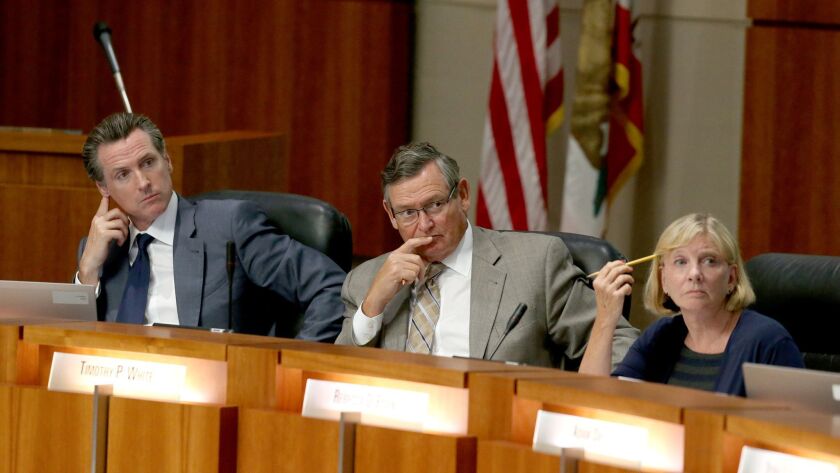 A proposal to help find spots for Cal State applicants who are shut out of the most popular campuses passed a key committee Tuesday at the trustees meeting in Long Beach.
The trustees are expected to vote Wednesday on the plan to chip away at a problem so serious that about 32,000 eligible applicants were turned away from the nation's largest public university system last fall because of oversubscribed programs and campuses.
For the record:
1:00 p.m. March 21, 2018An earlier version of this article said the last tuition increase allowed Cal State to add 9,000 more class seats. It created 90,000 more seats.
Six of the system's 23 campuses are in such high demand that each of their programs has more qualified applicants than can be accommodated.
In his 2017-18 budget, Gov. Jerry Brown gave the university system a one-time funding boost. But under the budget bill signed by the Legislature, Cal State officials had to commit to work on enrollment problems.
The policies that advanced Tuesday reflected that commitment. They would offer eligible applicants turned away from their first choices the chance to rank their next favorites and be admitted elsewhere in the system. And local students would get priority in admissions for overbooked undergraduate programs.
Even with those changes, though, staff members said they expected that only about 3,200 more students would ultimately enroll.
Administrators say the number of eligible applicants outpaces state funding to support them. Some trustees called the effort to enroll the extra students an unfunded mandate, because the $20 million Cal State received from the state to boost enrollment last year was just a one-time payment. But their education policy committee approved it anyway.
Trustee Thelma Meléndez de Santa Ana said she was concerned about keeping the playing field level. She said after the meeting that it worried her when administrators told her that how much priority local students would be given could vary campus to campus.
"It troubles me that students, just because of where you grew up ... you're unable to attend" the college you want, she said.
One tension is that the Legislature sees Cal State as a primarily regional system, said Nathan Evans, chief of staff and senior advisor for Academic and Student Affairs.
The full board will vote on the proposals Wednesday.
Trustees also are considering another round of tuition hikes, the second in a row after a six-year freeze. They say the state has left them cash-strapped with few other options. Brown's budget draft this year proposed a $92-million increase for the system, $171 million less than what trustees requested. Final budget decisions are expected early this summer.
The tuition proposal, which trustees are expected to vote on in May, would raise tuition by $228 for in-state students, bringing the annual cost to $5,970. Full-time nonresident students would see tuition increase by about $900, to $12,780 a year.
Some students spoke out against it during Tuesday's public comments. "Your sustainable financial task force recommendations ... are far from being ethically sustainable," said Marissa Mendoza, a San Diego State student who said she is $30,000 in debt. "Future CSU students continue to be failed with every tuition hike that you approve."
Cal State officials have a plan to double the system's four-year graduation rate to 40% by 2025. At one point, a handful of students chanted, "The more we pay, the longer we stay."
Last year's tuition increase raised $75 million, said Loren Blanchard, Cal State's vice chancellor for academic and student affairs. That money allowed Cal State to add 3,200 new course sections, which meant 90,000 seats for students, Blanchard said. The system also hired 228 new academic advisors, a key component of efforts to boost graduation rates.
When Cal State Chancellor Timothy P. White started talking about the budget, the students chanted, "Shame! Shame! Shame!"
Some faculty members also registered their discontent with a plan to drop the noncredit remedial courses that thousands of freshmen currently are required to take.
Gina Masequesmay, the chairwoman of Asian American Studies at Cal State Northridge, said professors are scrambling to develop new ways to fit such needed material into for-credit courses they're developing on the fly.
"I'm watching a disaster unfolding," she said, and students "will be experimented upon with classes we have never tested out. If I'm a parent, I would sue the state university."
---
For reporting and exclusive analysis from bureau chief John Myers, get our California Politics newsletter.
You may occasionally receive promotional content from the Los Angeles Times.