Cal State system under fire for success fees on some campuses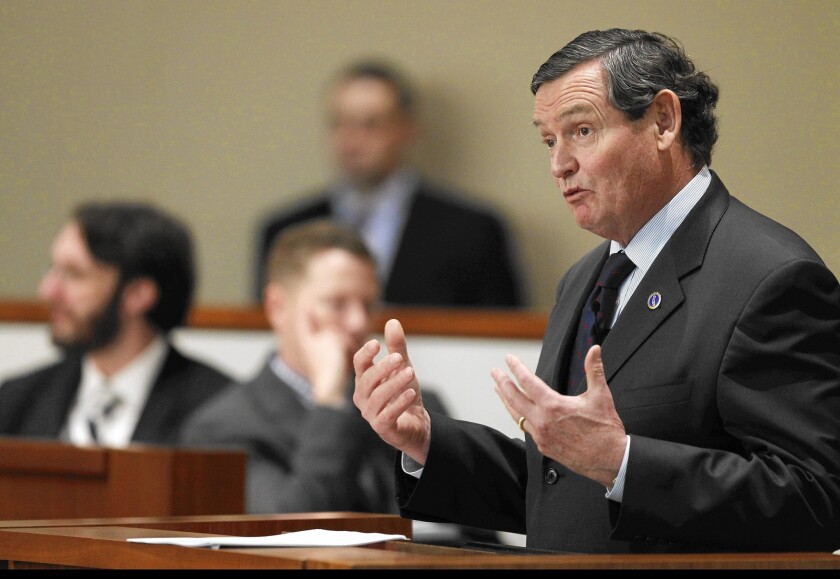 As University of California leaders push for a controversial multiyear tuition increase, the larger California State University system is holding back, preferring instead to wait and see if more funding can be coaxed from the state, officials said.
That doesn't mean, however, that Cal State leaders have escaped criticism over their own handling of costs. A dozen campuses have imposed so-called student success fees of up to nearly $800 per student, which many critics see as effectively tuition hikes, to augment academic services and hire faculty.
The Cal State Board of Trustees, meeting in Long Beach on Wednesday and Thursday, will hear preliminary recommendations to better inform students about the use of fees, including a new requirement for their prior approval.
On the same agenda, trustees also face the prospect of a proposed 3% pay hike for the chancellor, campus presidents and other executives.
It is almost a replay of 2011, when trustees approved a $100,000 increase in compensation for the incoming San Diego State president as it increased annual student tuition by 12%.
Under the current proposal, the salary of Chancellor Timothy White could increase from $410,000 to $422,300, which includes a $30,000 supplement from a nonprofit foundation. San Diego's Elliot Hirshman, the highest-paid campus president at $400,000, would receive $412,000, which includes a $50,000 foundation supplement.
A controversial element of the pay proposal is that the increase would be paid from state funds but is based on total compensation that includes the foundation pay.
Executive compensation is always delicate: UC recently approved pay increases of up to 20% for some campus leaders. Some students and employee unions have criticized the move.
Still, with an improved economy, a recent agreement on a 3% faculty pay hike and a well-regarded chancellor in White, little resistance to the Cal State proposal is expected.
"I think overall it's less problematic this time around," said Lillian Taiz, a history professor at Cal State Los Angeles who is president of the California Faculty Assn. "We can do the math and 3% on top of $300,000 or $400,000 is a lot more money. But I don't think people begrudge an increase that doesn't exceed ours."
On the budget front, trustees are expected to approve a 2015-16 budget request of $269 million, including $216.6 million in state funding, twice the $119.5 million proposed in Gov. Jerry Brown's spending plan.
Unlike the UC, Cal State — at this point anyway — is not considering raising tuition to fill the gap. But UC's proposal to increase student tuition by as much as 5% in each of the next five years is likely to be a hot topic of discussion among trustees.
Cal State, like UC, has not raised tuition for three years and is straining under the pressure to enroll greater numbers of students and tackle a nearly $2-billion backlog of deferred maintenance and repairs to aging campus facilities. Current Cal State tuition is $5,472 for undergraduates, not including room, board and books.
Brown, who serves as a UC regent and a Cal State trustee, has proposed a 4% annual funding increase for the two systems over the next two years under an agreement that calls for tuition to remain flat. Brown has expressed initial disapproval for UC's plan.
If Cal State's 23-campus, 420,000-student system were to consider a tuition hike, the Legislature might be tempted to reduce state support, said spokesman Mike Uhlenkamp.
"We've made the case over the past several years that the revenue we're receiving from tuition fees and the state is not enough to support this institution, whether for enrollment growth, mandatory costs or deferred maintenance in infrastructure," Uhlenkamp said. "At this point we haven't really considered tuition increases and are doing what we did last year and the year before in trying to make a compelling case for our needs that haven't been met. "
Meanwhile, a committee set up by White found that the increasing use of annual success fees for classroom purposes historically covered by tuition may be problematic because trustees, not individual campuses, oversee tuition decisions.
Maria Lopez, a Cal State Long Beach student who plans to address the board, said the recommendations should include a requirement that campus referendums hinge on at least 50% of students voting.
"Students are not thriving with these fees coming out of their pockets," said Lopez, 23. "There's higher debt, higher stress with students having to get more jobs, and they're not focused on education the way they should be."
Twitter: @carlariveralat
---
For reporting and exclusive analysis from bureau chief John Myers, get our California Politics newsletter.
You may occasionally receive promotional content from the Los Angeles Times.