California sues for-profit Ashford University, accusing the online school of ripping off students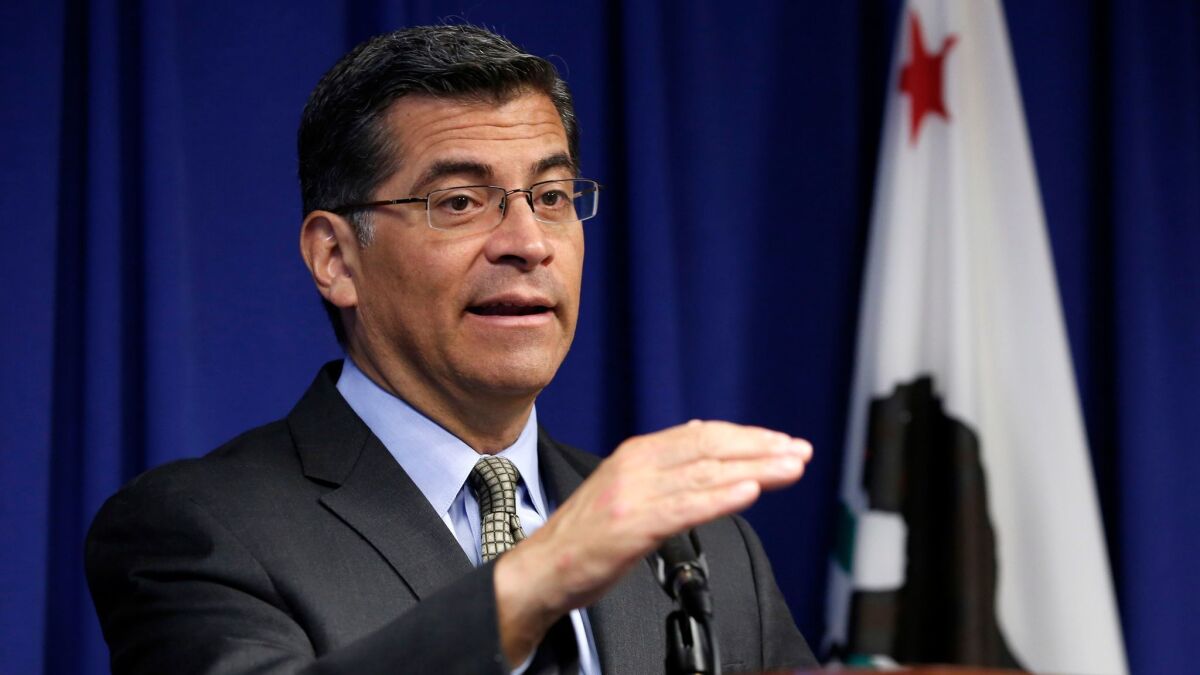 As the Trump administration backs away from Obama-era efforts to crack down on for-profit colleges, California is taking a step into the regulatory void.
On Wednesday, California Atty. Gen. Xavier Becerra announced at a news conference in San Francisco that the state is suing for-profit Ashford University and its parent company, Bridgepoint Education. The state has accused the online-only school of misleading students about its tuition costs, burying them in student loan debt and offering little of value in return.
For the record:
8:15 a.m. Nov. 30, 2017An earlier version of this story said Becerra made the announcement on Monday,.
Ashford has an enrollment of about 43,000 students, according to the Chronicle of Higher Education, which published an investigation of the university earlier this month. It called the school "a poster child for the ills of the for-profit college sector."
Becerra described Ashford as a "nightmare" for students. It is "an institution that professed to provide higher education but was making a ton of money instead," he said.
Although Bridgepoint Education is based in San Diego, Ashford enrolled students across the U.S. According to the Chronicle, Bridgepoint is also under investigation by attorneys general in New York and North Carolina.
Speaking on the campus of San Francisco State University, Becerra noted that unlike the brick-and-mortar state school, Ashford University doesn't have libraries, laboratories or classrooms. And yet, he said, it charges students considerably more — about $60,390, according to the lawsuit, for an online bachelor's degree.
Most of its students do not graduate and those who do often emerge saddled with debt and unable to find employment in the field related to their degree, according to the lawsuit. Becerra said the median student loan debt of an Ashford graduate is $34,000.
Anna Davison, Bridgepoint's vice president of corporate communications and investor relations, said the company will "vigorously defend this case."
"Bridgepoint's institutions serve as a model for how online education can better the lives of people who did not, or who were unable to, pursue more traditional avenues to degrees," Davison said in a statement.
California's lawsuit alleges that Ashford turned its admissions office into a sales department with a "boiler room" culture. It required employees to hit enrollment quotas. To do so, admissions counselors often either told applicants that federal financial aid would cover all of their expenses or promised them they would receive more aid than they had a right to expect.
The university targeted low-income students, minorities, and students who were the first in their families to go to college, according to the lawsuit. Recruiting veterans was also central to the university's strategy. Students who get tuition assistance from the GI Bill and other military programs make up about a quarter of its enrollment, the Chronicle said.
According to the lawsuit, the vast majority of Ashford's earnings come from federally subsidized student loans and grants. As the university grew exponentially — with its enrollment swelling to more than 80,000 students in 2011 — Bridgepoint Education's revenue climbed. The company made $968 million in 2012.
California's lawsuit also alleges that Bridgepoint lied to investors and in its securities filings by inflating its success preparing its graduates for jobs. The state is seeking restitution for students and civil penalties, as well as a permanent injunction barring Ashford from "similar activities in the future."
Becerra encouraged former Ashford students and college students who believe they may have experienced similar treatment by other for-profit universities to file a complaint with his office at (800) 952-5225 or oag.ca.gov/report.
Twitter: @annamphillips
---
Life is stressful. Our weekly mental wellness newsletter can help.
You may occasionally receive promotional content from the Los Angeles Times.