Cal State leader shelves proposed tuition hike: 'It's the right thing to do, but it's not without risk'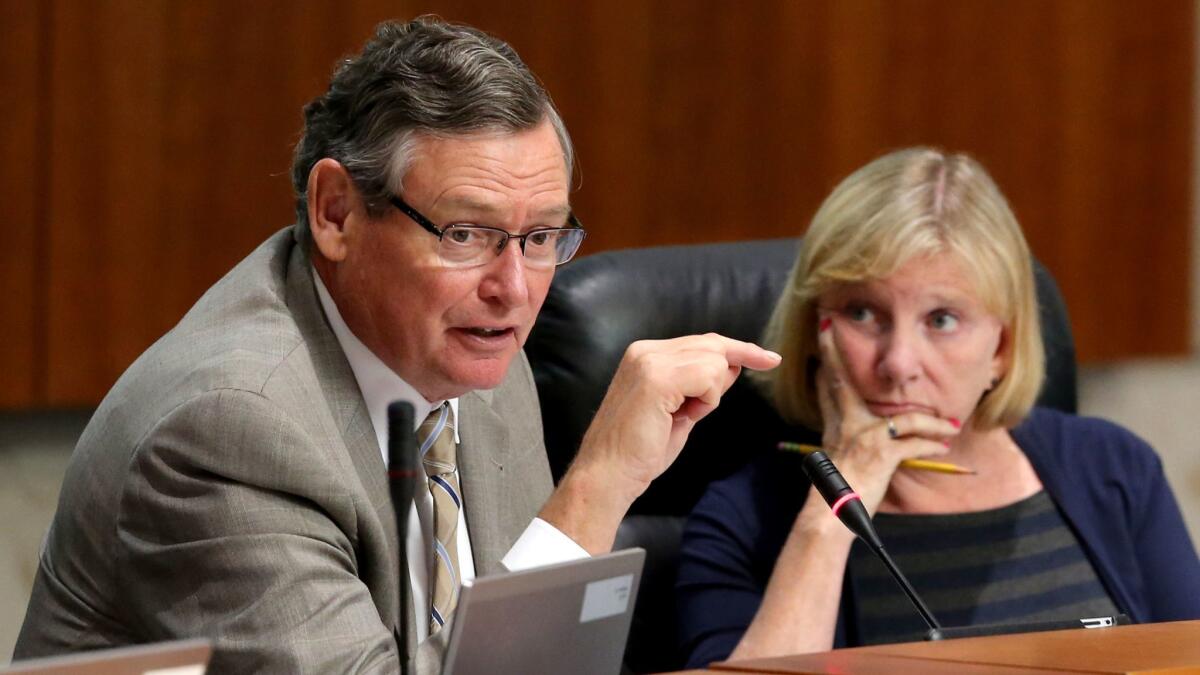 Cal State, the nation's largest public university system, will no longer consider a plan to raise tuition for the 2018-19 academic year, Chancellor Timothy P. White announced Friday.
The decision is a bet that Sacramento will come through in the end. If Cal State loses that bet, it could mean cuts to campus programs.
White said in an interview that California's economy is strong enough that families should not be shouldering the burden of higher college costs.
"There are by and large taxes that we pay: income tax, sales tax and all that stuff. It's the public's money, and we're the state university," he said.
White noted that 10% of the state's current workforce has Cal State diplomas, adding that California needs more employees with bachelor's degrees.
"There's a state interest," he said. "If we don't end up meeting that need, California will have more difficulty in sustaining quality of life for everybody."
Students already struggle with the costs of housing and transportation. They've come to recent Cal State trustees meetings to protest potential tuition hikes.
"You have your mansion and your salary and your comfort that you have worked for, but help us get to a point where we can work for it too," Brittany Goss of Cal State Fullerton told trustees at their March meeting.
"CSU students continue to be failed with every tuition hike that you approve," said Marissa Mendoza, a San Diego State student who told trustees she was $30,000 in debt.
"It's the right thing to do, but it's not without risk," White said of the decision to back off a hike. "If we end up not succeeding, there will be consequences."
White and trustees say the state has left the system strapped for cash. Gov. Jerry Brown's budget draft this year proposed a $92-million increase for the system, but it was $171 million less than what trustees requested. That money, White said, would help pay salaries and healthcare costs for roughly 50,000 employees as well as allow the system to fix up decrepit buildings and do more to boost graduation rates.
Another tuition hike — the second in a row after a six-year freeze — was proposed to fill the gap between proposed state funding and Cal State's needs. The proposal was to tuition by $228 for in-state students, bringing the annual cost of attending Cal State to $5,970. Full-time nonresident students would have seen tuition increase by about $900, to $12,780 a year. Trustees were supposed to vote on the hikes in May.
Final state budget decisions are expected early this summer, after the governor's May revision. White said he has received no assurance from Brown that the money allotted to Cal State will increase, but he said he is confident that the needle will move.
Cal State officials have been telling the system's story as they lobby for more money.
"We have had favorable conversations in Sacramento with lawmakers," White said. "As I read the tea leaves, I have this optimism."
If it's unfounded, he said, Cal State could be forced to make cuts in the chancellor's office and could wind up enrolling fewer students. Those who are enrolled might have fewer support services and courses to choose from.
Cal State struggles with oversubscribed campuses. About 32,000 eligible applicants were turned away from the the system last fall because of overbooked programs and campuses.
Six of the system's 23 campuses are in such high demand that each of their programs has more qualified applicants than can be accommodated.
The University of California, meanwhile, still is considering a tuition hike for state residents and recently approved a tuition increase for nonresident students.
Twitter: @Joy_Resmovits
Sign up for Essential California for news, features and recommendations from the L.A. Times and beyond in your inbox six days a week.
You may occasionally receive promotional content from the Los Angeles Times.