California's State Board of Education votes to close 2 Celerity charter schools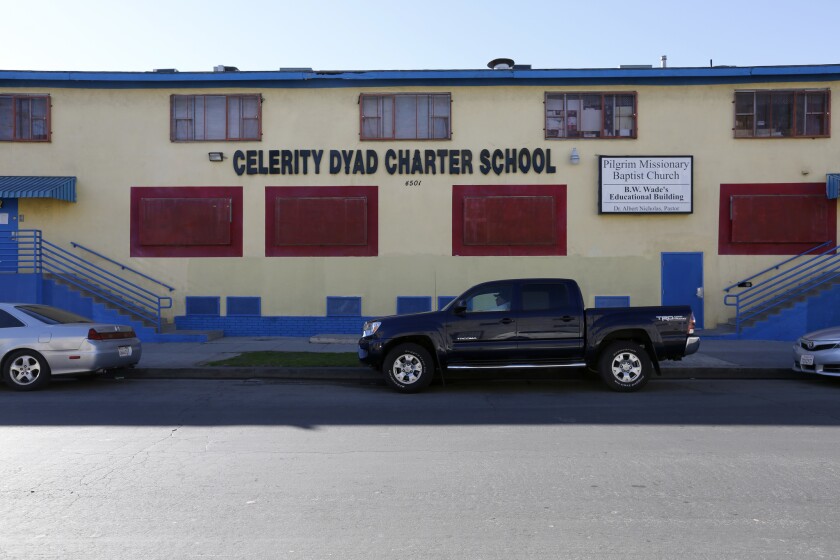 California's State Board of Education voted unanimously Thursday to shutter two Los Angeles charter schools run by a nonprofit that is under investigation by the U.S. Department of Education and the inspector general for the Los Angeles Unified School District.
Some parents and teachers at the schools cried through their testimony at an emotional hearing, which ended with the board declining to renew the charter petitions for the Celerity Dyad Charter School in South Los Angeles and the Celerity Troika Charter School in Eagle Rock. Explaining their vote, board members said they had lost confidence in the Celerity Educational Group, the organization that manages the schools, and expressed growing concerns about its governance structure and finances, as well as the potential for conflicts of interest.
"This seems to be a very troubling failure on the part of the adults who manage these organizations, rather than on the adults in the classrooms," said board member Ilene Straus.
The board's vote comes at a time when charter school advocates are determined to increase the number of such schools in L.A., and it highlights the growing difficulty of regulating them. The state's teachers union, which has fought against the growth in charter schools, has argued that all control over which charter schools are approved or rejected should rest with local school districts, rather than county or state boards.
With more charter schools than any other district in the country, L.A. Unified is considered one of the main battlegrounds for charter advocates and opponents.
The state board's vote Thursday was a stunning departure from its thinking last fall, when it approved two new charter schools operated by the Celerity group. At the time, most board members brushed aside questions about the group's operations and did not dwell on the fact that it was under investigation by L.A. Unified's inspector general. They endorsed Celerity's expansion, citing its academic record and comparatively high test scores.
Since then, the board's opinion of Celerity has changed dramatically.
In late January, federal agents from the Department of Homeland Security, the FBI and other agencies raided Celerity's offices, as well as the headquarters of a related nonprofit, Celerity Global Development, and the home of its founder, Vielka McFarlane.
The focus of the federal investigation is unclear — the search warrants remain under seal — and no one at Celerity has been charged with a crime related to the nonprofit's operations.
In response to the raid, Celerity's attorney, Maurice Suh, said the organization and its leaders were free of wrongdoing and would cooperate with the investigations.
On Thursday, Suh accused L.A. Unified of being the driving force behind the federal investigation, and he openly worried that the district might try to close Celerity's remaining schools.
"We'll do, in essence, what is necessary to keep our schools running," Suh told the board. "Plain and simple. We're here to tell you we're happy to change."
In its review of the group's financial records, The Times documented years of questionable spending by Celerity's leaders as well as potential conflicts of interest. Financial records show that, in her former role as chief executive of Celerity Educational Group, McFarlane paid for lavish meals and hotel stays with a credit card belonging to her charter schools, which receive the bulk of their funding from the state. She also created a complex web of nonprofit corporations and for-profit businesses, including an information technology company and a real estate holding company, that did business with her schools.
Celerity's leaders have said in response that many of McFarlane's purchases were paid for by Celerity Educational Group's parent organization, Celerity Global Development, which McFarlane currently runs. In a newsletter posted online, the group conceded that some of these transactions "were personal expenses mistakenly put on the school credit card, which Ms. McFarlane paid back." It offered no evidence of repayment and did not say how much McFarlane reimbursed her schools.
In 2013, McFarlane earned $471,842, about 35% more than Michelle King, the superintendent of the Los Angeles school district, makes today, a fact that appeared to rankle some state board members.
"One has to oversee less than 4,000 students, the other has to oversee about 500,000. That's not apples to apples," said board member Feliza Ortiz-Licon. "That alone shows me the lens that's being used to look at this."
The Celerity group runs seven charter schools in Southern California — six in L.A. and one in Compton.
Hours after the vote, a Celerity spokesman released a written statement saying the group was "disappointed" with the state board's decision. "Celerity's other charter schools are not affected by today's decision and we will continue to work hard to serve all our families," it read.
In recent weeks, Celerity has been put on notice that other organizations are concerned about its behavior.
The Western Assn. of Schools and Colleges, commonly known by its acronym WASC, an accrediting agency recognized by the U.S. Department of Education, has warned Celerity that its schools are in danger of losing their accreditation.
After donating $400,000 to help Celerity open its two new schools, the Walton Family Foundation recently asked the group to return any unspent money. The foundation declined to give its reasoning for the unusual request.
With the board's vote, Celerity has exhausted its appeals for Dyad and Troika, both of which had their renewal petitions rejected by L.A. Unified's board. The Los Angeles County Board of Education declined even to consider extending the life of the two schools for another five-year term.
About 1,400 students in kindergarten through eighth grade attend Dyad and Troika and will have to find new schools by the fall, according to state officials.
Some may wind up attending the two new schools, Celerity Rolas and Celerity Himalia, that the state board authorized last fall. Both schools are expected to open next year.
Twitter: @annamphillips
ALSO
Outside money continues to pour into L.A. school board campaigns
Man accused of fatally shooting motorist on 10 Freeway and man in El Monte, CHP says
L.A. councilman's proposal targets companies seeking work on Trump's planned border wall
---
UPDATES:
4:15 p.m.: This article was updated throughout with additional information about the Celerity group and the state board's vote as well as comments from some board members.
8:00 p.m.: This article was updated to include a statement from a Celerity spokesman.
This article was originally published at 3:15 p.m.
---
The stories shaping California
Get up to speed with our Essential California newsletter, sent six days a week.
You may occasionally receive promotional content from the Los Angeles Times.