West High goes to the top of the class in academic decathlon
After her team won Los Angeles County's academic decathlon, Annie Dai suddenly did not feel among the best and brightest. She was so excited that, for a moment, she could not remember her name or her age.
Her friend Kendall Kirio explained: "It's not in the guide. Not relevant."
Fortunately, when it came to the 700-page study guide, Annie, a 17-year-old senior, was entirely in the groove, along with seven teammates from West High in Torrance.
The annual decathlon seeks to do for brainiacs what high school sports do for jocks — make stars of them while also teaching them teamwork. Like dedicated athletes, these students make sacrifices. On top of already tough course schedules, the West High scholars — under the guidance of head coach and biology teacher Ann Cortina — had studied together about five hours a day since last summer, a lot of it in the school library, which until recently lacked heat.
"When you spend so much time in a certain place, sometimes it starts to grow on you, sometimes it starts to terrify you," said Annie. "Last year we were so cold that Ms. Cortina, as a gift to the entire team, bought us blankets, because we were the team that was always cold."
Over two weekends of competition prior to Thursday's award ceremony in Montebello, they were anything but.
Kendall, a 16-year-old junior, was the top overall individual scorer in the competition, which took place at El Rancho High in Pico Rivera.
Her study tools included a supplementary guide that Annie had put together for this year's topic: The 1960s.
"I'm really astounded by how many of our topics, how many of the Supreme Court cases were decided in the 1960s — the Warren court, the Burger court," Annie said. "Medicare and Medicaid started and Vietman was in the 1960s. There were so many political and social events that really have a large impact on the way that society functions today."
The decathlon academic topics — including art, music, social science, economics — were pitched directly to the theme. The science test was about the laser — first built in 1960 — and its applications. In the literature category, the works to study included the play "Rosencrantz and Guildenstern Are Dead" by Tom Stoppard, which debuted in 1966.
Kendall also won the individual gold medal in the music category. Being a musician may or may not have helped.
"I play trombone," she noted. "That doesn't show up a lot in '60s music."
But she appreciated what she learned about beyond the Beatles, including the work of composer Krzysztof Penderecki: "I challenge anyone to look up 'Threnody to the Victims of Hiroshima.' It's instantly recognizable."
For Anoushka Gupta, the musical variety showed off the '60s as "a cool time, not just the time of my parents." The 16-year-old junior added that her parents grew up in India, so their 1960s was different from what she was studying.
Her background underscores the diversity of the team. She ticked off ethnic or national backgrounds of white, Latino, Chinese, Indian, Korean, Japanese, Sri Lankan and "Jeremy" — referring jokingly to teammate Jeremy Gong. Parents would take turns feeding the study group with their traditional fare.
"It's taught us a lot about other people's lives and what they eat at home," she said. "We've just become more of a family."
Anoushka had the third highest individual score in the competition even though she joined the team as a "B" student. The decathlon is structured so that every team has to include students with a B average and even with a C average.
Amy Chung, 16, seemed to have no chance to make the team despite her smarts because of a fear of public speaking. The contest includes speech and interview events.
"I could not give my speech my first two years" trying to be on the team, said Amy, a junior. "I could not talk even to peers. But this year I worked really hard to overcome that."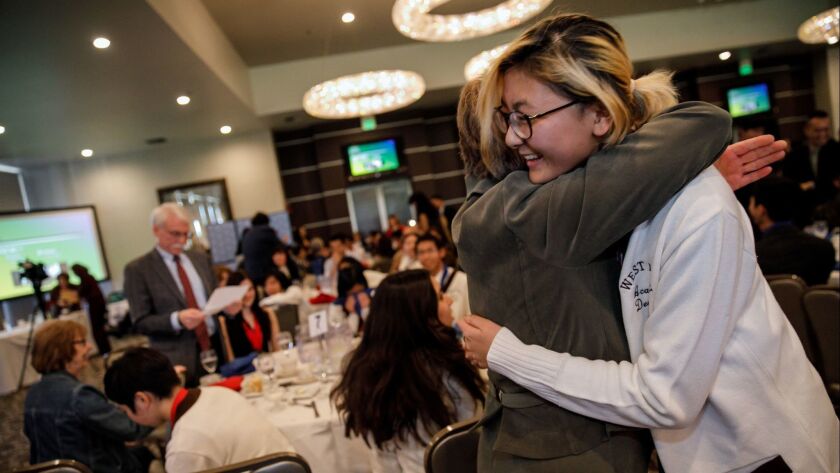 She talked to the judges about Neville Longbottom from the Harry Potter series — how he overcame personal insecurities to help defeat the evil Voldemort. She won a gold medal in the event.
The other members of the team are Britney Burnasky, Anandi Ahlawat and Emi Verderber. And they'll all be headed to Sacramento to compete in the state finals in March. The nationals follow.
The county competition, organized by the L.A. County Office of Education, included 50 high school teams and nearly 400 students. This competition included school districts other than massive L.A. Unified, which has its own division.
On Saturday night, officials announced that Benjamin Franklin High School had won LAUSD'S academic decathlon. "Today you shined the brightest with your skill, hard work and determination," the district tweeted.
Despite their brilliance, the West High team will enter the state contest as an underdog. The favorites include El Camino Real Charter High School, the defending national champion, and Granada Hills Charter High School, a past national champion. Both of these west San Fernando Valley powerhouses used to compete within L.A. Unified. This year they took part in a decathlon for "independent schools," with Granada Hills finishing first, but both schools qualifying to move on.
Regardless of what happens, the West High students, like other decathletes, are the sort you'd want to check back with in 10 to 15 years.
Annie once wrote a story about a zombie apocalypse in which the main character was a scientist trying to simulate a human body from a strand of DNA. In real life, DNA research "could cure almost all diseases," she said. "And I really want to see if I can make that a reality."
Kendall wants to go into neuroscience: "Because my grandfather has Alzheimer's and I've grown up seeing him become less of who he once was. And if the brain holds who you are, then I want to help solve all the problems with it. I think that's one of the most important things we can do."
L.A. Unified will announce its winners on Saturday. The favorites include Garfield High, Grant High, Marshall High and North Hollywood High. The private school division was won by Bishop Alemany High School in Mission Hills.
Twitter: @howardblume
---
The stories shaping California
Get up to speed with our Essential California newsletter, sent six days a week.
You may occasionally receive promotional content from the Los Angeles Times.