Can two new L.A. high schools make fire departments more diverse?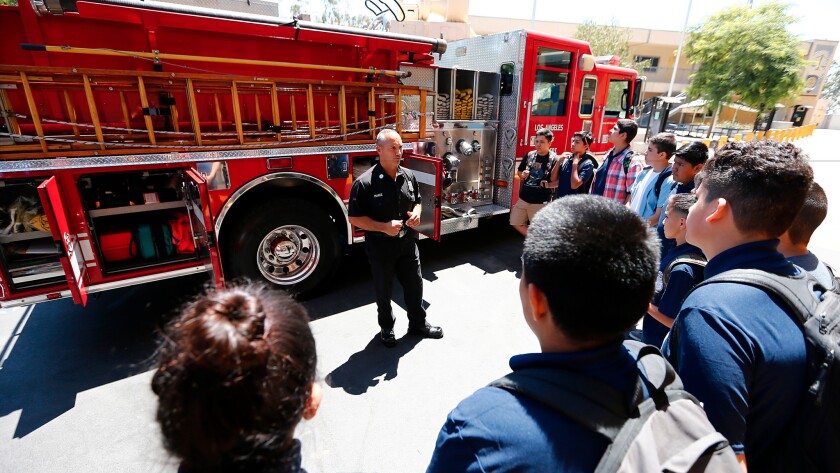 A fire engine rolled through the gates of Banning High School in Wilmington on the first day of school, just as the last students were grabbing their breakfasts and heading to class.
No, it wasn't an emergency. Firefighters from Fire Station 38 were there to show off their truck to students of the school's new firefighter-themed magnet school.
One of two first-of-its-kind firefighting magnets in L.A. Unified — the other is at Wilson High — the program is part of the Los Angeles Fire Department's effort to diversify its department, which as of last year was about half white and just 2.8% female.
The goal is to prepare students to take an emergency medical technician class immediately after graduating, and to be able to earn admission into the department's training academy.
Banning's magnet has 72 students starting in ninth and 10th grades. Wilson has about 28 ninth-graders.
At both schools, physical education will focus on the training firefighters need, including CPR and handling firefighting equipment.
Each year, Wilson students will take a different required elective related to career development or firefighting, said Maribel Gonzalez, the school's magnet coordinator.
Banning students will take life science and physical science classes that focus on elements of fire tech, said principal Rudy Mendoza. In later years, he said, the theme of firefighting will expand to other classes. English class, for instance, will include medical vocabulary so students can be prepared for the EMT certification they'll need to earn after high school, if they want to become firefighters.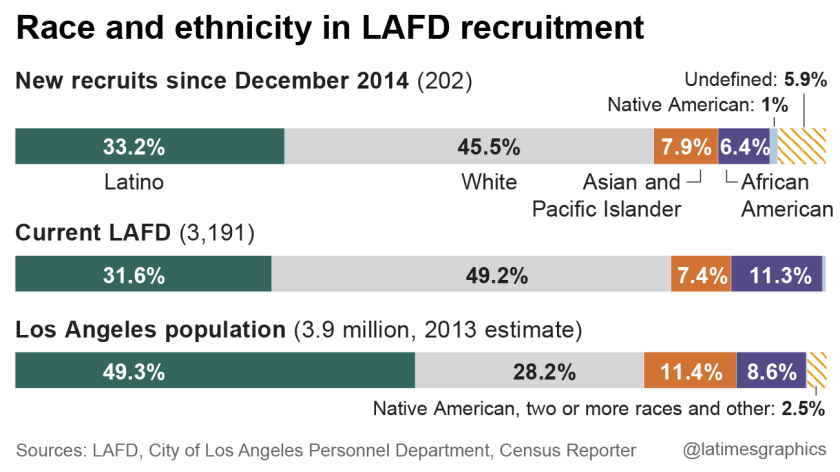 "We're trying to capture them at a young age to get them interested in a career and what they need to prepare for," said Los Angeles Fire Dept. Capt. Eddie Marez, who will teach at both magnets.
At Wilson, most of the students in the first career exploration class Tuesday were Latino, and five of the 18 were girls.
About 50 students, including 15 girls, attended the Banning magnet's first PE class.
"You don't have to be a guy to run and exercise and ... be active and, you know, help people," said Jessica Melgoza, 14, a Banning ninth grader who said she's interested in law enforcement but chose the school in part because it's close to home.
And even if she doesn't go into firefighting, being at a firefighting magnet will set her apart from other college applicants, she said.
Quite a few of the students at both schools aren't sure they want to be firefighters.
At Wilson, Genesis Williams wants to be a forensic scientist. Melvin Monroy wants to be an engineer or a football player. Isaiah Sanchez wants to play baseball or be an architect.
Genesis, 14, wanted to be in Wilson's law and justice themed magnet on the campus, but it was full, she said.
Isaiah, 13, who came to Wilson from the Arroyo Seco Museum Science Magnet, said he wanted to attend a magnet instead of a normal neighborhood school, and wanted to be at Wilson because other family members were.
Keith Abrahams, head of the district's magnet programs, said that he doesn't mind if the students all don't become firefighters. They'll still have to meet all of the district's graduation requirements to get a diploma.
"The goal is just to make sure they're college and career ready," he said.
But Marez says his job over the next four years is to prepare these kids for a career in firefighting, and convince as many as possible that it's the right one for them. No doubt arriving in a fire truck helped.
Reach Sonali Kohli at Sonali.Kohli@latimes.com or on Twitter @Sonali_Kohli.
ALSO
UC President Napolitano says chancellor resignations offer fresh start
Sudden closure of visual arts school leaves students in the lurch
Three L.A. board members will push for school to start after Labor Day
---