Kayser plans to end run for his former L.A. school board seat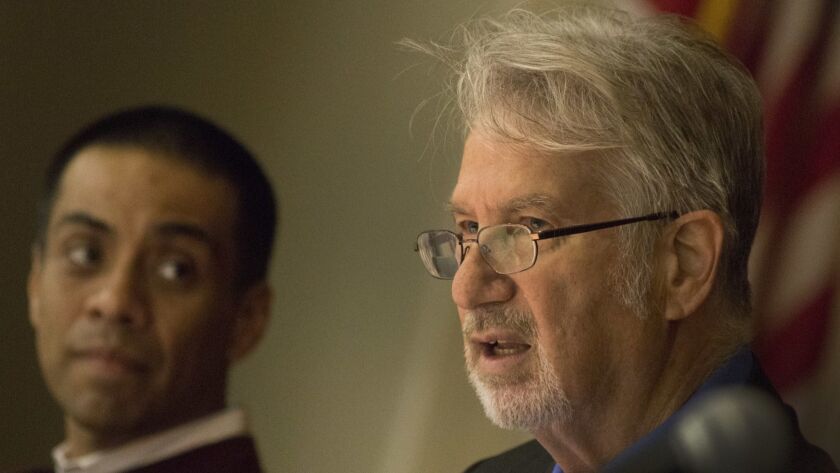 Bennett Kayser said Monday that he plans to drop out of the race to fill the L.A. school board seat he once held — which has been open since Ref Rodriguez resigned from the board in July.
Kayser was one of 17 candidates who declared their intention to run for the job in a March special election. He said he took himself out of the race to try to consolidate support for another candidate, Jackie Goldberg, who also previously served on the board.
Rodriguez stepped down after pleading guilty to one felony count and three misdemeanors related to campaign finance violations in the 2015 election, in which he defeated Kayser, the incumbent.
Goldberg served two terms on the school board, ending in 1991. She went on to the L.A. City Council and state Legislature. She and Kayser both were longtime teachers.
Her candidacy for the seat has generated a lot of buzz.
"If Jackie Goldberg and I are both on the ballot we have a very similar base of voters," Kayser said.
He said he would continue his campaign until Goldberg gathers enough signatures to qualify for the ballot — to make sure that no backup plan is needed. Once Goldberg is on the ballot, he said, he will return all campaign donations.
The open seat is in District 5, which makes an arc over downtown Los Angeles and then zigzags to the cities of southeast Los Angeles County.
During his four-year term, Kayser, 73, was a critic of charter schools, and charter allies spent record sums to defeat him, overcoming the support he got from the teachers union, which also spent big.
Charters, which are mostly non-union, are privately operated public schools, and they complete with L.A. Unified for students. L.A. has more charters than any other school system.
After school board races in 2017, the board had its first majority elected with major backing from charter advocates. Rodriguez, who was in that four-member bloc, became board president. His ally Monica Garcia took over that position soon after prosecutors filed charges against Rodriguez last year.
Kayser said he trusted Goldberg to provide a check on the growth and influence of charters.
"It's too important not to dilute the vote, to make sure we have somebody who is not a charter person committed to take the empty seat," he said.
Goldberg has been an outspoken critic of some charter schools and of some board actions she considers too pro-charter, but she has insisted she would treat charters fairly.
Twitter: @howardblume
---
The stories shaping California
Get up to speed with our Essential California newsletter, sent six days a week.
You may occasionally receive promotional content from the Los Angeles Times.