Feds launch criminal probe into potential misuse of funds at L.A. Trade-Technical College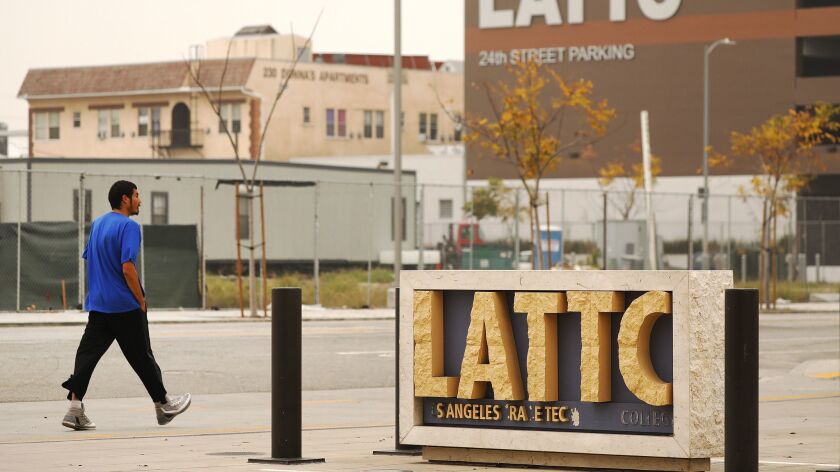 Federal authorities have launched a criminal investigation into the potential misuse of a $19.2-million federal grant by two administrators at Los Angeles Trade-Technical College, The Times has learned.
Leticia Barajas, a vice president over workforce development, was placed on paid administrative leave Thursday "pending investigation," according to a document from the Los Angeles Community College District obtained by The Times.
The action follows a subpoena served last month for her payroll, tax and work records in connection with the U.S. Department of Labor investigation, district sources said. Investigators also sought records for Kaneesha Tarrant, who was L.A. Trade-Tech's vice president of student services before taking a leave of absence and an interim post at Norco College last fall.
The Times reported last year that Barajas and Tarrant had failed to justify more than $157,000 in payments they received through a Labor Department grant from 2014 to 2017, according to an internal investigation prompted by a whistleblower.
The grant was intended to help students gain skills for the fast-growing healthcare industry. L.A. Trade-Tech — the most prominent of nine campuses in the nation's largest community college district — was selected to lead the effort on behalf of other schools and industry partners.
As "instructors on special assignment," Barajas was paid $100,882 from the grant over three years and Tarrant got $56,609, the district's internal investigation found. The payments came on top of the administrators' annual salaries: $188,000 for Barajas and $185,000 for Tarrant.
The extra work the administrators said they did, which they claimed merited the grant payments, was, in fact, part of their regular college duties, according to a memo written by Arnold Blanshard, the district's internal audit director. Blanshard found they wrote "very general" descriptions of the work they said they performed and failed to get required approvals for their special assignments.
Tarrant continued to receive grant money while on maternity leave. Barajas' compensation increased even after the district hired a director to do most of the work that she said she was doing, according to the memo.
In interviews with The Times last year, district and college officials defended the payments as proper. Albert J. Roman, the district's vice chancellor of human resources, said Barajas and Tarrant had helped develop curriculum — tasks, he said, that went beyond their administrative duties.
L.A. Trade-Tech President Laurence Frank said he had approved the assignments for Barajas and Tarrant, and that they had helped prepare hundreds of high school and college students for healthcare jobs.
"They picked up major additional work in their separate roles as faculty on special assignment…and were appropriately compensated," he said last year. "I am proud of the work we did and continue to accomplish."
Barajas and Tarrant did not respond to interview requests this week. Barajas, in a written statement last year, said only that the program had "improved our ability to prepare hundreds of students for in-demand jobs." Tarrant did not respond to an interview request at that time either.
Frank, through a college spokesman, referred inquiries from The Times to the district.
District Chancellor Francisco Rodriguez declined to speak with The Times but said through a spokesman that the district "has been and will continue to be fully cooperative with federal officials in regards to any inquiry."
District spokesman William Boyer confirmed that Barajas was placed on leave Thursday and that Tarrant formally left Tuesday.
A spokesman for the U.S. Department of Labor's Office of Inspector General told The Times in August that he could neither confirm nor deny an investigation into L.A. Trade-Tech. He was not available for comment this week.
Sources who spoke to The Times said they were first contacted by federal investigators last fall. One was Rita Weingourt, who wrote the curriculum for the healthcare program. She said she told investigators that Barajas and Tarrant played no part in developing the syllabi, lectures, quizzes and tests for the grant program, and lacked the expertise to do so. Another was Dorothy Smith, a former L.A. Trade-Tech dean of student services, who said she gave investigators background on the college, including problems with morale and trust.
Board President Mike Fong referred interview requests to the district.
Trustee Scott Svonkin declined to comment on any federal investigation. But he said he tried to convince district officials a year ago to place the executives involved on administrative leave.
"I am very disappointed these things were not addressed," Svonkin said.
Barajas also was questioned in a separate internal investigation last year, which found that a pilot program that she ran in English and math had falsified grades, according to a memo prepared by Blanshard.
In an interview with The Times in 2017, Barajas acknowledged some errors — such as using the wrong form to record the grades — and said they were corrected in subsequent semesters.
"Like any innovation, we pilot it, we learn from it, we actually made adjustments," she said. "We acknowledge the mistake."
Problems aren't new for L.A. Trade-Tech, in general. It has been the focus of grade fraud and embezzlement at an affiliated nonprofit foundation. And in 2009, a regional accrediting agency placed the campus on probation for one year because of academic and staffing issues.
But in recent years, Trade-Tech has improved educational outcomes for many of its 12,700 students, three-fourths of whom are the first in their families to attend college. The percentage of students who have achieved certificates, degrees or transfer status increased from 32.5% in 2011 to 38.6% in 2017, according to state data.
Twitter: @TeresaWatanabe
---
Life is stressful. Our weekly mental wellness newsletter can help.
You may occasionally receive promotional content from the Los Angeles Times.