L.A. Trade-Tech administrators received $157,000 for work they failed to justify, investigation finds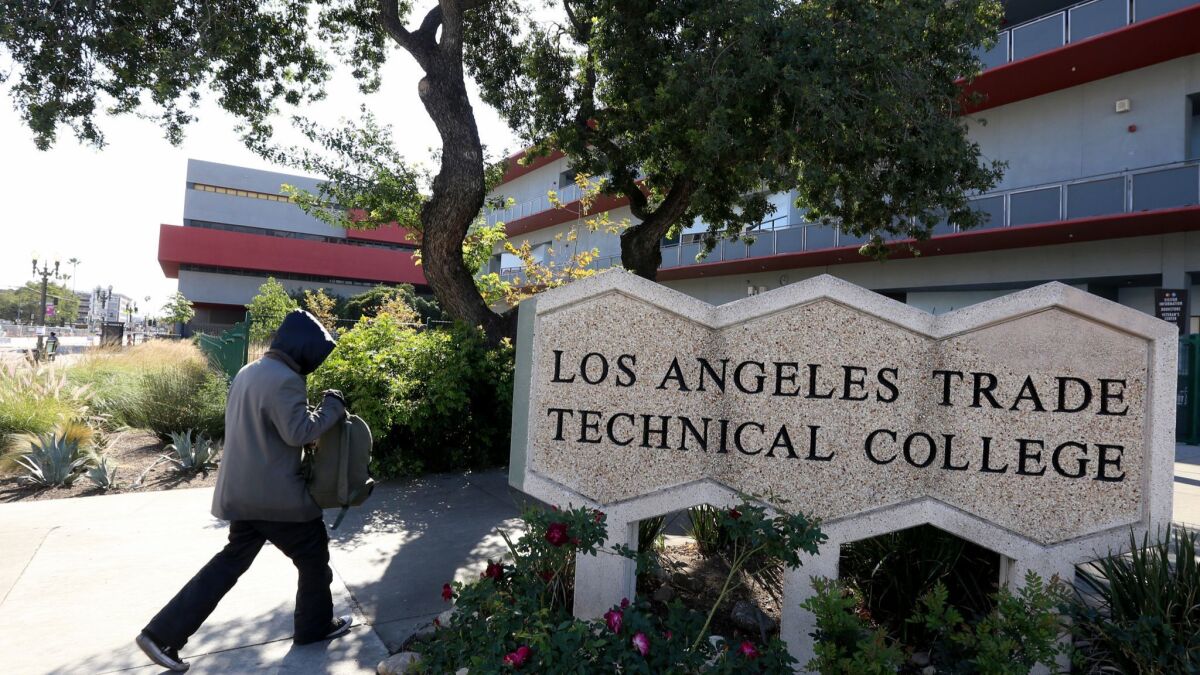 Five years ago, the Los Angeles Community College District won one of its biggest federal grants: $19.2 million to help students gain training and skills for the fast-growing healthcare industry.
Los Angeles Trade-Technical College was selected to lead the effort on behalf of the district's nine community colleges and industry partners. Trade-Tech President Laurence Frank assigned two of his vice presidents, Leticia Barajas and Kaneesha Tarrant, to supervise development of the program.
Now an internal district investigation prompted by a whistle-blower has concluded that the two administrators failed to justify more than $157,000 in payments they received between 2014 and 2017 from the U.S. Department of Labor grant. The extra work they said they did for the grant, which they claimed merited the payments, was in fact part of their regular college duties, according to a memo written by Arnold Blanshard, the district's internal audit director.
The logs the administrators filled out provided "very general" descriptions of the work they said they did, and the wording was repeated each semester, the investigation found. They also failed to obtain all of the required approvals for the special assignments. Tarrant continued to receive grant money while on maternity leave. Barajas' compensation increased even after the district hired a director to do most of the work she said she was doing.
The women were the only two among all the vice presidents from the eight colleges in the district who participated in the program to receive extra pay, the memo said.
The memo, which was obtained by The Times, did not name the administrators. But Trade-Tech payroll documents show that the grant payments were sent to Barajas, then vice president of academic affairs and workforce development, and Tarrant, vice president of student services. College officials confirmed their identities.
As "instructors on special assignment," Barajas was paid $100,882 from the grant money over three years and Tarrant, $56,609.60, the investigation found. The payments came on top of annual college salaries of $188,000 for Barajas and $185,000 for Tarrant.
Blanshard sent his findings to Albert J. Roman, the district's vice chancellor of human resources, in December. The district has announced that it will hire the law firm of Crowell & Moring to conduct an independent review.
Roman had told The Times earlier this year that the payments were appropriate because the two school officials, in their work developing curriculum for the program, had gone beyond their normal administrative duties.
"A big component of the work that they performed is developing the curriculum for the grant … which is faculty work, not administrative work," Roman said. Asked if they actually wrote the curriculum, Roman said "they collaborated, they participated and they worked with the faculty" on it.
Rita Weingourt, who wrote the curriculum, said Barajas and Tarrant were not involved in developing the material. Hired under the grant as healthcare curriculum coordinator, Weingourt told The Times she wrote the syllabi, lectures, quizzes and tests for the program's four healthcare courses and five "digital badges" signifying competence in particular areas such as medical terminology.
"My entire role was to create that curriculum," said Weingourt, who joined the project after retiring as Trade-Tech's director of nursing. "I would know if they gave me any advice or offered any expertise, and they didn't."
Weingourt said she held regular meetings with faculty at the other district colleges and met with industry partners such as the Los Angeles Area Chamber of Commerce to discuss the skills that were most in demand. Barajas and Tarrant, she said, attended rarely, if ever.
Barajas' regular duties as vice president, Blanshard wrote, included planning, organizing, administering and supervising instruction programs, curriculum development and evaluation. They also included providing leadership in developing long-term partnerships with business, labor and community groups.
Under the healthcare grant, Blanshard said in his memo, college vice presidents were to oversee project work on their respective campuses until a director was hired to oversee the entire program. Only the vice presidents at Trade-Tech were paid, he said. Barajas started getting paid in January 2014, and her payments increased — from $20,066 in 2014 to about $41,690 in 2016 — even though the director was hired in November 2014.
Trade-Tech's president recently issued a statement defending the administrators, saying they helped develop an innovative program to better prepare hundreds of high school and college students for healthcare jobs. "They picked up major additional work in their separate roles as faculty on special assignment … and were appropriately compensated," Frank said. "I am proud of the work we did and continue to accomplish."
Barajas, in a written statement, said only that the program has "improved our ability to prepare hundreds of students for in-demand jobs." Tarrant did not respond to an interview request. Blanshard declined to comment.
Barajas also was questioned in an internal investigation last year, which found that a pilot program in English and math she ran had falsified some grades.
The auditor found that 11 students who received credit for intermediate algebra had not passed the final exam. He said he could not determine the validity of five students' English grades because Trade-Tech did not provide all information he requested. Barajas acknowledged at the time that she and her staff had made mistakes but said they subsequently corrected them.
Trade-Tech — the most prominent campus in the nation's largest community college district that has drawn visits by former Presidents Obama and Clinton -- has been the focus of problems in the past, including grade fraud and embezzlement at an affiliated nonprofit foundation. In 2009, a regional accrediting agency placed the campus on probation for one year because of academic and staffing issues.
But in recent years, Trade-Tech has improved the educational outcomes for many of its 12,700 students, three-fourths of whom are the first in their families to attend college. The percentage of students who achieved certificates, degrees or transfer status increased from 32.5% in 2011 to 38.6% in 2017, according to state data.
The campus also has won acclaim for developing programs to help students more quickly and efficiently earn credentials for careers including automotive technology and fashion design. The "guided pathways" programs provide clear road maps of courses to take, as well as counseling and online learning opportunities. College officials credit those programs with increasing the number of credentials earned from 845 in 2010 to 2,090 in 2017.
Those programs are overseen by Barajas, currently the vice president of pathway innovation and institutional effectiveness.
In its proposal for the healthcare grant, the district said only about 25% of 12,230 health sciences students who enrolled in 2006 were still on track five years later. To improve that rate, the colleges proposed a "health sciences foundation credential" for those who completed the digital badges and four courses, including basic medical terminology.
Backers hoped the credential would help students find entry-level work in healthcare and move on to earn certificates in any of 11 related programs that would train them for such jobs as respiratory therapists or dental technicians. They hoped some might also use the credential as a launching pad to earn a two-year associate degree or transfer to a four-year university.
In his memo, Blanshard recommended that the district better document work paid for by grants and establish rules that bar salaried employees from receiving additional money for work that overlaps with their regular college duties. Roman said the district has implemented the changes.
teresa.watanabe@latimes.com
Twitter: @teresawatanabe
rosanna.xia@latimes.com
Twitter: @rosannaxia
The stories shaping California
Get up to speed with our Essential California newsletter, sent six days a week.
You may occasionally receive promotional content from the Los Angeles Times.