On eve of mediation, L.A. Unified offers teachers 6% raises — which the union rejects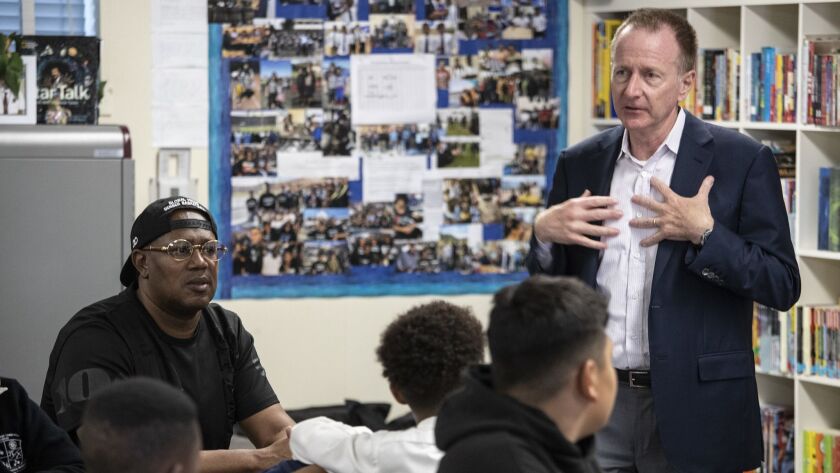 For months, the Los Angeles school district and the teachers union have been operating in different realities. In the L.A. Unified universe, the district faces financial doom. To teachers, it's a stingy bureaucracy sitting on riches enough to boost their pay and even save public education.
On Thursday, the union and the school system go before a mediator for the first time to see whether they can find common ground — perhaps even accept the same set of fiscal facts.
If mediation fails, a teachers strike could be just weeks away.
Heading into those talks, L.A. schools Supt. Austin Beutner offered teachers an improved contract offer Tuesday. It features a 6% raise that is retroactive and proposes lowering class sizes at 15 middle and 75 elementary schools.
The union's immediate rejection seemed another sign that the strike threat could be serious.
Union leaders want a larger raise to be applied further in the past. They point to a district financial reserve that was close to $1.9 billion at the end of June, probably the largest in district history. And they make the case that the Los Angeles Unified School District often has cried financial disaster — and that the worst has not come to pass.
The district asserts that what's in the coffers now means little, because existing financial commitments and ongoing deficit spending could push the district into insolvency within three to four years. Some independent experts agree.
In that construct, the district's 6% offer is generous, perhaps even foolhardy: 3% would take effect when an agreement is ratified and go back to July 1, 2017. The second 3% would be applied from July 2018 onward.
The proposed raise is in line with those given to district employees represented by other unions.
"Our offer creates a pathway for the district and the union to avoid a strike that would hurt L.A.'s most vulnerable students and families," Beutner said in an op-ed Tuesday in the Los Angeles Times.
The union has sought a 6.5% raise that would be retroactive to July 1, 2016. Its leaders called the latest proposal disrespectful and disingenuous. They also were angry that the proposal had been leaked in advance to The Times and to Speak Up, an activist group that has been critical of the union.
"Beutner's proposal does nothing to make our schools better. This is an insult to our members, to our students and to our parents," said Arlene Inouye, who chairs the union's bargaining team. "This stunt reveals he is more interested in fighting against educators at any cost than saving our school district."
The previous district offer was a 2% raise and a 2% bonus. Still, the 6% offer was not exactly a surprise, because Beutner had indicated that teachers should expect about what other employees are getting.
The schools whose class sizes would shrink — by four students in core subjects — would be selected using a new formula called the Student Equity Needs Index. This index rates schools based on such factors as academic achievement, chronic absenteeism, local poverty and crime rates. Giving this helping hand to needier students could partially satisfy activists; some have sued the district to get more funding to these campuses.
A district release sent Tuesday night included statements of support for the offer from school board President Monica Garcia and board members Nick Melvoin and Kelly Gonez.
"This offer reflects our respect and recognition of our teachers and the incredible work they do on behalf of our students," Gonez said. "While I wish our finances allowed us to go farther, this offer also makes the most of our limited dollars."
In the release, Beutner described the proposal as showing "our commitment to helping students most in need."
In response, President Alex Caputo-Pearl and other union leaders reiterated their demand for smaller classes throughout the district, which L.A. Unified says it can't afford.
The targeted class size reduction "makes no improvements for 90% of our schools," union leaders said in their statement. Even for the 10%, they said, it was ultimately "useless" because the district retains the right "to increase class size at anytime."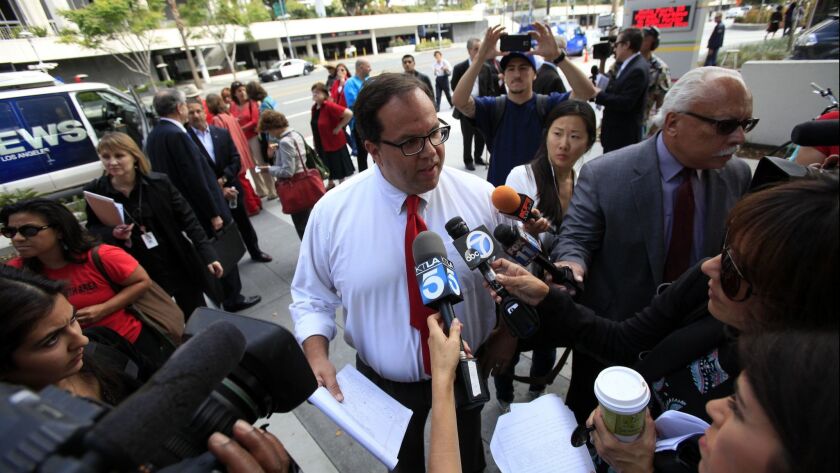 The union also is unhappy that the current district offer would limit the kinds of advanced education credits that teachers could earn to get a higher salary. The district wants the coursework that teachers get credit for to be more closely focused on instructional priorities, including enhanced knowledge of science, the arts, foreign languages and technical education.
Union leaders said the proposal would limit teachers' opportunities to improve their skills and make more money.
The union also restated demands to hire more counselors and nurses and other "critical staff," as well as for "relief from toxic over-testing" of students and measures to control the expansion and operation of independent charter schools, which are mostly nonunion.
One provision of the district proposal calls for a summarized "clear outline" of the contract to be prepared for families and the public.
"Labor contracts are convoluted, long, and rarely include accessible language," the district offer states. The aim would be "to increase transparency and understanding."
The contract would cover three years, starting retroactively July 1, 2017.
Twitter: @howardblume
---
UPDATES:
5:45 p.m., Sept. 26: This article was updated throughout with additional details of the contract proposal.
11:45 a.m., Sept. 26: This article was updated with union reaction to the latest school district offer and additional details about the offer.
This article was originally published Sept. 25 at 9:20 p.m.
---
The stories shaping California
Get up to speed with our Essential California newsletter, sent six days a week.
You may occasionally receive promotional content from the Los Angeles Times.