What happens if students don't go to school during the LAUSD strike? Your questions answered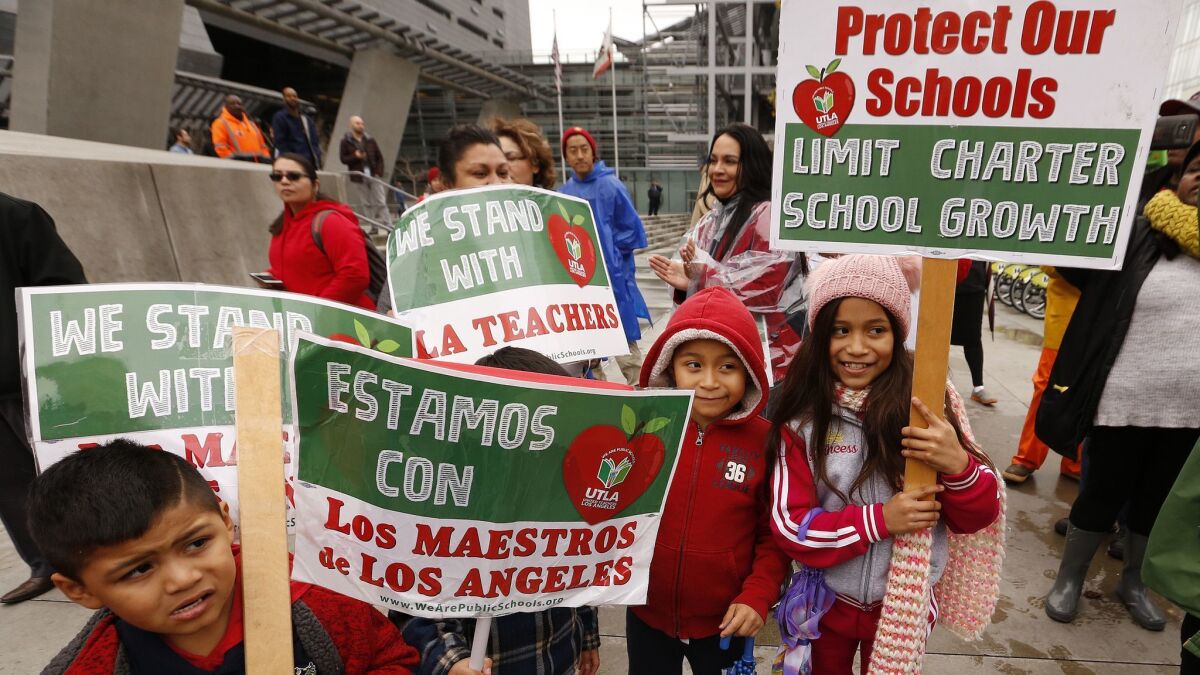 Los Angeles teachers have gone on strike for the first time in 30 years to demand smaller class sizes, more support staff at schools and better pay. Do you have questions? Submit them here and we'll answer them below.
How many students went to school on Day One of the strike?
Of the district's half a million students, only a third showed up.
What does the low student attendance mean for schools?
In short: The district loses money.
According to Los Angeles schools Supt. Austin Beutner, students' absences will cost the district $25 million in state funding based on attendance.
Subtract unpaid wages for the strikers of $10 million, he said, and that amounts to an estimated one-day $15-million loss.
What's the lesson plan for students while teachers are away?
There isn't one set plan. And what counts for a lesson varies, too.
At one school Monday, with minimal staff on hand, the principal had students watch "Black Panther" while she came up with a plan. Movies were popular ways to pass the time at district schools as the strike got under way.
Teachers worried about how their students were faring.
One Advanced Placement Biology teacher who was on strike even surreptitiously met up with her students at a mall food court.
Will students who are kept at home during the strike be penalized later?
The district has said that a strike does not constitute a valid excuse to miss school. But students who have good attendance are not likely to suffer consequences.
"An attendance requirement to graduate is not part of the district's policy, and student absences during work stoppage will not impact graduation," Pia Escudero, executive director of student health and human services for L.A. Unified, said.
City libraries and recreation centers are prepared for influxes of young people. Metro also is offering free rides during the strike for LAUSD students with valid IDs.
Are charter schools involved in the strike?
Not technically. However, the teachers' union is also protesting the growth of charter schools, and teachers are striking at one charter school — which is something rare. The educators at the Accelerated Schools south of downtown also are members of the teachers union, though their dispute is with the management of their small charter network.
Is it true that background checks were rolled back for volunteers?
Yes and no.
A new, less-restrictive policy is limited to members of a student's immediate family, legal guardians and extended family — subject to principals' discretion. The policy kicks in only when the superintendent declares an emergency — as in a fire or … a strike. In such an event, a volunteer simply would fill out a form and the district would check a database to make sure the person was not a registered sex offender.
The district already has 12,000 volunteers who have cleared background checks, said district spokeswoman Shannon Haber.
How many people are affected by the strike?
Nearly half a million students and their families are affected.
An estimated 400 substitutes and 2,000 staffers from central and regional offices are filling in for 31,000 teachers, nurses, librarians and counselors.
How long could this strike last?
That's the question everyone is asking. The strike is sure to head into a third day. No new negotiations had been scheduled as of Tuesday afternoon.
For context, the last strike in 1989 ended after about nine days.
---
The stories shaping California
Get up to speed with our Essential California newsletter, sent six days a week.
You may occasionally receive promotional content from the Los Angeles Times.