What to know as LAUSD teachers prepare to strike Monday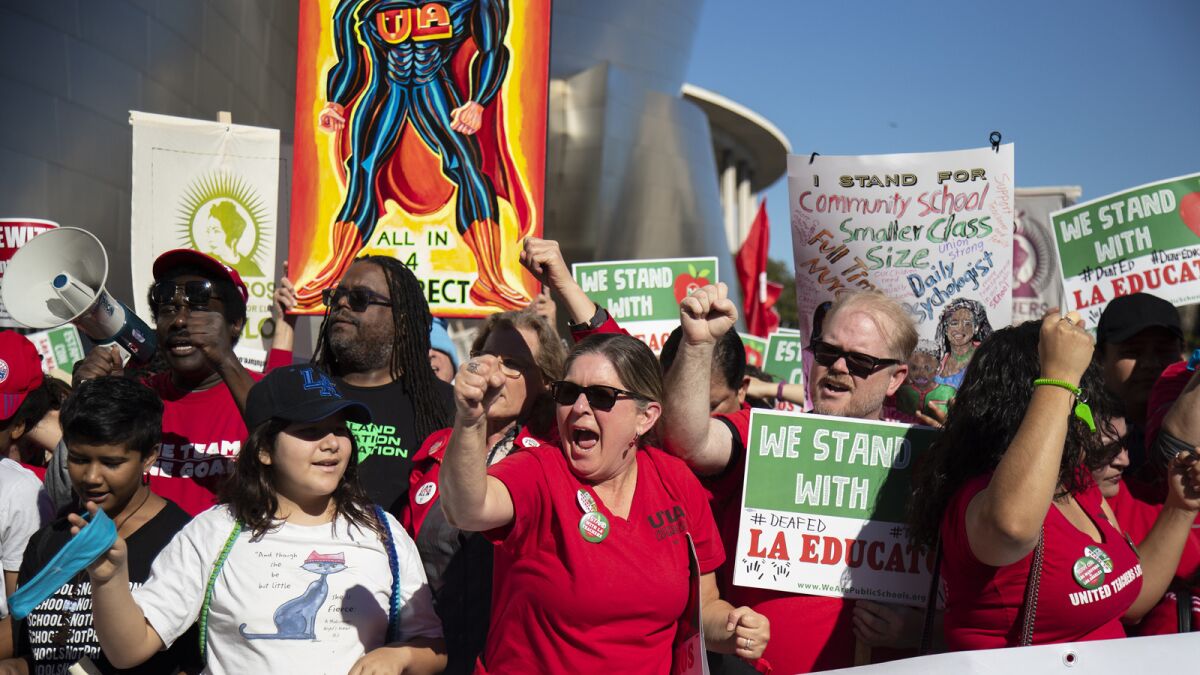 Third Street Elementary School will be open Monday, but it will hardly be business as usual at the Hancock Park campus: Teachers are expected to picket outside. Students will be herded by unfamiliar adults into big groups both outdoors and indoors.
And then there's the forecast for rain, which could make things both trickier and soggier.
As Los Angeles teachers prepare to launch their first strike in 30 years, there are so many moving parts to consider.
Where do teachers park if they can't use faculty lots? How can they find a bathroom? Should they don matching red ponchos in the rain?
Campus administrators have no idea how many students will show up. And parents must decide whether it's worth sending their children to school at all — and, if they don't, what to do with them as they juggle jobs and other responsibilities.
The school district, meanwhile, has to figure out how to manage with a skeletal staff. District officials say they'll keep schools open and feed their students. But no one expects business as usual.
What will kids be doing in school?
Most schools are scheduled to be open during normal hours and offer after-school programming, though extracurricular activities and sports are on hold. State preschool sites will be closed, and early education centers will only be open for students with special needs.
With significantly fewer staffers than normal, schools have been preparing to keep students together in large spaces and use online education when they can. The district has set up a strike hotline that is running from 6 a.m. to 4 p.m. Monday through Friday, for parents to call in with questions. The number is (213) 443-1300.
Schools appear to have come up with a variety of plans for children.
At Third Street Elementary, the principal told parents in an email that the youngest students will remain in their classrooms, but first- and second-graders will be in the auditorium, while students in third through fifth grades "will work in large grade-alike groups under the lunch pavilion area throughout the day." It's unclear how that plan will be adjusted if it rains.
At Katherine Johnson STEM Academy in Westchester, "Instructional opportunities will be provided via our fleet of 1:1 Chromebooks," the principal told parents in an email. He asked parents to send their children to school with their district-issued laptops, as well as earbuds, a pen or pencil and "a book to read of their choice if they finish their work early."
At Walter Reed Middle School in Studio City, kids will have three subjects during the strike: math, English and physical education, according to a letter sent to parents. Sixth-, seventh- and eighth-grade students will cycle through the two-hour blocks in the auditorium, classrooms or pavilion. If it's raining, P.E. will be in the cafeteria and gym. Students at Reed were also "encouraged to bring an independent reading book."
Who will be affected?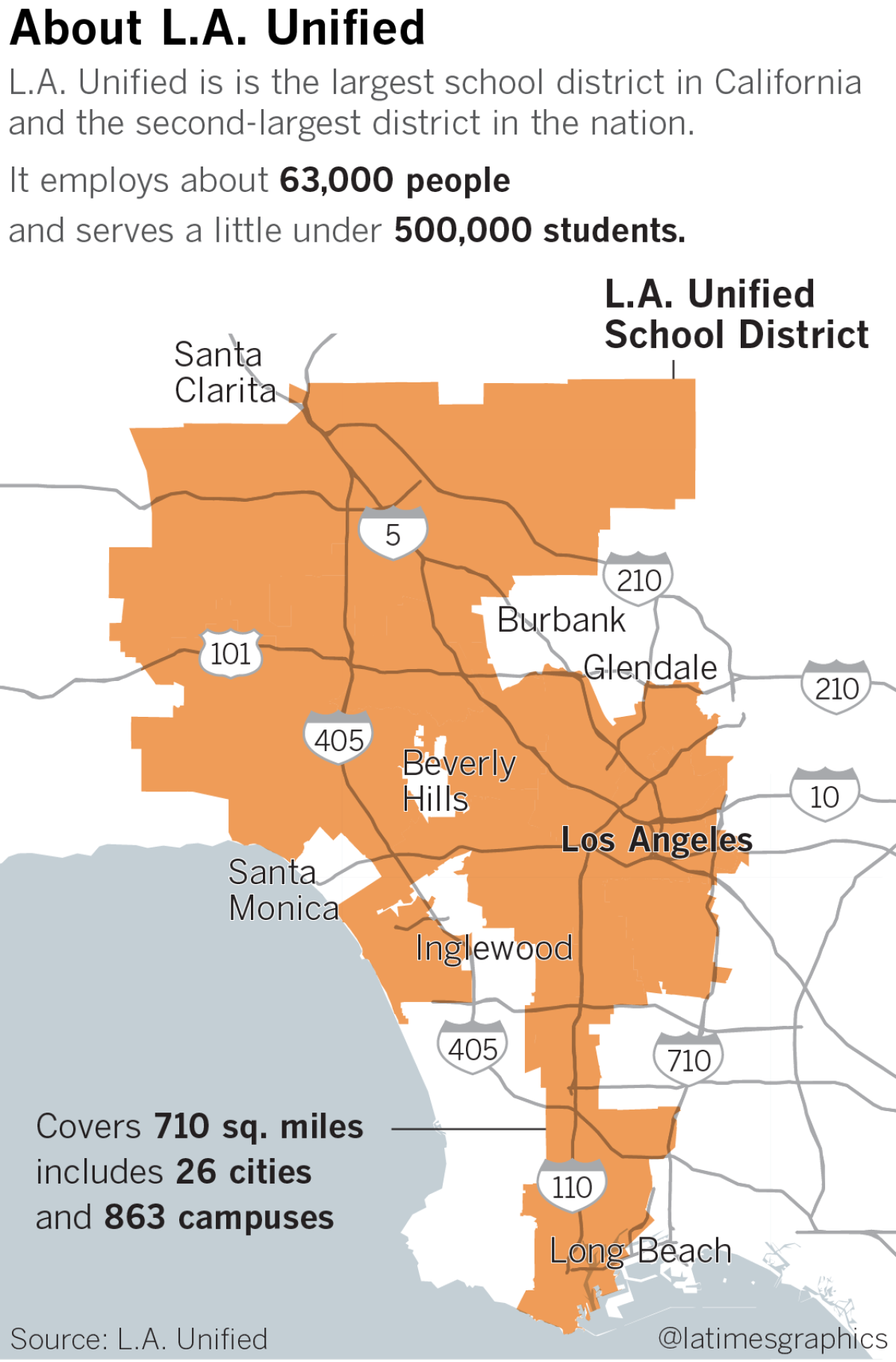 Nearly 500,000 students are enrolled in the nation's second-largest school system. The overwhelming majority come from low-income families.
School is a place where children in Los Angeles go to learn English and math, but for many it is also a source of safety and routine, where they receive two to three meals a day at no cost, and mental health counseling to cope with trauma that happens outside the school gates. Union members say they are willing to strike to fight for more health and educational resources for children. But during the strike, kids may go without.
Though the union has asked for parents and children to join teachers on the picket line, it has also repeatedly acknowledged that it understands many parents cannot afford to keep their children out of school.
Parents also rely on after-school programs to keep their kids safe until they are off work. The district says these services will continue during a strike.
The district's 863 campuses are spread across 710 square miles and 26 cities in L.A. County. Chances are most people in the area will see a picket line at a campus or come across bands of teachers and union supporters dressed in red. A police presence should also be visible.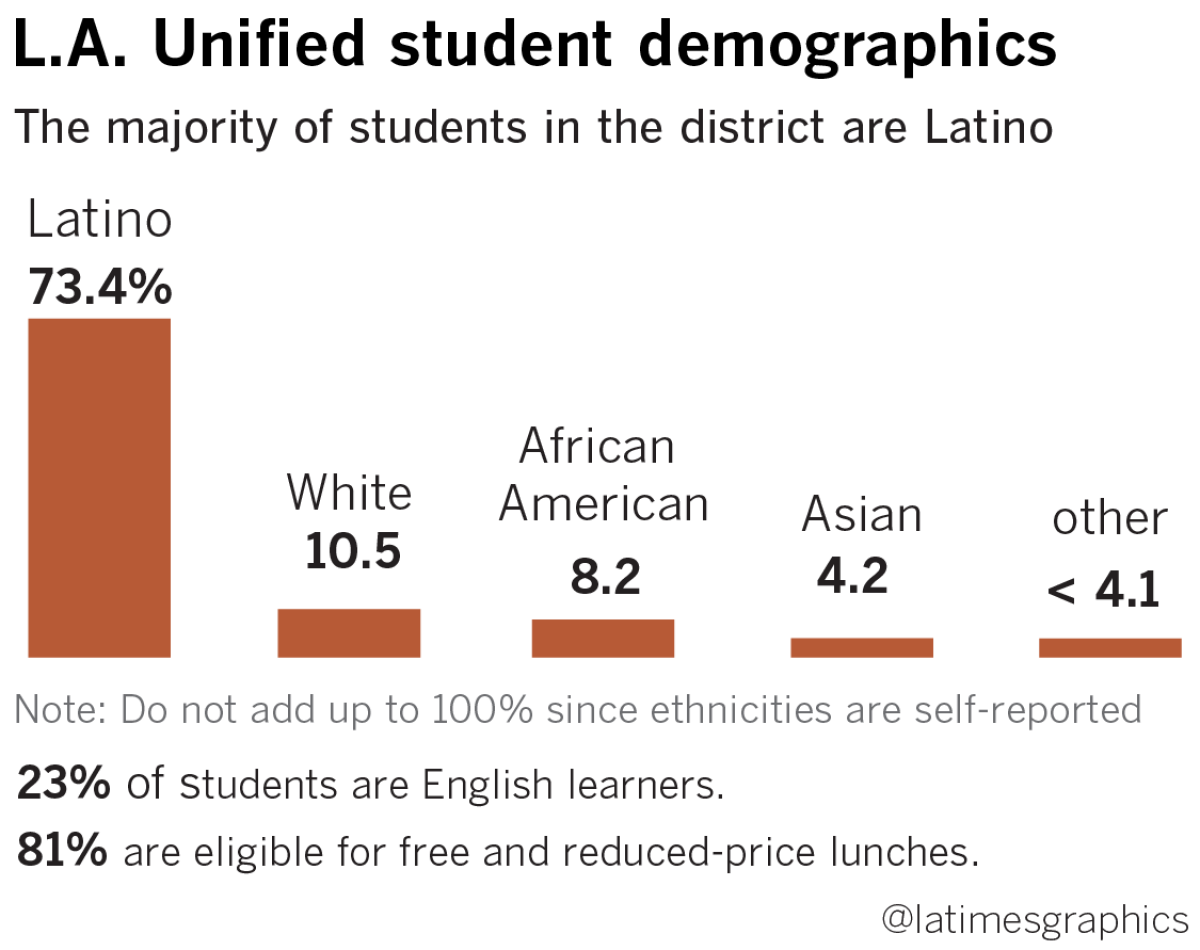 Down the road, a strike in Los Angeles also could have ripple effects in a state where base school funding is low and other teachers are dissatisfied with their districts.
Who will and will not be in school?
School administrators, school police and bus drivers will be reporting for duty. The district has hired about 400 substitutes and redeployed 2,000 district staff with teaching credentials — to replace about 31,000 striking teachers union members.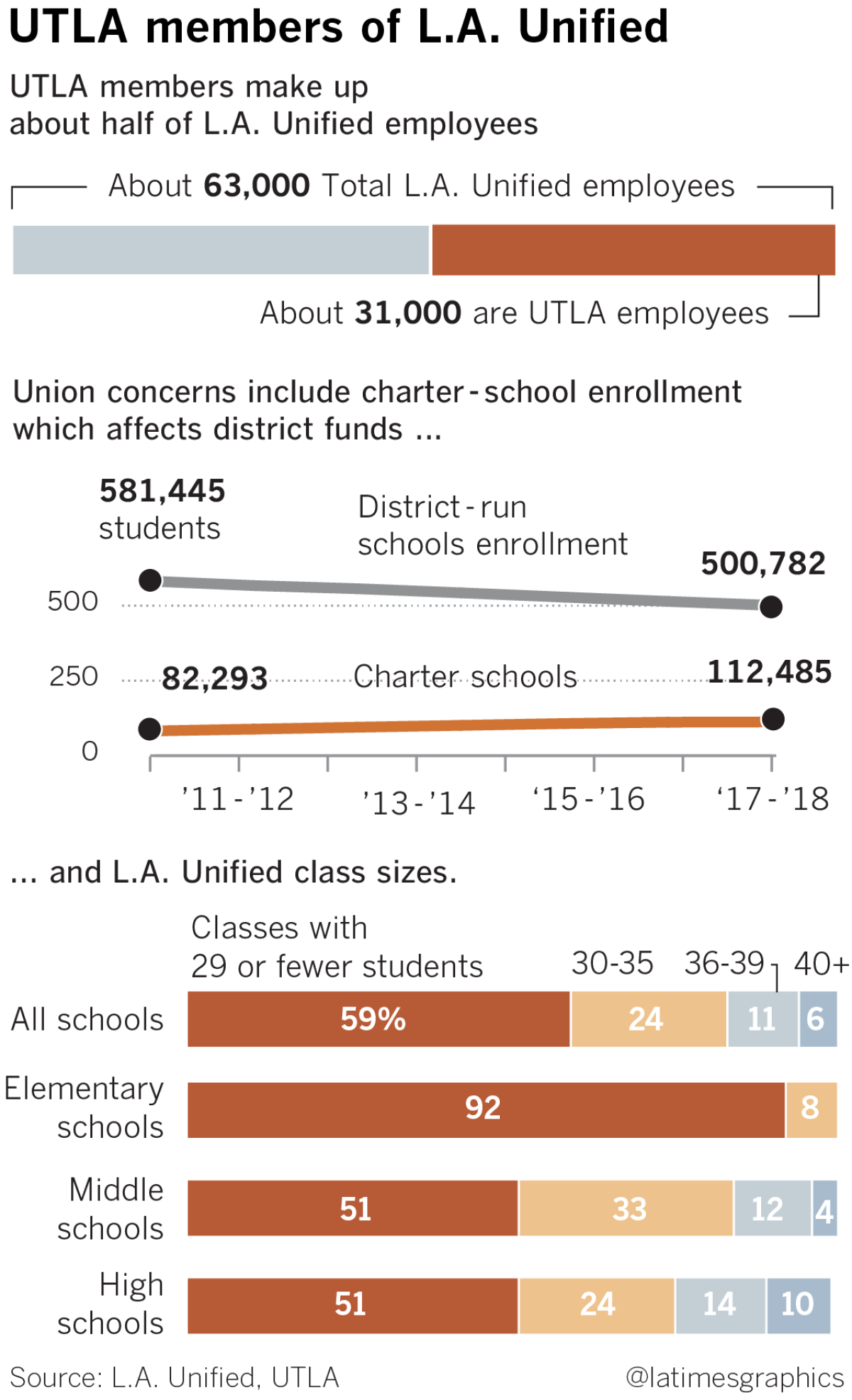 Classified staff — who include teachers' aides, custodians and cafeteria workers — will report for work at all but 10 campuses. Members of the Service Employees International Union Local 99 who work at those 10 schools voted to participate in sympathy strikes. Students will still get meals at those schools.
The district said students will still get meals at these schools, and additional staffers are being deployed to them. They include large campuses such as Carson High School, which has about 1,500 students, and the Koreatown Robert F. Kennedy complex, which houses six schools.
SEIU members who remain will report any problems they see to their union, said SEIU Local 99 President Max Arias. They'll be on the lookout to ensure that there are qualified staff members supervising all children. Teacher aides, for example, shouldn't be left alone with students, and a single credentialed teacher supervising multiple rooms "is not acceptable," Arias said.
In large spaces like auditoriums and multipurpose rooms, "how safe are the conditions? Are there enough adults supervising?" Arias said. The union plans to collect concerns via a hotline, he said.
Is it OK not to send kids to school?
Though school police will not enforce truancy laws, the district has said that a strike does not constitute a valid excuse to miss school. Students who have otherwise good attendance are not likely to be impacted if they miss school during a strike, said Pia Escudero, executive director of student health and human services for L.A. Unified.
"An attendance requirement to graduate is not part of the district's policy, and student absences during work stoppage will not impact graduation," she said.
The city is also preparing for an influx of young people with additional staffing at libraries and recreation centers, and free Metro rides for LAUSD students with IDs.
The Los Angeles Zoo will give LAUSD students free admission on strike days, and museums around the city, including the Natural History Museum, the Museum of Contemporary Art and the La Brea Tar Pits, also will not charge them admission.
Many parents are planning to take their kids out on the picket lines. A group of pro-union parents has set up its own informal hotline in a Facebook group called Parents Supporting Teachers. It has more than 10,000 members and is abuzz with grass-roots organizing — parents and community members sharing ideas for good strike-day activities for children and offering their homes for bathroom breaks as well as other kinds of support and picket-line food.
What about rain?
Yes, it will probably be raining, but teachers are undeterred. They plan to be on picket lines, storms or not.
Drivers should take extra caution — especially in the rain — to look out for picketers and children.
There's a chance of rain every day this week, and the strongest storm will likely hit Sunday night through Monday, said National Weather Service meteorologist Rich Thompson.
"Anywhere in L.A. County would have potential for that intense rainfall" of up to an inch an hour on Sunday night and Monday, Thompson said.
"If they're on the picket lines," he said, "they're definitely going to have to make sure they have umbrellas."
Times staff reporters Howard Blume, Corina Knoll and Joel Rubin contributed to this report.
Reach Sonali Kohli at Sonali.Kohli@latimes.com or on Twitter @Sonali_Kohli.
---
The stories shaping California
Get up to speed with our Essential California newsletter, sent six days a week.
You may occasionally receive promotional content from the Los Angeles Times.