LAUSD teachers' strike all but certain as union rejects district's latest offer
Parents, teachers, and students rally in support of teachers at the corner of Topanga Canyon and Ventura Blvd. in Woodland Hills.
(Francine Orr / Los Angeles Times)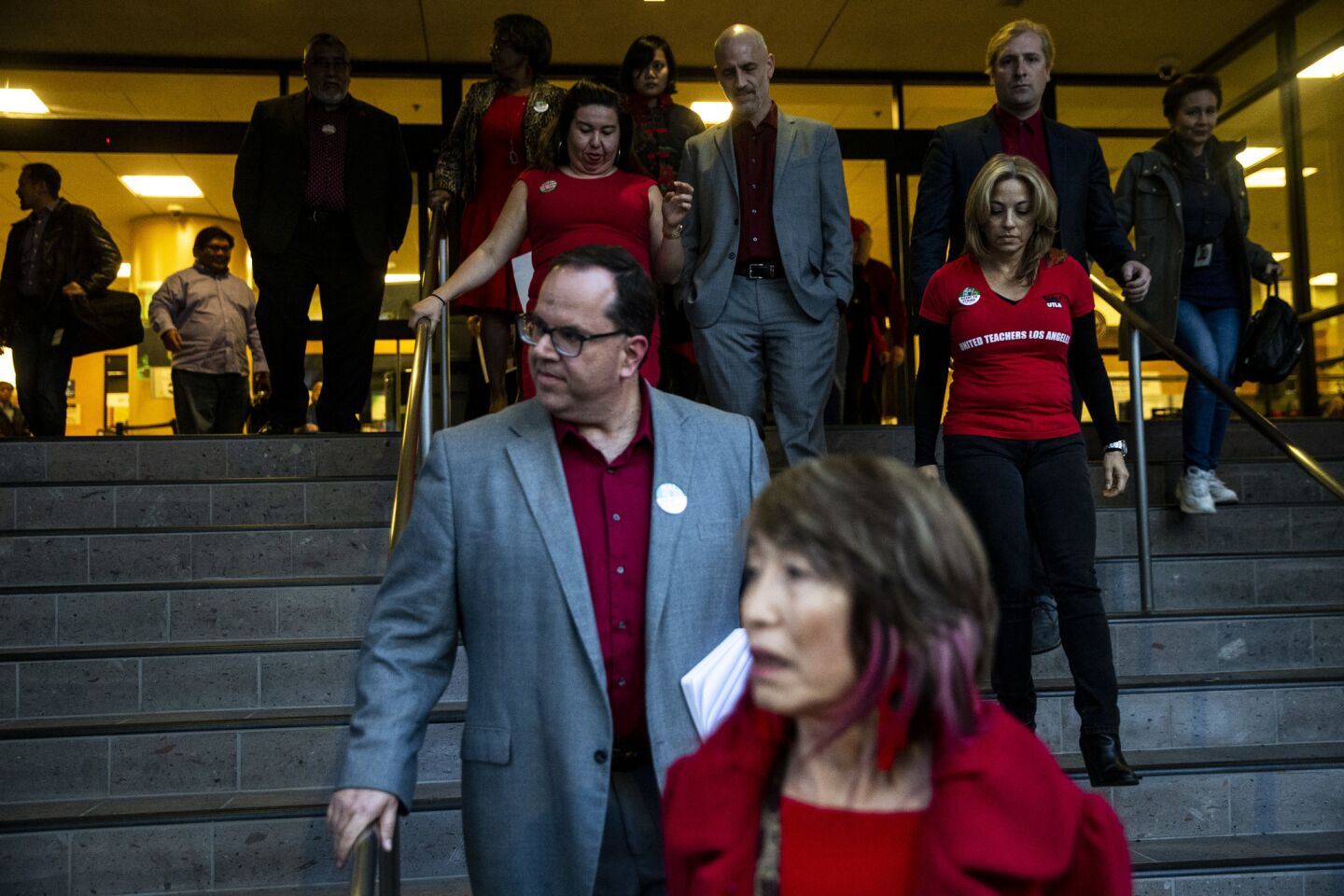 Arlene Inouye, Co-Chair UTLA Bargaining Committee and UTLA President Alex Caputo-Pearl walk down the front stairs to an area where they hold a press conference in front of the LAUSD offices.
(Kent Nishimura / Los Angeles Times)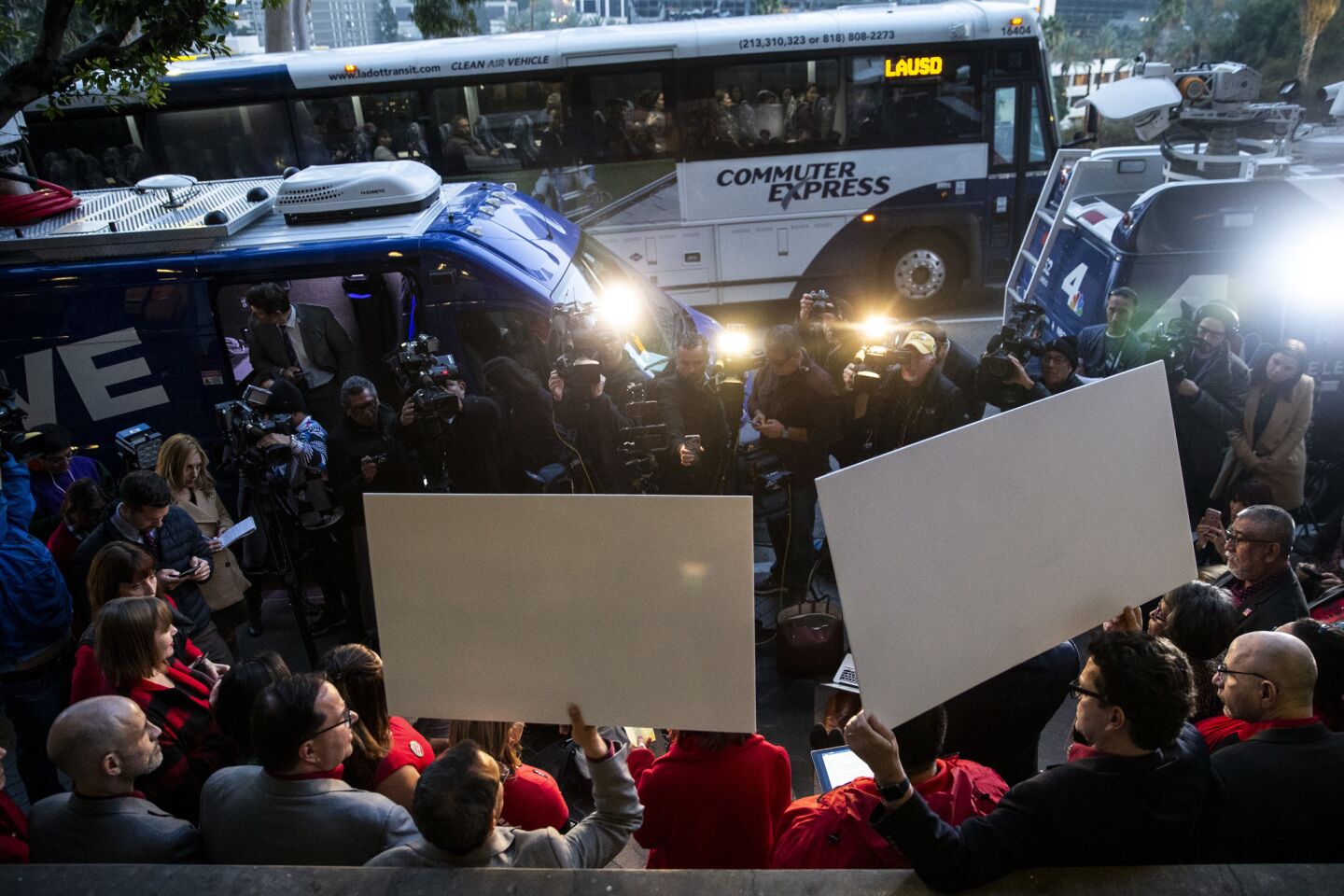 Arlene Inouye, Co-Chair UTLA Bargaining Committee, speaks at a press conference in front of the LAUSD offices.
(Kent Nishimura / Los Angeles Times)
Anastasia Foster, center, and Timothy Hayes right and join supporters of LAUSD teachers for a rally in front of Venice High School.
(Brian van der Brug / Los Angeles Times)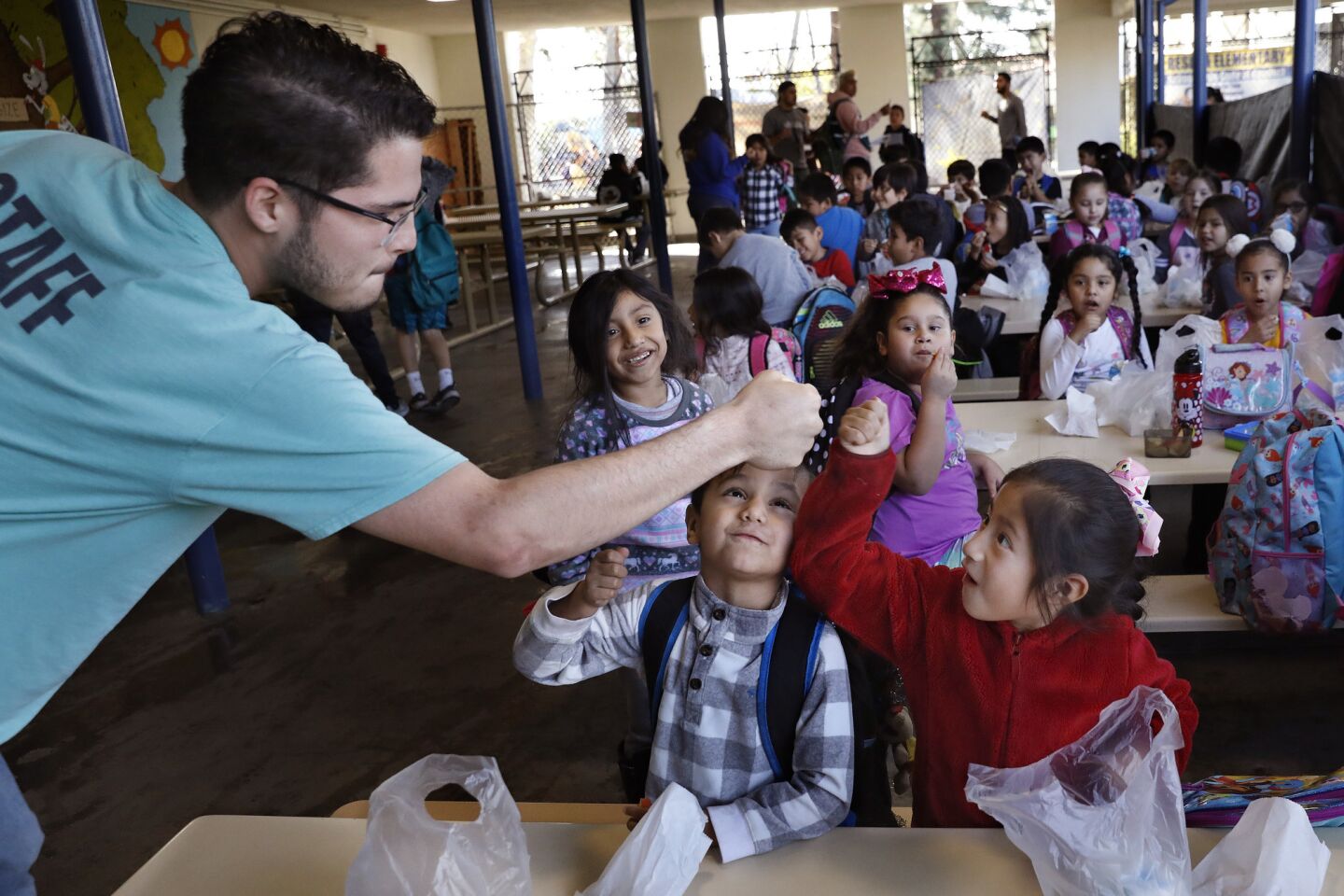 Michael Rothhammer gives a fist bump to Jayden Arriaga, center, and Emely Herrera, kindergartners in an after school program at Reseda Elementary School.
(mel melcon / Los Angeles Times)
Thousands gathered in downtown L.A. in December at a march held by the teachers union, which has scheduled a strike for Jan. 14.
(Gina Ferazzi / Los Angeles TImes)
Michael Fono, a teacher at Thomas Edison Middle School in South Los Angeles, holds a strike sign at a planning meeting on Jan. 5.
(Genaro Molina / Los Angeles Times)
Jasper Anderson, 15, participates in what could be one of his last pre-teachers' strike baseball practices on Jan. 8 at Crenshaw High School.
(Marcus Yam / Los Angeles Times)
Merwinn Rojas, a Foshay Learning Center sixth-grader, works on his homework on Jan. 8. His mother worries he might regress if teachers go on strike.
(Marcus Yam / Los Angeles Times)
Kweisi Gharreau, center, parent of two kids at Canfield Elementary School in Beverlywood, speaks to the media in support of teachers following a Los Angeles Unified School District Board of Education meeting on Jan. 8.
(Allen J. Schaben / Los Angeles Times)
In addition to its wage proposal, the L.A. teachers union has pushed for fully staffed campuses with smaller classes and more support staff. In talks this week, the district upped its offer by $75 million to increase staffing. Above, students at Cleveland High in Reseda.

(mel melcon / Los Angeles Times)
Shannon Stoller picks up her children Presley and Cooper from Pacific Palisades Charter Elementary School. Soller backs the teachers union but is concerned that keeping kids out of class costs schools money.
(Carolyn Cole / Los Angeles Times)
Alex Caputo-Pearl, president of United Teachers Los Angeles, speaks at a news conference about negotiations with the school district Wednesday.
(Francine Orr / Los Angeles Times)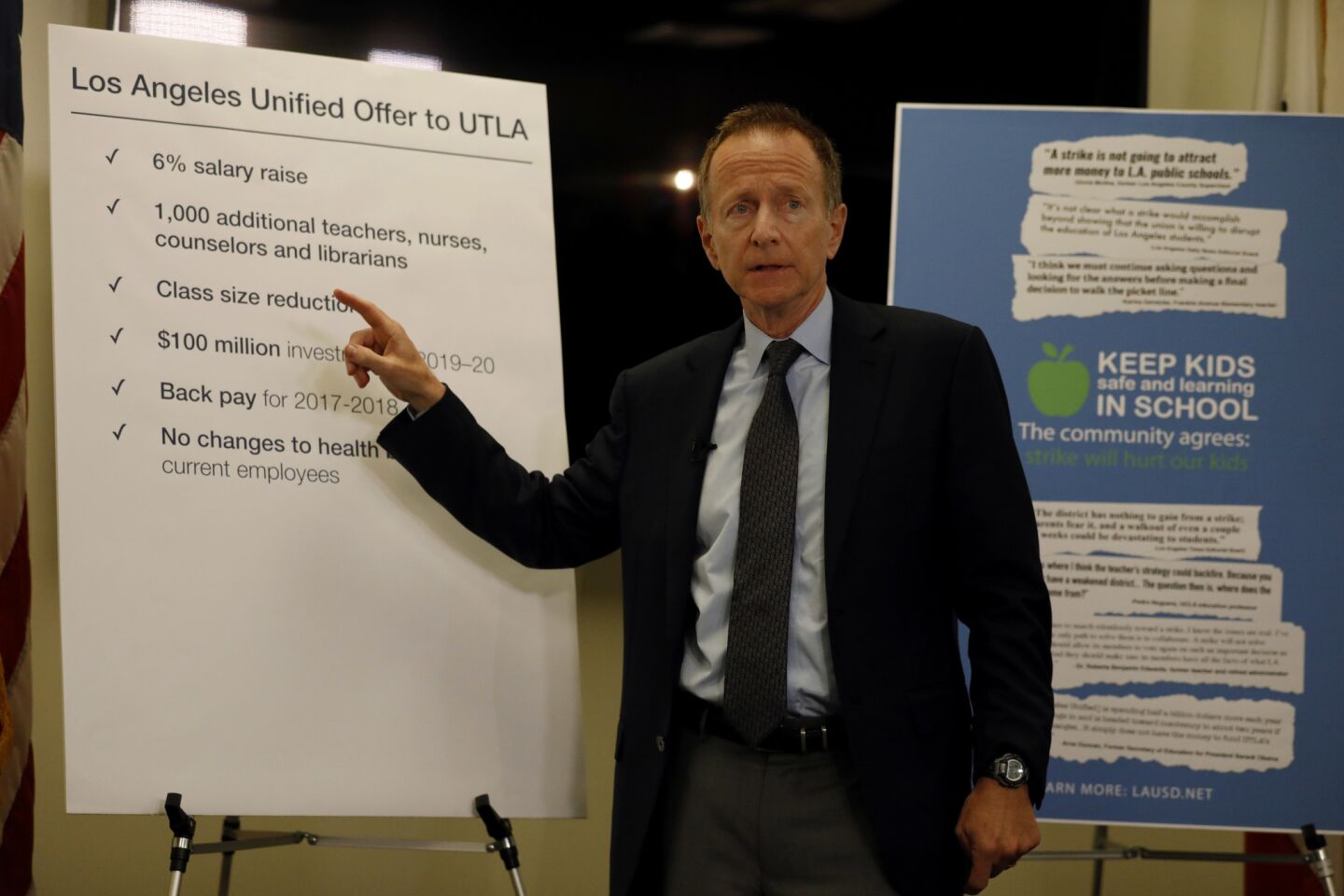 Los Angeles Unified School District Supt. Austin Beutner speaks at a news conference about negotiations with the teachers' union Wednesday.
(Francine Orr / Los Angeles Times)
School psychologist Fabiana Lamm gets ready to go to work at a San Fernando Valley campus on Jan. 8. She's hoping a strike will lead to the hiring of more psychiatric social workers.
(Al Seib / Los Angeles Times)
Students depart Belmont High School in Los Angeles after classes on Jan. 9, the first day of school of 2019, while last-ditch bargaining efforts continued to avert a Los Angeles teachers' strike.
(Al Seib / Los Angeles Times)
Maria Espinoza, picking up son Michael from an after-school program at El Sereno Middle School, is concerned that a strike might ground school buses. Luis Sinco Los Angeles Times
(Luis Sinco / Los Angeles Times)
A group supporting the United Teachers Los Angeles gathers at a news conference on strike negotiations Jan. 7.
(Carolyn Cole / Los Angeles Times)
Negotiations between the teachers union and the Los Angeles Unified School District ended Friday with no deal in sight. All signs point to the first walkout in 30 years in the nation's second-largest school system.
Union President Alex Caputo-Pearl said that unless district officials send over a significant new proposal, 31,000 teachers, librarians, nurses and counselors will be walking picket lines Monday. He said no district proposal has hit the mark yet, including a new one offered — and promptly rejected — Friday afternoon.
"Get ready," Caputo-Pearl said late Friday afternoon at a news conference outside district headquarters. "Because on Monday we will go on strike for our students, for our schools and for the future of public education in Los Angeles."
Friday marked the week's third negotiating session, and the district upped its offer based on the expectation of new money from Gov. Gavin Newsom's proposed budget.
The latest offer would provide a full-time nurse at every elementary school and lower class sizes by about two students at middle schools. It builds on a proposal from Monday, in which the district also offered a small decrease in class sizes.
In that first proposal, maximum class sizes in grades four to six would drop from 36 to 35, and in high school from 42 to about 39. Schools with the greatest needs would see larger reductions — about four students per class. Also, every secondary school would get a librarian, which some middle schools lack now. And high schools would get an extra academic counselor.
"Every nickel that we're receiving, we're investing in our classrooms," Beutner said in a news conference that was called for 2:15 p.m., with about 20 minutes' notice. "This is not a conversation about values. We want the same sorts of things."
Caputo-Pearl disputed both those assertions — about what the district can afford and about the shared values. He noted that the district's offers were limited to one year, after which class sizes could balloon upward again and new staff could be cut. He also criticized the proposed class-size reductions as piecemeal and paltry, saying the district could afford to do much better.
The union, United Teachers Los Angeles, says it's fighting for smaller classes and schools that are "fully staffed" with nurses, librarian and counselors.
Beutner said budget constraints limit the new hiring to one year for now. All told, the new proposals would spend $130 million on about 1,200 positions, he said.
The district did not change its salary offer of a 6% raise spread over the first two years of a three-year contract. The teachers are asking for 6.5% that would be retroactive to a year earlier.
The superintendent continued to insist that the union has failed to negotiate in earnest. He said meeting all the union's demands would cost $3 billion and plunge the district into bankruptcy, which would prompt a state takeover.
"Show me the money, because we're spending all we've got," Beutner said. "If UTLA can find more money, we'll invest it in the classroom."
"If they want a strike, they'll have a strike," he added. "We're doing everything we can to avoid it."
Beutner also called on the governor to get involved.
When asked what form this intervention could take — more money, legal action, legislation, mediation — Beutner answered: "All of the above."
He suggested that Newsom put the two sides in a room and "lock the door and throw away the key if he has to."
A spokesman for the governor suggested that Newsom already has reached out.
"The governor has been engaged in informal conversation with parties on both sides," Nathan Click said. "Having been through strikes like this as a mayor, he is respectful of the process and hopes both sides can come together before Monday."
Although Newsom has not pledged specific help to local officials, his first proposed state budget includes increased funding for all California school districts.
Caputo-Pearl forecast the extra state funding at $140 million for next year. Beutner declined to estimate a figure.
The governor also has proposed putting additional money into the state's pension funds, which could provide more relief for L.A. Unified and other school districts.
The offer for full-time elementary school nurses probably was the biggest potential needle-mover in the district's latest proposal.
As it stands, the district pays for one day a week of nursing services at elementary schools. Schools then use discretionary funds if they want additional days. The district's earlier offer, on Monday, had been to pay for two days a week.
But Friday's offer was all in on nursing, on the promise of proposed funding from Los Angeles County.
L.A. County Supervisor Mark Ridley-Thomas said he and Supervisor Hilda Solis are sponsoring a proposal to provide up to $10 million for mental health and nursing services for L.A. Unified elementary schools.
He said the funding, limited for now to one year, could benefit students and help the two sides reach a settlement.
"The whole theory is kids do better when they are healthy," Ridley-Thomas said.
The union and district have inched closer in recent negotiations, but they do not appear on the verge of a settlement.
If anything, both sides amped up their testiness.
Beutner projected exasperation, even anger, as he insisted a strike should be avoided because it harms students and families.
Union officials were mad at the superintendent for holding a news conference on his new offer just as they were receiving it in bargaining. Caputo-Pearl also criticized him for not taking part in the Friday negotiating session.
Beutner's last-minute news conference coincided with a pro-teacher rally in Koreatown, drawing media attention away from it — another sore spot for union leaders.
That rally featured Dolores Huerta, co-founder of United Farm Workers; the Rev. James Lawson, a civil rights leader; Melina Abdullah, a leader of Black Lives Matter Los Angeles; and teachers.
About 200 teachers and their supporters took part in a rally in the San Fernando Valley later in the afternoon.
Also Friday, Local 99 of Service Employees International Union, which represents about 30,000 non-teaching employees, announced that its members would stay off the job for as long as three days at 10 district schools. Those members include cafeteria workers, teaching aides, campus security aides and custodians.
That union's executive director, Max Arias, said it would be especially difficult for the district to keep these campuses open. They include the large and well-known Robert F. Kennedy Community Schools complex.
"I'm not sure what the district's contingency plan is," Arias said. "We made it clear this would be happening. I just don't know what the district would do."
Times staff writer Taryn Luna contributed to this report.
The stories shaping California
Get up to speed with our Essential California newsletter, sent six days a week.
You may occasionally receive promotional content from the Los Angeles Times.