If teachers strike in Los Angeles, where will half a million kids go?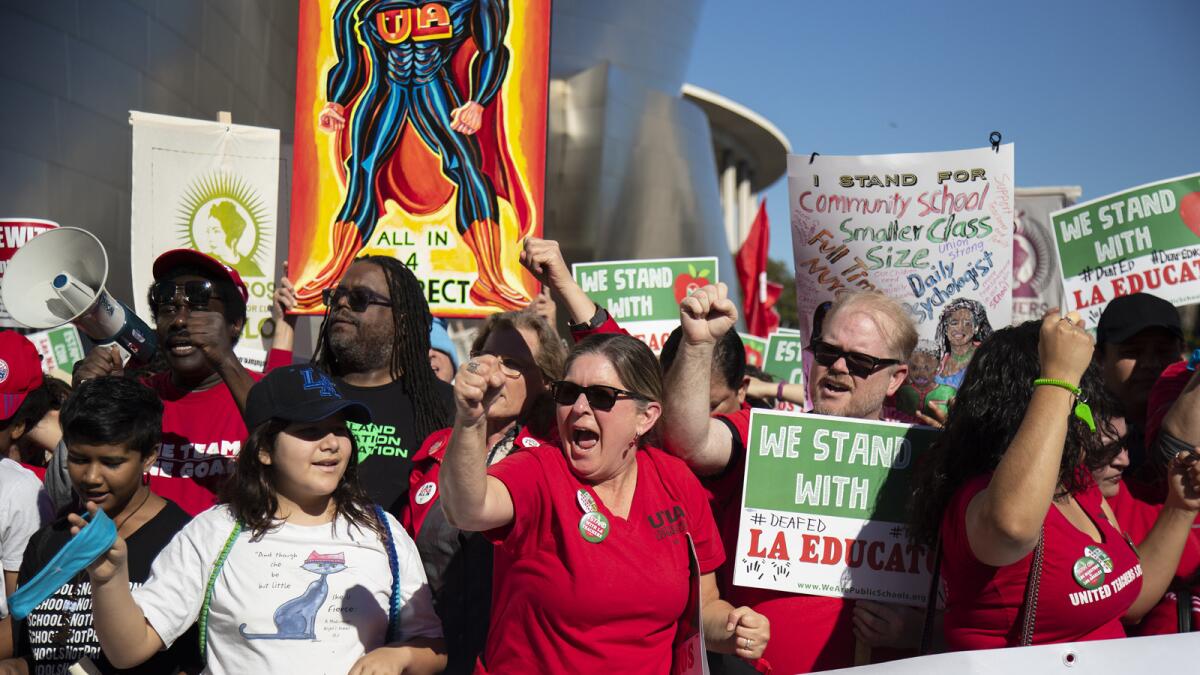 If teachers in the Los Angeles Unified School District go on strike Jan. 10 as planned, about half a million students won't find their teachers, nurses, counselors and librarians at school.
Across the sprawling school system, which stretches beyond the city limits, parents are trying to sort out what to do with their children. Should they send their kids to school and cross the picket line? Or should they keep them at home in support of their teachers? And if so, how will they manage?
The school district is the second-largest in the country, spanning 710 square miles and numerous cities.
It includes wealthy neighborhoods such as Bel-Air and Pacific Palisades, but most of its students are poor. Eight out of 10 rely on their schools for meals, and many receive medical and mental health services on campus.
The Times asked parents around the district to share their thoughts on how they'd navigate the coming days. They offered a broad variety of responses.
School will be in session
L.A. Unified has said that all schools will be open during the strike, if there is one, and that students will receive instruction. But staffing will be thin. About 400 substitutes and 2,000 credentialed district staff will be spread out to fill in for around 30,000 members of the teachers union.The district took legal action Thursday in an attempt to force teachers who work with disabled students to remain on the job.
Parents who said they intended to send their children to school listed a number of reasons. Some work full time. Some think their children should be present to be part of history.
Quite a few parents said they would send their children to school for the first days but gauge their safety and the amount of education they were getting to decide how to proceed.
Terri Haywood, whose daughters are in ninth and 10th grade at the Los Angeles Center for Enriched Studies in Mid-City, said she'd send them to school initially. She knows the district will lose money if they're absent, since state funding is tied to attendance, she said, and keeping them home would disrupt their parents' work schedules.
But she said she didn't expect her girls to get a lot of instruction.
"We've been told by our administration that … all the kids will just have to be put in large spaces like the auditorium, the gymnasium, the dance room," Haywood said, "and the kids will have to be there because of the supervision issue.
"And so what can you teach? You can't teach math like that," said Haywood, who is an executive leadership coach, of the large-group plans. If the strike is prolonged, she said, she'll keep the kids home and design academic activities for them, such as writing assignments or online sessions through Khan Academy, an educational nonprofit.
Marco Luarte of Northridge drops his three children off each morning at public schools in the San Fernando Valley. An information packet from the district assuring him they would get supervision and instruction during a strike made him decide to keep sending his kids to school as long as he feels they are safe.
"I'm under the impression that it would be counted against them if they don't go to school," said Luarte, who works from home as a systems administrator and says it would be hard to do his job with the kids at home. (California requires students to attend school unless they have a valid excuse. An L.A. Unified spokeswoman said in an email that a strike is not considered a valid excuse to miss school.)
Stay-at-home mom Silvia Rodriguez said that in the event of a strike she planned to take her two children to UCLA Community School in Koreatown and then go march with their teachers.
"I think it's the best example we can give them," she said.
Rodriguez said she hoped her children, in first and seventh grade, would get substitute teachers, to at least "keep them entertained" and safe. If not, she said, she'd figure out a way to continue their studies at home.
"I don't work. I can take care of them," she said. "But the parents that do work? It's going to be chaos."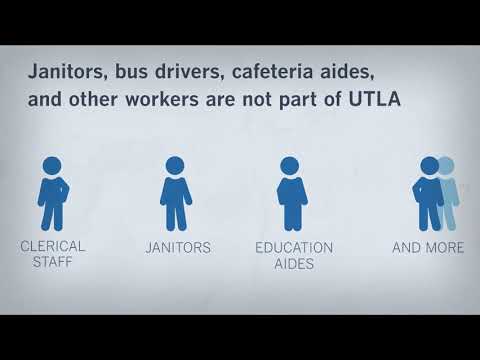 About 31,000 United Teachers of Los Angeles employees plan to strike. Students can expect to see significant cuts in the number of faculty present.
On the picket line
Many parents said their children would be more likely to be on a picket line than to cross one.
Among them are L.A. Unified teachers who also are district parents. If they skip school, chances are their kids will too.
Alex Caputo-Pearl, the president of UTLA, is setting the example with his own children. "My kids will be on the picket lines," he said. "It is a huge learning experience."
Toby Smith, a dance teacher at eight L.A. Unified schools, said her 5-year-old daughter, in transitional kindergarten, will picket with her. "I told her that there are too many students in her class and we don't have enough money … to pay for our house," Smith said.
Other teacher parents said they felt similarly.
Rocio Lopez, who teaches first grade at Beachy Avenue Elementary School in Arleta, said her 9-year-old, Nathan Soto, would join her on the picket line. She wants him to learn "to stand up for what he believes," she said on Dec. 15, when she and Nathan joined thousands in downtown L.A. at the March for Public Education, his first big protest.
These teachers recognize that the school district will lose money if attendance drops, but some said that might be necessary.
"If L.A. Unified doesn't feel the need that we feel," Smith said, "they may not be motivated to make changes."
Some teachers are using age-appropriate books to help explain the strike to their children. Kirti Baranwal is a teacher at UCLA Community School in Koreatown, where her daughter Sonali Martinez-Baranwal, 7, is in second grade. Baranwal said she planned to sit down with Sonali and re-read "Click, Clack, Moo" — about cows who stop giving milk until they get electric blankets — as well as "Side by Side," about Dolores Huerta, Cesar Chavez and the fight for farmworkers' rights. She said they would also read "Sí Se Puede," the story of a janitors strike from the perspective of a boy whose mother is striking.
The plan is to "let her ask a lot of questions and then just make sure that she knows that everybody's going to be safe," Baranwal said.
"I absolutely want her to learn that our community has power," Baranwal added, "and when we don't feel like we're being treated fairly, we can use our voices and our actions to ask for the very best for our communities."
The union is asking district parents and children to join them on the picket line. Holly Jackson, a teacher and union chapter chair at John W. Mack Elementary, said she'd been told she'd have money to feed students who would otherwise receive needed meals in school.
"Our students do get three meals at school," she said. "That's a big deal. I get that. As a single mom, I get that."
Joanna Belson, a mother of students at Colfax Elementary and Walter Reed Middle School, said she and many other parents who didn't work for the district planned to be on the picket lines with their kids to support teachers.
"If they can't be taught by schoolteachers that day," Belson said, "they're going to have a real-life lesson on the picket lines and they're going to see how the real world works."
Others could be absent too
If teachers strike, they are likely to be joined by nurses and psychiatric social workers whose help is vital to many students, particularly in underserved areas, but who also are members of United Teachers Los Angeles.
Psychiatric social workers, for example, provide mental health counseling and crisis intervention.
South Gate resident Rosa Andresen's daughter Amanda is in a program for those with multiple, severe disabilities at Pacific Boulevard Elementary School in Huntington Park. Amanda, 20, has cerebral palsy and needs constant attention. The program offers both learning and socialization, as well as care while Andresen works part time. She's worried that it could be dangerous to leave her daughter at school with reduced supervision, especially if trained staff are absent.
The idea is "very scary because it's going to be like chaos," Andresen said. Amanda could fall or wander somewhere dangerous or have a seizure without anyone there to help.
Times staff reporter Andrea Castillo contributed to this report.
Sign up for Essential California for news, features and recommendations from the L.A. Times and beyond in your inbox six days a week.
You may occasionally receive promotional content from the Los Angeles Times.