Whittier Law School is closing, due in part to low student achievement
Whittier Law School will stop accepting new applicants and close after its current students graduate. (Video by Mark Boster / Los Angeles Times)
When Whittier College officials announced this week they would close their affiliated law school in Costa Mesa, students and faculty reacted with shock, outrage and some tears.
But legal experts said Thursday that Whittier has long been on a downslide as it struggles with challenges hitting many law schools across the country.
Applications to law schools nationwide are down nearly 50% since 2005, prompting less-prestigious campuses to accept students with lower GPAs and law school admission test scores. State bar passage rates have fallen — hitting a 32-year low in California last summer. Fewer full-time, long-term legal jobs are available. Meanwhile, tuition costs and student debt loads have soared.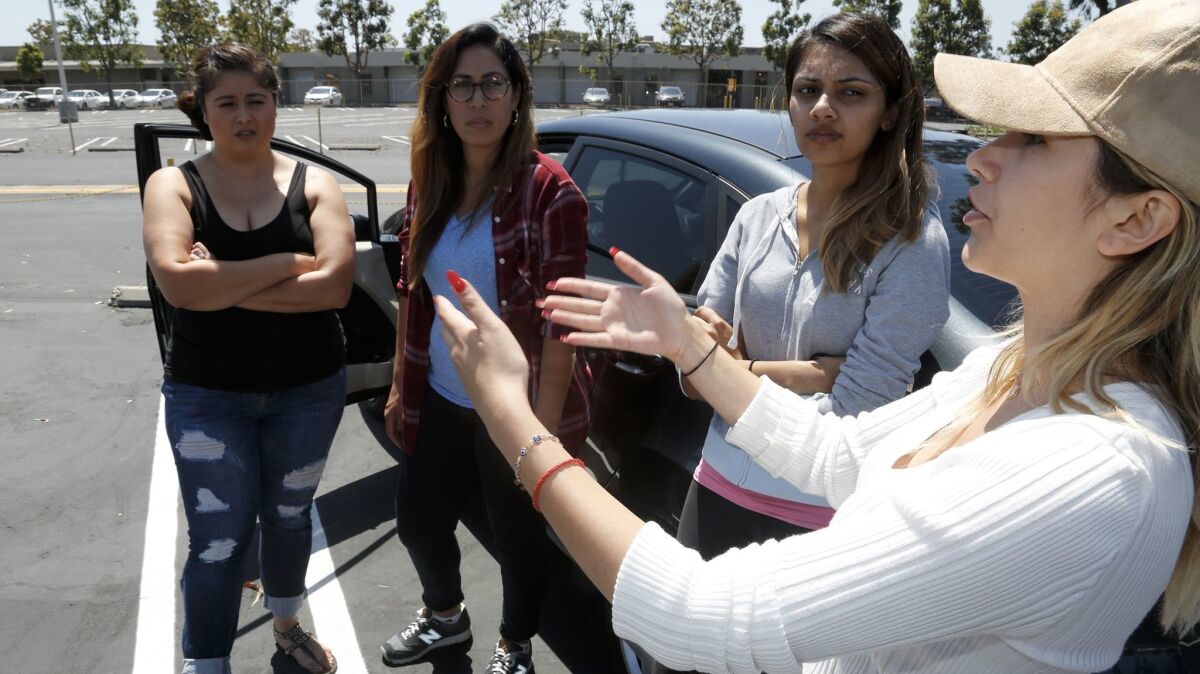 All of these factors came to a head at Whittier, which will be the nation's first fully accredited law school to shut down in three decades. It will stop accepting new applicants and close after its current students graduate.
"A number of law schools are struggling with exactly the same problems," said Brian Tamanaha, a law professor at Washington University in St. Louis and author of the 2012 book "Failing Law Schools." "Given the substantive and enduring decline in applications to law schools, the surprise is that it took so long for one to close."
That perspective was small comfort to many of Whittier Law School's students and faculty members.
"We were completely caught off guard; it was almost like an ambush," said Kristopher Escobedo, a second-year law student and incoming student body president.
Final exams are in two weeks. The bar exam is in July. "With this looming over their mind, how can they expect anyone to do well?" Escobedo said.
Faculty members unsuccessfully sought a temporary restraining order to delay the decision to close the school. In legal papers filed Tuesday, they said college officials told them in 2015 that the school faced a deficit but pledged to continue operating a smaller campus and offered buyouts to reduce costs. Officials also led faculty to believe that $13 million in proceeds from the sale of the campus earlier this year would be reinvested into the law school, the legal papers said.
Independent committees set up in 2015 at both the law school and college found the law program remained viable, Escobedo said.
But trustees voted by phone last week to shut down the law school, Escobedo and others said. On Wednesday, Whittier College President Sharon Herzberger and Jim Brown of the board of trustees delivered a prepared statement about the decision to faculty, students and staff and declined to elaborate.
"We believe we have looked at every realistic option to continue a successful law program," board chairman Alan Lund said in a letter to the law school community. "Unfortunately, these efforts did not lead to a desired outcome."
Ana Lilia Barraza, a college spokeswoman, said administrators will develop a plan over the next two months to make sure students finish their degrees "in a timely manner." She said the school had been considering a merger with another institution, but negotiations recently fell through.
Radha Pathak, the law school's associate dean of student and alumni engagement, criticized trustees for failing to keep their pledges even after one-third of the tenured and tenure-track faculty took the buyout to help keep the law school afloat.
"There are other law schools that receive support in challenging economic times from their institutions," Pathak said. "We haven't received that kind of monetary support."
Hanna Chandoo, a Whittier alumna and attorney with Stris & Maher LLP in Los Angeles, said she and others are exploring options, including litigation. Students plan a peaceful protest Friday at Whittier College.
The school started out as Beverly College of Law but was bought by Whittier College in 1974. Alumni include several judges, attorneys rated by Super Lawyers and KFI-AM 640 radio talk show host Bill Handel.
For a portion of Wednesday, a statement was posted on the law school's website that called the decision to close the school "unwise, unwarranted and unfounded."
The school has sought to provide "a high-quality education to students of diverse backgrounds and abilities — students who might not otherwise have been able to receive a legal education and who are now serving justice and enterprise around the world," the statement said, before it was taken down.
Whittier is ranked the nation's second-most diverse law school by U.S. News & World Report. A majority of its 392 students are women and a majority are nonwhite, according to August 2016 data. They include single mothers with full-time jobs, immigrants and low-income students.
"We're looking to improve access to the legal profession for people who might not otherwise have it," Pathak said.
Many of those students face particular challenges. Those who are not native English speakers tend to excel on the bar exam's multiple choice questions but perform less well on the written portions, said Mary Basick, assistant dean of bar preparation and academic support.
Some legal experts criticize the school, however, for admitting less-prepared students and saddling them with high debt when their bar passage rates and job outcomes are poor.
Whittier's first-year enrollment plunged to 132 students last year from 303 in 2010, according to Law School Transparency, a North Carolina-based nonprofit. Average student GPAs and LSAT scores also have declined, while the school's state bar passage rate for first-time test takers has been the lowest in California among accredited law schools, dropping to 22% last July from 52.7% in 2010. The first-year attrition rate is about 20%, one of the highest in the country, said Kyle McEntee, the nonprofit's executive director.
Meanwhile, the school's 2016 graduates bear the nation's second-highest average debt burden of $179,056, according to U.S. News & World Report. In 2015, only 2% of graduates landed jobs at large law firms, where higher salaries could help them pay back their loans.
"The school has set many of its students up for failure," McEntee said. "It's wholly irresponsible. The school has done more harm than good."
Pathak acknowledged the poor outcomes but said the law school posts data about them on its website to be transparent. Some students said they were aware of the performance issues but chose to enroll anyway because of the diversity, location, financial aid and recent reforms.
The school has added support services and revamped its bar exam prep program under a new dean. Several faculty members and students said they expected higher bar passage rates to follow — but the decision to close the school will prevent the improvements from kicking in.
Several first-year law students, however, said they would have enrolled elsewhere had the school indicated the possibility that it could close.
"This degree that I'm going to get is depreciated," said Kathy Iravani, 23, a first-year student who lives in Irvine.
Antonia Reyes, a second-year student, said she picked Whittier over other schools in Florida, Arizona and San Diego because of its diverse student body, practical training and focus on race and class issues. Like many of her classmates, she hopes to use her law degree to represent underserved communities.
But now she feels abandoned and anxious — especially because she is $160,000 in debt for her law school education.
"We are all worried about our degrees," she said, as tears began to fall. "Yes, we will finish our coursework, yes we'll take the bar, but what's the value of our degrees if we don't have a law school to refer to?"
To read the article in Spanish, click here
Twitter: @Sonali_Kohli
Twitter: @RosannaXia
Twitter: @TeresaWatanabe
ALSO
UC Berkeley cancels Ann Coulter appearance, citing safety concerns after violent protests
UCLA finance official arrested on charges of embezzling from the last college he worked for
California and L.A. Unified graduation rates continue to increase
---
UPDATES:
8:55 p.m.: This article was updated throughout to include further details about the law school's history and comments from school officials and students.
3:20 p.m.: This article was updated to clarify that the board of trustees of Whittier College voted to close the law school.
This article was originally published at 10:05 a.m.
The stories shaping California
Get up to speed with our Essential California newsletter, sent six days a week.
You may occasionally receive promotional content from the Los Angeles Times.