Push for young minority voters reaches into high school
At one of more than two dozen stations in a dimly lit Boyle Heights call center, Wendy Morales clicked her mouse to place a call to an L.A. County resident named Dulce.
Morales, 20, is young and Latino, like Dulce and the many others she's been working to reach. She's part of a big push to get her peers to vote.
Dulce didn't hang up, as some do. In fact, she had a question as a first-time voter: Could she fill out her ballot with a pencil?
Young voters have been a particular target of outreach leading up to the November midterm elections because they are underrepresented. They're especially sought after by Democrats because they lean liberal, especially in California, where they could help flip Republican seats and unseat the Republican majority in the U.S. House of Representatives.
For the last couple of years, too, those seeking young voters in the state have gotten a special boost from a new law that allows 16- and 17-year-olds to register to vote before they reach the legal voting age of 18.
Morales works for Power California, an Oakland-based nonprofit with a $3-million budget to focus on preregistered and minority youth. Others trying more broadly to activate 18- to 24-year-old voters include billionaire investor Tom Steyer, whose advocacy group NextGen America has pledged $33 million to engage young voters in 11 states — including $3.5 million in California. There's also a national youth-voter drive, which was started by student activists who survived the February mass shooting at a high school in Parkland, Fla.
California is not one of the states throwing up barriers to voting. It now allows not only preregistration but automatic registration through the Department of Motor Vehicles and late registration at specified locations up to election day.
Morales and the other callers have been speaking to many first-timers. Sometimes they need a little help, as Dulce did with how to fill in the ballot. (Morales told her to use black or blue ink). Some don't understand how mail-in ballots work, how to find a polling place or where to look for descriptions of ballot measures or candidates.
It used to be that those were the sort of topics high schoolers might hear about only in civics or government classes. But these days, students — with help from schools and outside groups — are much more involved in getting their classmates ready to vote. Registration drives are a big part of it. In March, students at Venice High in Los Angeles preregistered during a school-sanctioned walkout to commemorate the students who died at Marjory Stoneman Douglas High School in Parkland. The nonprofit L.A. Promise Fund made voter registration tables part of September's Girls Build summit, an empowerment event at USC that brought together 10,000 female secondary students.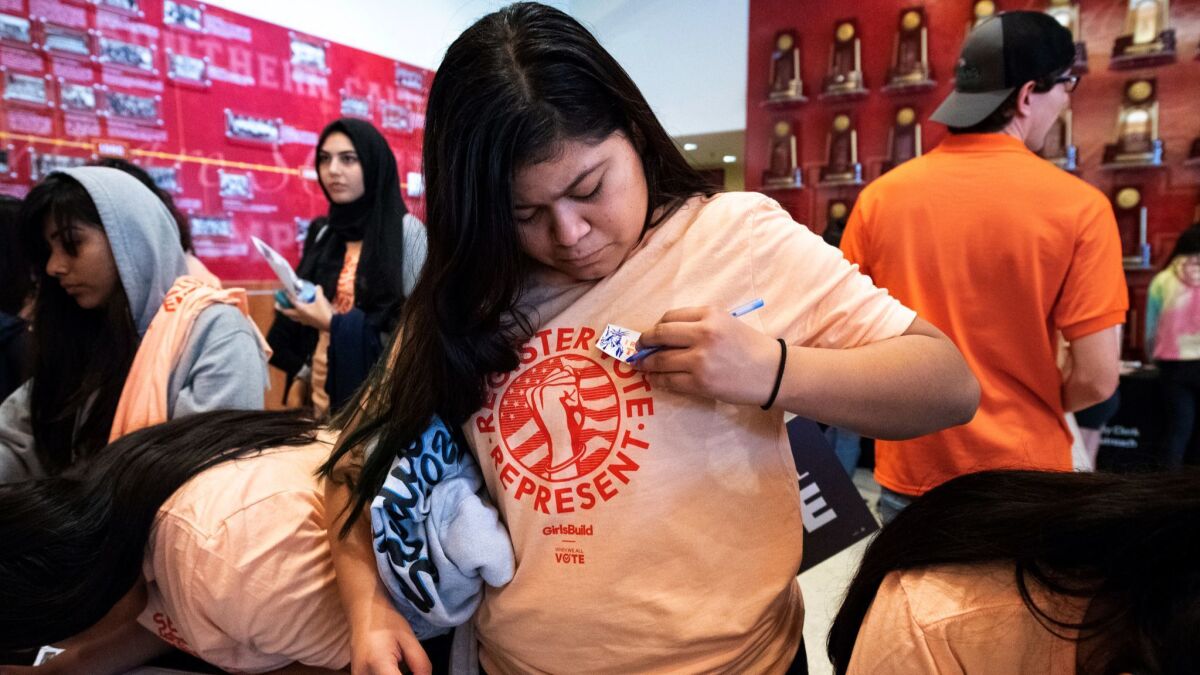 About 210,000 teens have preregistered since Sept. 2016. More than 117,000 will have turned 18 by election day, according to a Sept. 20 report from the California Secretary of State.
Although Johnathan Rangel, 16, a junior at Parlier High School in the Central Valley, is too young to vote, he may symbolize things to come.
He leans Democratic but says his "mentality is nonpartisan. … I like concepts from every party."
Johnathan preregistered as a decline-to-state voter, a growing segment of the rolls. Among preregistered California teens, nearly half (47.5%) have no party preference, about a third (34.4% ) identify as Democrats and just 9.6%as Republicans, according to state data.
New voter Eugene Vang, 18, of Merced, preregistered and began making presentations last spring to his classmates at Buhach Colony High School.
"I was able to talk to my peers about why voting is important to young people," said Vang, who started attending UC San Diego this fall. "As we continued to talk, even some people who might not have been paying attention or not really caring at first began to help each other fill out forms."
Power California works in 40 counties, with 25 other organizations and within 25 school districts, including L.A. Unified. Its heaviest focus has been on major urban areas and the Central Valley, where a lot of young voters were not engaged. In 2014 in Merced, for example, out of every 100 potential young voters, 41 were registered and 7 voted, according to Luis Sanchez, the group's co-executive director.
Over the summer, Sanchez said, Power California sent about 15,000 texts. It has also made direct calls and knocked on doors to remind young voters about the Nov. 6 election and give them information about voting.
The group is supported by nonpartisan organizations including the Irvine, Ford and San Francisco foundations, so it has rules against endorsing candidates or ballot measures. But its callers try to convey to young people the importance of giving a greater voice to underserved and emerging minorities.
Of those younger than 25 in California, more than two-thirds are people of color, according to U.S. census data compiled by nonprofits and foundations. About half of those younger than 18 have at least one immigrant parent. The younger-than-25 populations of nearly a third of California's counties are majority Latino. And 95% of California Latinos younger than 18 are U.S. citizens.
A call center worker and soon-to-be-first-time voter, Fabiola Argueta, 18, grew up with 10 people in a two-bedroom house in East L.A. She supports affordable-housing measures and rent control. She also opposes "people who demonize immigrants who came here in expectation of something better."
Her mother had been a teacher in Guatemala and fled the violence plaguing that country. In the U.S., Argueta said, "she had to start at the bottom, working at Jack in the Box."
Morales' motivation for her work — and her voting — comes from seeing the homeless in Boyle Heights, her mother's struggle to pay rent and her commitment to the people she cares about who are not able to cast ballots.
She's willing to get personal to help those she calls to understand why voting matters.
"My story is that I have undocumented relatives and I have to vote for them," she said. "The people that can vote and do have this right should vote."
Twitter: @howardblume
The stories shaping California
Get up to speed with our Essential California newsletter, sent six days a week.
You may occasionally receive promotional content from the Los Angeles Times.