In L.A. stop, Parkland students continue push for gun control and voter registration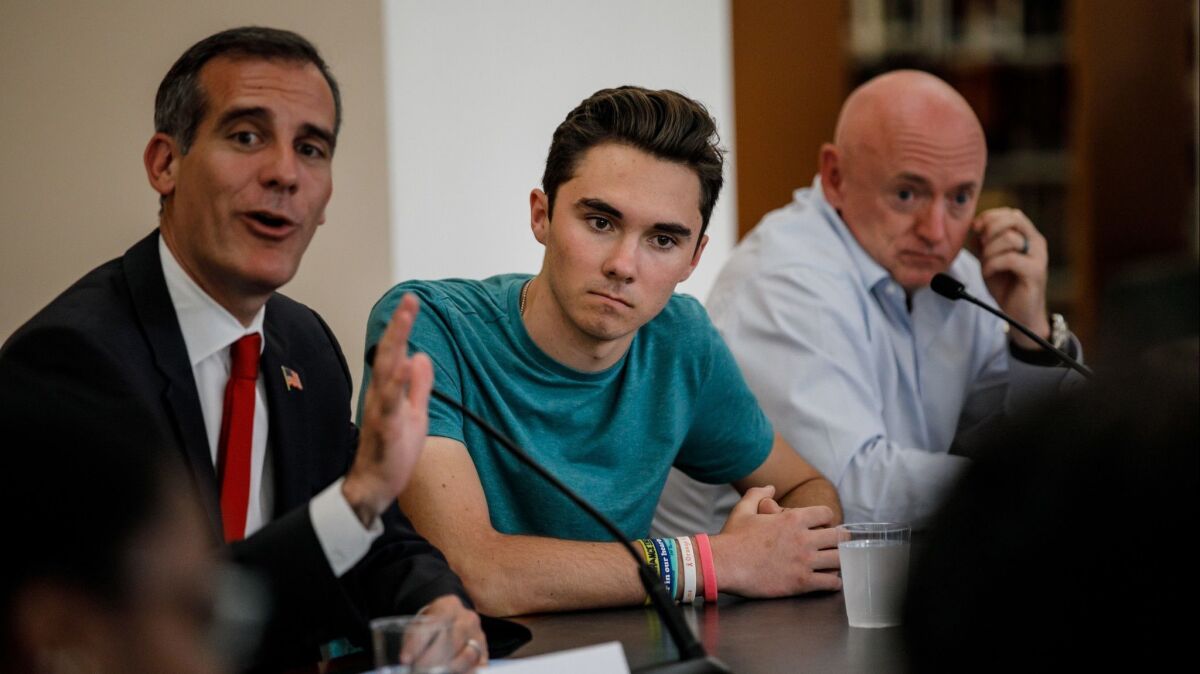 The Parkland students — survivors of a February mass shooting in Florida — brought their activism to Los Angeles this week as they try to maintain momentum in their push for greater gun control at the local and national level.
The students, part of a recently formed organization called March for Our Lives, are on a bus tour to accelerate voter registration among young people.
"The lack of voter turnout is unacceptable," said David Hogg, 18, one of the highest-profile student leaders, speaking at a Los Angeles event. "Voting is the best form of civil discourse that is out there."
The group's underlying agenda remains tighter gun controls, including banning assault weapons, high-capacity ammunition magazines (which allow shooters to fire for long periods without reloading) and bump stocks (which convert semiautomatic weapons into rapid-fire guns).
The students also plan to target politicians who oppose gun control in the November elections, Hogg said in an interview.
In highlighting voting, the group is trying to strike a nonpartisan and unifying chord. But this issue, too, has politics attached.
Young voters — the kind the march organization focuses on registering — are presumed more likely to vote for candidates in favor of gun control. And in the broader political sphere, Democratic political consultants generally favor a large, younger, diverse voter turnout; Republican strategists often prefer elections dominated by habitual, older voters who need no encouragement or assistance to cast ballots.
The group's Road to Change bus tour began June 15 in Chicago, where students participated in a march. Students from around the country are taking part in an itinerary of more than 50 stops in 20 states, including some where pro-gun rights demonstrators have displayed holstered weapons. A separate Florida tour will have 25 stops, hitting every congressional district.
This week, March students set down on friendly turf. Thursday events in the Los Angeles area included one with L.A. Mayor Eric Garcetti and California Secretary of State Alex Padilla.
The setting was the library of the Robert F. Kennedy Community Schools complex, which occupies the site of the Ambassador Hotel, where an assassin gunned down Kennedy 50 years ago. The library was built on the footprint of the hotel's ballroom, where Kennedy gave his last speech minutes before being shot.
Garcetti referred to the campus as "hallowed ground … where gun violence changed the course of history."
The assassination of Robert Kennedy, as told 50 years later »
Padilla — who is running for reelection — highlighted the state's strides in voter registration. Garcetti — who possibly has political aspirations beyond Los Angeles — recited local gun-control and social welfare efforts, and called attention to his newly formed Student Advisory Council on Gun Violence in Schools & Communities. He said these students would work with local officials on voter-registration and civic-engagement campaigns.
The 2016 election of President Trump spurred student protests in L.A. and elsewhere. But student activism seemed to sharpen in focus after the Feb. 14 shootings at Marjory Stoneman Douglas High School, which killed 14 students and three staff members. Since then, March for Our Lives and other groups have organized more than 800 demonstrations.
Who they were: The victims of the Parkland school shooting »
They also successfully pressured Florida's largely Republican and strongly pro-gun-rights Legislature to pass a $400-million school safety bill with some gun-control measures. The students have had no luck so far at the federal level.
The activism remains a work in progress, an effort to maintain momentum — and find the right tone and issues. Parkland students quickly decided to leverage public outrage over the mass shooting at their suburban campus to take on the everyday neighborhood gun violence that afflicts students in urban and minority communities.
In that light, Hogg on Thursday criticized the media for making walkouts at minority schools look like riots while presenting walkouts at schools in prosperous neighborhoods as enlightened civic involvement.
For Hogg, another prime issue is Supreme Court nominee Brett Kavanaugh, who could become part of a court majority that would strike down bans on semiautomatic weapons in California and other liberal states, and establish a universal right for law-abiding citizens to carry guns openly.
Hogg added that while the student group would oppose certain politicians, it avoids endorsements.
A public relations consultant for the group later said that Hogg's anti-Kavanaugh views are his own, and that the group has not taken a position on the nominee. The group also has not released a list of targeted officials.
Organizers say that March for Our Lives is set up as a nonprofit "social welfare organization," under federal tax laws. Partisan groups and special interests have used this tax vehicle to leverage a maximum amount of political messaging with a minimal amount of cost and disclosure.
Left-leaning analysts have accused wealthy, shadowy conservatives of misusing social welfare organizations as tools for political gain. The student group and supporters see themselves very differently.
"Thank you for shaking this country out of its complacency," Garcetti told the delegation of students. "Gun violence cannot be normal. It cannot be accepted. It cannot be settled for. It cannot be a fact of life."
Twitter: @howardblume
---
The stories shaping California
Get up to speed with our Essential California newsletter, sent six days a week.
You may occasionally receive promotional content from the Los Angeles Times.