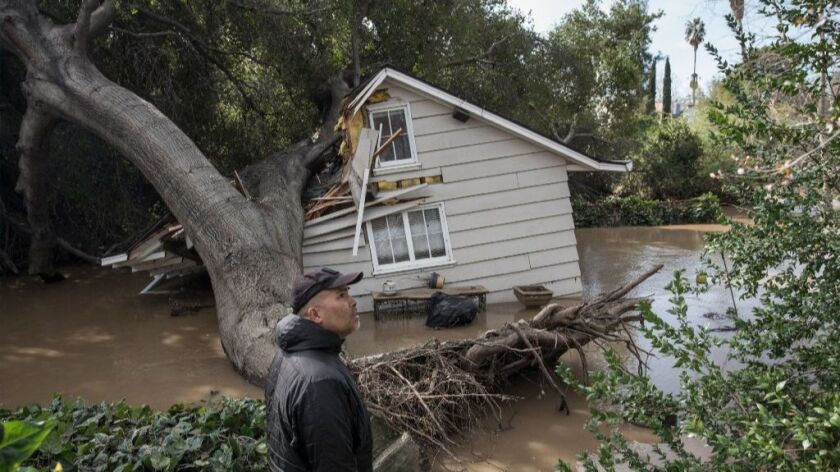 After approving federal disaster funds to help California counties recover from weeks of flooding in January, President Trump has extended the aid to include damage from storms in February.
The decision will make aid available to 42 counties where winter storms, flooding and mudslides have damaged homes and other property.
After five years of drought, last winter brought relief to the state, creating one of the largest snowpacks in California's recorded history.
But the weeks of heavy rain and snow that blanketed the Sierra Nevada also inundated low-lying cities and towns along the Sacramento and Russian rivers. In January, several people died in weather-related incidents, and a number of hillsides collapsed and closed off mountain passes.
In response, 34 counties and the Hoopa Valley tribe sought federal assistance, according to the Federal Emergency Management Agency. The agency announced that up to 75% of the recovery costs could be covered by federal funds and that additional assistance might be available to prevent further damage.
But the rain didn't stop falling.
In February, one of the most powerful storms to hit Southern California in years flooded freeways, triggered dramatic mudslides and downed hundreds of trees and power lines. At least four people died, including a man who was electrocuted by a downed power line in Sherman Oaks. In Victorville, rescuers found a person dead inside a submerged vehicle, according to the San Bernardino County Fire Department.
The president's latest disaster declaration, announced on Sunday, will cover damage incurred from Feb. 1 to 23.
Twitter: @annamphillips
---