Heat and wind shorten school day for Santa Monica, Malibu students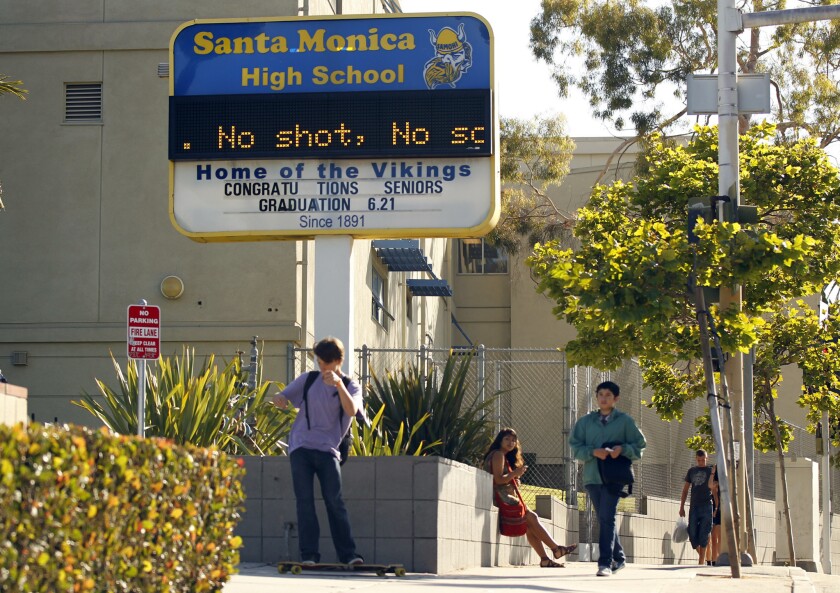 The Santa Monica-Malibu Unified School District gave students the option of leaving school early Tuesday because of the heat and high winds.
There will also be a "minimal day" schedule Wednesday, which means most schools will end between noon and 1 p.m., and serve lunch earlier in the day.
L.A. shattered heat records this week, and the National Weather Service issued a wind advisory from Monday through Wednesday in L.A. and Ventura counties.
Not all classrooms in Santa Monica-Malibu's 16 schools have air conditioning — the district is in the middle of a multiyear air conditioning installation plan. "We are addressing this issue with a sense of urgency," Supt. Ben Drati wrote in his note about the weather to parents.
So on hotter days, teachers feel it is unsafe to teach without the coastal breeze blowing in through open windows. But it's dangerous to open windows when the winds are intense.
Some schools are under construction, and the winds can make it harder to breathe. "It's blowing debris and dust around," said district spokeswoman Gail Pinsker. "Opening the windows presents a health concern."
The district gave parents the option to have their children come home Tuesday — the early departure would be marked as an excused absence. For parents that are working and cannot pick up their children, though, administrators facilitated classes by putting students in air-conditioned rooms, using fans, and making sure kids drink enough water.
Schools get money from the state based on their daily attendance figures. Pinsker said it is unclear whether this week's scheduling changes would affect the district's revenue. "Right now the health of our students is the No. 1 priority," she said. The district, Pinsker said, might ultimately ask the state for emergency funding.
The Los Angeles Unified School District did not have any school closures, according to a spokesperson. School personnel did receive safety bulletins about this week's weather conditions, advising them to keep students away from places where tree branches or other objects could fly in high winds.
---
The stories shaping California
Get up to speed with our Essential California newsletter, sent six days a week.
You may occasionally receive promotional content from the Los Angeles Times.