Milo Yiannopoulos' UCLA talk on what he hates about Mexico canceled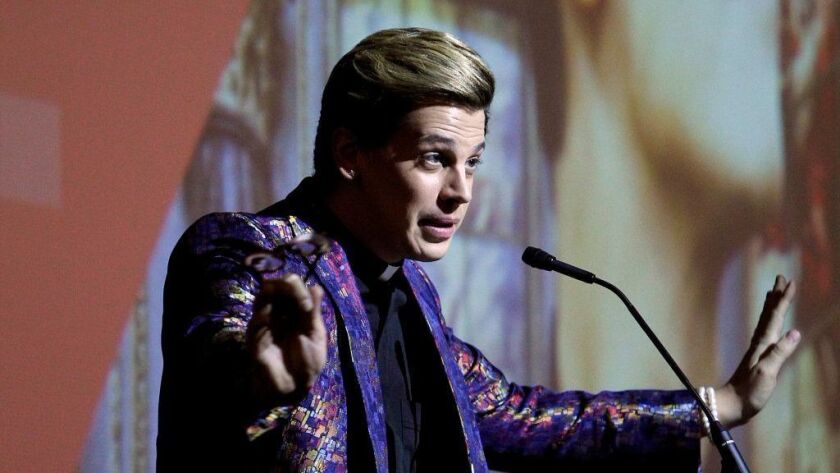 Milo Yiannopoulos, the right-wing rabble-rouser whose campus appearances have sparked widespread protests, is no longer headed to UCLA this month.
Less than 24 hours after putting tickets for the event on sale, the Bruin Republicans voted Wednesday to cancel his Feb. 26 talk, "10 Things I Hate About Mexico," Yiannopoulos told The Times in a series of text messages.
The student group confirmed the decision in a Facebook post, saying they canceled the event because it "polarized the leadership of the organization," not because of any public backlash.
"For an organization to be able to function properly, it must do so with the unequivocal support of all its members. This does not mean that we all must agree 100% on all issues but we must have at least a clear majority," the group said. "We have been more than willing to stand up to both protesters and administrative figures as evidenced by our Ben Shapiro event last quarter."
Yiannopoulos blasted the university's faculty for what he called an attempt to "intimidate their students into stifling free speech." The vote came after a conservative sociology professor published an open letter in the Weekly Standard on Wednesday urging the group to rescind their invitation.
"It's shameful that UCLA's faculty would apply such enormous pressure to students. Professors know students are easily intimidated and will fold quickly," Yiannopoulos said. "This is a new front in the Left's war on campus conservatism: applying pressure in the media while pretending to respect free speech to bully students into canceling the most popular — and therefore the most dangerous — conservative speakers."
He added: "In two years and dozens of colleges, I have never seen students crumble to pressure this quickly before. And all because I wanted to tell a few jokes about MS-13. It's shameful."
In a statement late Wednesday, Chancellor Gene Block said he was grateful to learn the event was canceled, calling Yiannopoulos' rhetoric "contrary to our values."
"The title of the talk referenced what the speaker 'hated' about Mexico — a country with deep ties to our city, our state and our nation. This is also a country that is an important part of the heritage of many Bruins," he said. "The expression of disdain did not appear to be an attempt to engage in reasoned discussion, but rather a move by the speaker to gain notoriety through a mean-spirited, racially tinged publicity stunt."
He added that free speech and intellectual debate are critical for thriving communities. "And yet some speech, although legally protected, is intended primarily to insult, demean and spark outrage among members of our community," he said.
Yiannopoulos had said the talk was timely with Congress moving to tackle immigration reform.
"[President] Trump and the Republicans make an economic and law-and-order case against uncontrolled immigration from Mexico. I'm going to make the social justice case against importing any more of this particular culture into America," Yiannopoulos said in a text Wednesday.
"In other words, what would a third wave intersectional feminist, if she was being honest, say about Mexican society and culture, and in particular the rampant misogyny, corruption and patriarchal oppression that runs rampant throughout its ruling classes?
"To put it another way: What would runaway immigration from Mexico mean for women, people of color, queer people and trans folk?"
Yiannopoulos' provocative appearances at UC Davis and UC Berkeley early last year set off violent protests that shut down the events. He subsequently organized a "Free Speech Week" at Berkeley last fall that ultimately fizzled. That event and another talk by conservative commentator Shapiro ended up costing the campus nearly $4 million in security expenses.
The volatile events set off a national debate over free speech on campus — and a threat by Trump to cut off federal funding to Berkeley for shutting down the Yiannopoulos event after violent clashes between agitators on the left and right.
UC President Janet Napolitano has launched a free speech center to study 1st Amendment issues and step up education about them. The National Center for Free Speech and Civic Engagement will be based in Washington, D.C., but administered by UC Irvine Chancellor Howard Gillman, a 1st Amendment expert who recently told the Los Angeles Times that students are not fragile "snowflakes" but need better education about the history and value of free speech.
At UCLA, administrators say they must allow any speakers properly invited by official student organizations, whether they agree with them or not.
"Universities across the country are struggling to protect both freedom of speech and the lawful freedom to protest, while addressing the basic safety needs of the entire community. UCLA is no exception," Jerry Kang, UCLA vice chancellor for equity, diversity and inclusion, said in an email.
"When an official student organization invites a speaker according to standard procedures, the administration must honor that invitation no matter how horrendous or intellectually vacuous. We also do not allow protests to become so disruptive as to silence the invited speaker from communicating with a willing audience.
"That said, we are not shy about expressing our own values. I explicitly and publicly reject inflammatory trolling, designed to trick students into fueling desperate celebrity. Let's have a serious conversation about immigration, or any other matter, instead of taking the bait," Kang said.
Melissa Tapia, a sophomore in political science whose mother emigrated from Mexico, said the topic of Mexican patriarchy was important but questioned why the Bruin Republicans chose someone like Yiannopoulos to address it.
"How is '10 Things I Hate About Mexico' supposed to give a debate about immigration that actually is productive?" Tapia said. "I believe the intention is to incite hate, and it reveals to me ignorance. Patriarchy definitely exists within the culture but it's so much more nuanced.… The issue is here we have this immigration talk and we are glossing over these nuances and what we're getting is this output of hate and hate speech and a perpetuation of stereotypes and the validation of racism."
The Bruin Republicans, in a statement, said they expected a "very large and anticipated event" since it would mark Yiannopoulos' first college campus appearance of the year. The club intended to charge $30 and $50 for tickets and share the proceeds with Yiannopoulos rather than pay him a speaking fee.
"I was planning to show up dressed as my genderqueer social justice alter ego Styrm to explain how importing Mexican patriarchy would hurt marginalized communities in America," Yiannopoulos said. "But I guess another university will get to enjoy the show — and the profits — instead."
Times staff writer Alene Tchekmedyian contributed to this report.
---
UPDATES:
9:25 p.m.: This article was updated with statements from Chancellor Gene Block and the Bruin Republicans.
7:50 p.m.: This article was updated to reflect that the talk has been canceled.
1:35 p.m.: This article was updated with additional details and comments from UCLA student Melissa Tapia.
This article was originally published at 11:25 a.m.
---
The stories shaping California
Get up to speed with our Essential California newsletter, sent six days a week.
You may occasionally receive promotional content from the Los Angeles Times.