Don't panic, officials say as California braces for lower student test results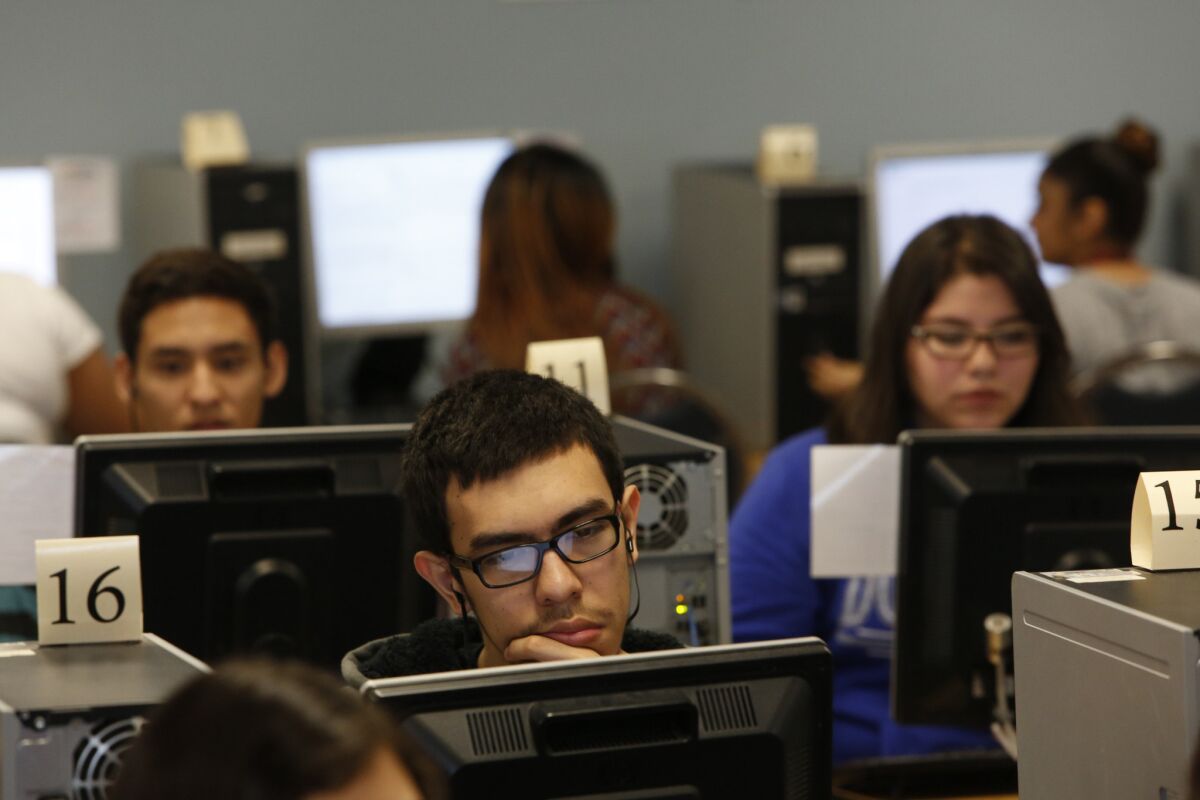 Even before new state test scores are released this week, one thing is already clear: Results will be lower than in years past. Probably much lower.
In other words, a much smaller percentage of students will be regarded as academically proficient for their grade level.
California on Wednesday rejoins the national debate over standardized testing, including what students should learn and how teachers and schools should be held accountable.
See the most-read stories this hour >>
State by state, the results of these tests, or similar ones, have shown a clear, downward pattern.
Previous standardized tests were based on California's learning goals for each grade. Now, the test is gauging students' knowledge against new learning standards, called the Common Core, which has been adopted by 42 states.
Critics of public schools call the test results evidence of a failing system. Critics of testing say the low scores are causing unnecessary anxiety and advise against attaching too much importance to them. Some also express concern about using results as grounds to dismiss teachers, while others applaud that possibility.
But with the expectation of low scores comes another message from most officials: Don't panic.
"No one should be discouraged by the scores," state Supt. of Public Instruction Tom Torlakson said in a statement. "They can help guide discussions among parents and teachers and help schools adjust instruction to meet student needs."
Others cautioned the same: "Previous tests should not be compared to this test," said Luci Willits, deputy director of the Smarter Balanced Assessment Consortium, the group overseeing the test, which also is being given in other states. "These are totally different tests and totally different standards."
NEWSLETTER: Get the day's top headlines from Times Editor Davan Maharaj >>
The new results should be considered a baseline for student achievement, said Willits, whose group is now headquartered at UCLA.
The test itself is more difficult, and how the test is scored makes it more difficult for students to be considered academically proficient. Students by the end of high school must now show they are prepared for college-level work, a higher bar than under the old test.
A governing board for the test set four levels of achievement, and then let each state decide how to identify them. In California, the four levels are: standard exceeded, standard met, standard nearly met or standard not met.
"Standard exceeded" can be roughly compared to the former rating of "advanced." "Standard met" is similar to the former "proficient."
The objective is for students to land in the top two categories. But fewer students will do so based on how the categories are now defined, educators say.
In third-grade math, for example, analysts have predicted that 39% of students will rate in the top two tiers. This compares with 66% of California third-graders who did so under the old test.
In third-grade English, 38% are expected to be in the top tiers; 45% were for the old test.
The new test is designed to provide a more detailed snapshot of achievement. Questions get more or less difficult based on which ones a student answers correctly. No two students are supposed to encounter exactly the same questions.
The test also has progressed beyond a simple multiple choice format to include written responses of various lengths. Students are given more complex questions, requiring deeper thinking about a theme in literature, for example, or about the concepts of algebra or geometry, say experts who laud the new approach.
"This is a better way of assessing students," said Cynthia Lim, head of data and accountability for L.A. Unified School District. "It shows a lot of promise. This has great potential for instruction because the tests are more tailored to individual students."
The performance estimates are based on the outcome of field tests in 21 states two years ago.
As in other states, there has been intense disagreement in California over standardized tests and how they should be used. But so far, Common Core and the new tests have proved less controversial in this state than elsewhere, where opponents have emerged from the left and right, as well as among parents and other members of the public.
Parents face a test of their own: making sense of a new flood of data, jargon and acronyms.
The new test is called the California Assessment of Student Performance and Progress, or CAASPP.
English and math tests were administered last spring to students in grades 3 through 8 and grade 11. They were given on desktop computers, tablets and laptops.
The old testing system is still being used for science exams given in grades 5, 8 and 10.
Interested in the stories shaping California? Sign up for the free Essential California newsletter >>
California is among a group of states that joined to create a test, under the name Smarter Balanced. As many as 22 states took part, but five have dropped out. Even so, for the first time, it will be possible to make a direct comparison between the scores in participating states.
Other states are part of another group using a different test and others are opting for different exams, with or without the Common Core learning standards.
The Smarter Balanced test was developed with assistance from a $185-million federal grant.
What California parents won't see is the familiar Academic Performance Index for each school. The index, which was based solely on test scores, profoundly influenced public perception of individual schools and affected whether they received plaudits or penalties. State lawmakers and experts still are debating what to include in a new index.
In addition, California districts cannot yet use the new test scores in teachers' performance evaluations.
Twitter: @howardblume
MORE EDUCATION COVERAGE
After John Deasy, LAUSD faces a tough choice: Play it safe or take another risk?
State audit gives L.A. Unified better marks in handling abuse cases
The stories shaping California
Get up to speed with our Essential California newsletter, sent six days a week.
You may occasionally receive promotional content from the Los Angeles Times.