Professor floats idea of three-year B.A. to cut college costs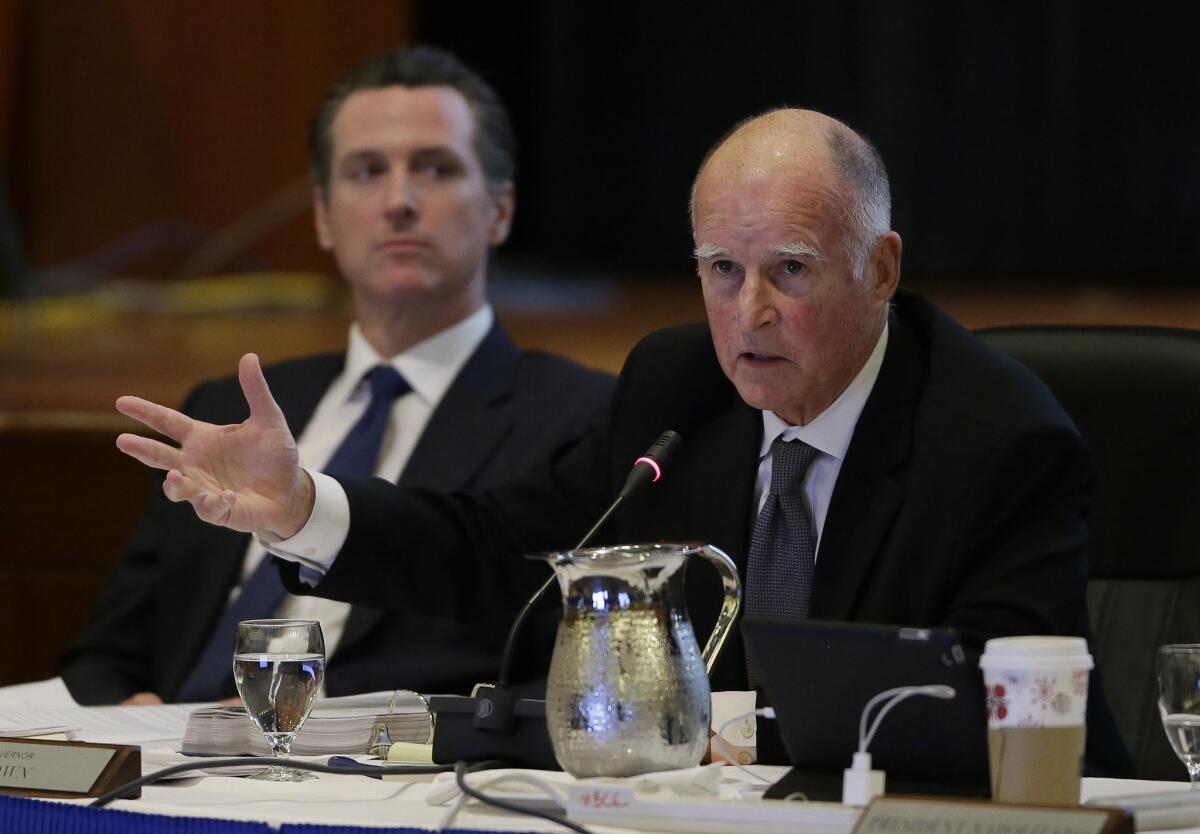 In theory, it's a simple idea. With the cost of attending college rising, why not reduce the typical time for a bachelor's degree from four years to three?
That's the proposal floated by Johns Hopkins University professor Paul Weinstein in the latest edition of the Progressive Policy Institute. In his paper, Weinstein found that a four-year degree at a public school costs, on average, $35,572 in 2013. A three-year degree at a similar institution would cost $26,679 — a 25% savings.
Weinstein's idea isn't original. Some campuses, including Bates College in Maine and Wesleyan University in Connecticut, have instituted similar programs, but widespread implementation is rare, Weinstein said. In the last five years, 22 private, nonprofit colleges have begun offering three-year degrees, according to the National Assn. of Independent Colleges and Universities.
Gov. Jerry Brown supports the idea of offering more three-year track degrees, and a University of California special panel — the Commission on the Future — suggested that fast-track degrees were worth exploring in 2010, but the UC system has never tried to implement or experiment with a three-year model.
"Colleges and universities are a little like the healthcare industry," Weinstein said. "They're not very transparent and tend to be risk averse. Changing them isn't going to be a grassroots movement among the universities; it's going to take a visionary to implement it from the top down."
Tuition costs have risen precipitously in recent years. The average bill at a U.S. college for tuition, room and board and other fees was nearly $20,000 in 2012, more than double the cost in 1981, according to the National Center for Education Statistics. Student loan debt has tripled since 2004 to $1.1 trillion, and many experts, parents, educators and others say the rising costs are making higher education unaffordable for many U.S. residents.
"We can't price the middle class and everybody working to get into the middle class out of college," President Obama said two years ago when proposing a plan to withhold federal money from schools that raise tuition too quickly.
Yet, for all the hand-wringing, there's been little progress at reining in the cost of college. A handful of smaller, private colleges, however, has slashed tuition; officials at Grace College in Winona Lake, Ind., recently decided to lower tuition by 9% next year. (The school also offers a three-year degree).
But others have continued to charge more. At Harvard University, tuition and fees went up nearly 4% this year to nearly $58,600.
UC regents have proposed the first increase in tuition in three years. Beginning next year, students could be hit with the first of five annual increases of 5%, depending on state funding. And the UC Commission on the Future hasn't issued follow-ups to its 2010 reports on fast-track degrees, much less started a pilot program.
"It seems like it just withered and died on the vine," said Robert Shireman, executive director of California Competes, a nonpartisan higher education advocacy group in Oakland.
Many students don't finish in four years, let alone three. According to a 2014 study by the nonprofit research group Complete College America that examined data from 34 states and Washington, D.C., 19% to 36% of students at public colleges finish their bachelor's degrees within four years.
Weinstein argues that if colleges adopted the three-year model, they could lose some money in the short term but would make up for it by being able to accept more students.
Yet colleges have little incentive to be leaders when it comes to slashing tuition or reducing the time to graduation, Weinstein said — and not because campuses would suffer financially.
Instead, cutting the time to graduation could put colleges at a competitive disadvantage by creating the perception that the college is less prestigious or wouldn't offer as many electives or enough time for students to go abroad.
Weinstein acknowledges that not all students should be pushed to graduate faster. The UC subcommittee proposed streamlining requirements for only some majors.
"It's not for everyone," Weinstein said.
But Weinstein imagined that students would have no trouble studying abroad on their own, especially if they got to keep some of the savings from a shortened college schedule.
"I think you could take a year off and find yourself and volunteer for a lot cheaper than the $50,000 you'd have to pay a college for the privilege of going abroad," he said.
Twitter: @latjasonsong
Sign up for Essential California for news, features and recommendations from the L.A. Times and beyond in your inbox six days a week.
You may occasionally receive promotional content from the Los Angeles Times.