'We have failed': Top USC officials try to reassure students amid gynecologist scandal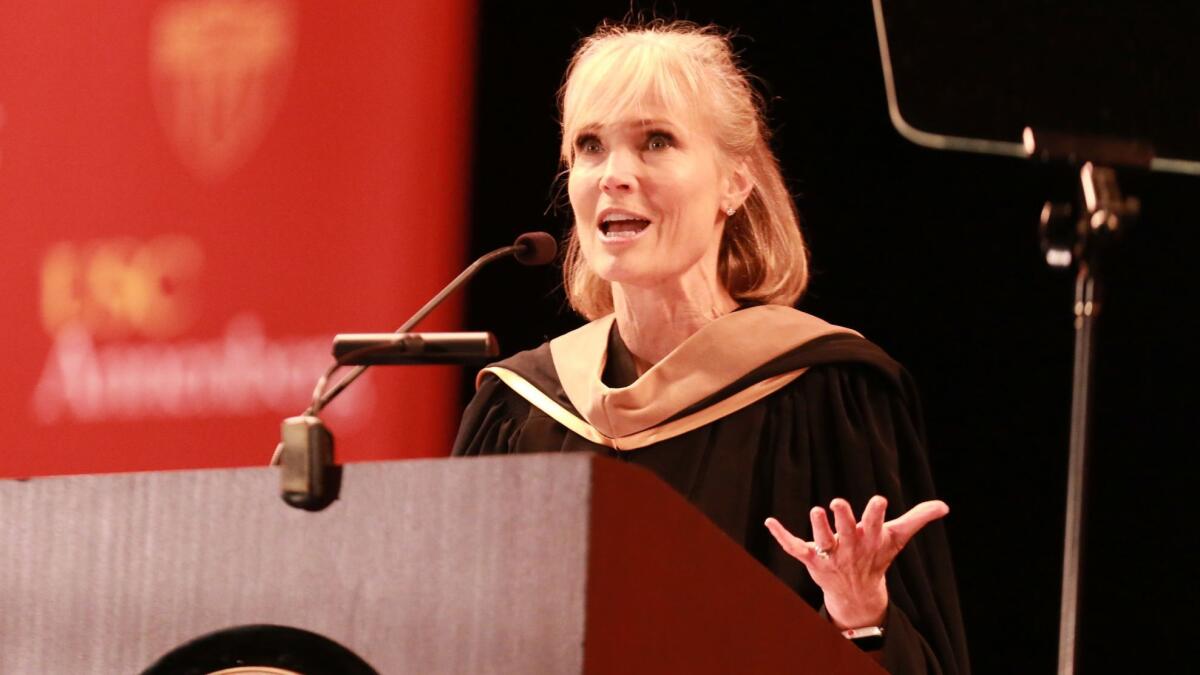 Top administrators at USC are reaching out to students in the wake of misconduct allegations against the university's longtime gynecologist, acknowledging failings and vowing reforms as they try to address growing outrage over the revelations.
Several USC deans have sent out messages trying to reassure students and faculty that the university is committed to changing.
"We have failed," wrote Jack H. Knott, dean of USC's Sol Price School of Public Policy, in a May 24 letter. "What happened is antithetical to everything we know is right."
A Times investigation found that Dr. George Tyndall had been the subject of numerous complaints of inappropriate comments and touching during his nearly three decades at USC. Tyndall has strongly denied mistreating patients. He continued to practice until 2016, when a clinic nurse reported him to the campus rape crisis center, the newspaper reported.
A university investigation determined that Tyndall sexually harassed patients with inappropriate pelvic exams and sexually suggestive remarks. He was allowed to resign quietly with a payout. His patients, who number in the tens of thousands, were not informed of the findings nor was the state medical board.
The case has sparked civil lawsuits and a Los Angeles Police Department investigation. More than 400 people have contacted a hotline that USC established for patients to share their experiences with Tyndall.
Last week, the Board of Trustees announced USC President C.L. Max Nikias was stepping down. Then on Thursday, the board elected as its chair Rick Caruso, a 1980 graduate whose private company owns the Grove and other shopping centers. Caruso had been one of the board's most visible members since the scandals broke, and promised a swift investigation that should be completed by the fall semester.
Following Caruso's election, Willow Bay, dean of the USC Annenberg School for Communication and Journalism, sent her school a note about the "unthinkable" allegations.
"This is not the end of year letter I expected to be writing," she wrote. "Instead, I write this note devastated by the news of the past few weeks."
She said she wants to reassure students that "USC Annenberg remains committed to upholding the enduring values at the heart of our discipline," which include listening to and advocating for "victims of abuse of power of any sort."
Other deans have sent similar messages.
Knott, in last week's memo, called the Tyndall allegations "a violation of the core responsibility we have to protect our students" and that the voices of patients "demand we take careful stock of the wrongs that were done — and resolve to do all we can to correct these abuses and ensure they never happen again."
In a Friday update following the Caruso announcement, Knott wrote that Price would convene students, faculty, staff, alumni, parents and volunteers "to help develop guidelines and standards for openness, transparency, safety and inclusion."
Elizabeth Daley, dean of the School of Cinematic Arts, wrote in an email to students May 24 that "USC is facing a level of crisis which none of us have previously experienced."
"We have a sacred duty to ensure the safety of our students," Amber Miller, dean of USC's Dornsife College of Letters, Arts and Sciences, wrote. "It is deeply unsettling when even one student is put in harm's way."
For all the frank language used by the deans, some faculty members said they are waiting for more concrete action.
Hilary Schor, a Dornsife English, comparative literature and law professor, said in an email that she would like to see more acknowledgment of the role administrators played in the scandal.
Schor said she found Miller's — and USC's — words to be telling. "One thing that I've observed in institutionally empty statements is the 'even one student is put in harm's way' formulation is a useful way of ducking responsibility," she said.
USC, Schor said, has often released statements saying things such as one incident of sexual assault is too many.
"The idea that you will eliminate all assault is noble, but unrealistic — violence exists," she said. "The question is, what do you do when incidents occur?"
Times staff writers Matt Hamilton and Harriet Ryan contributed to this report.
Sign up for Essential California for news, features and recommendations from the L.A. Times and beyond in your inbox six days a week.
You may occasionally receive promotional content from the Los Angeles Times.