Sen. Kamala Harris joins Democratic senators in 24-hour floor session to sink DeVos' confirmation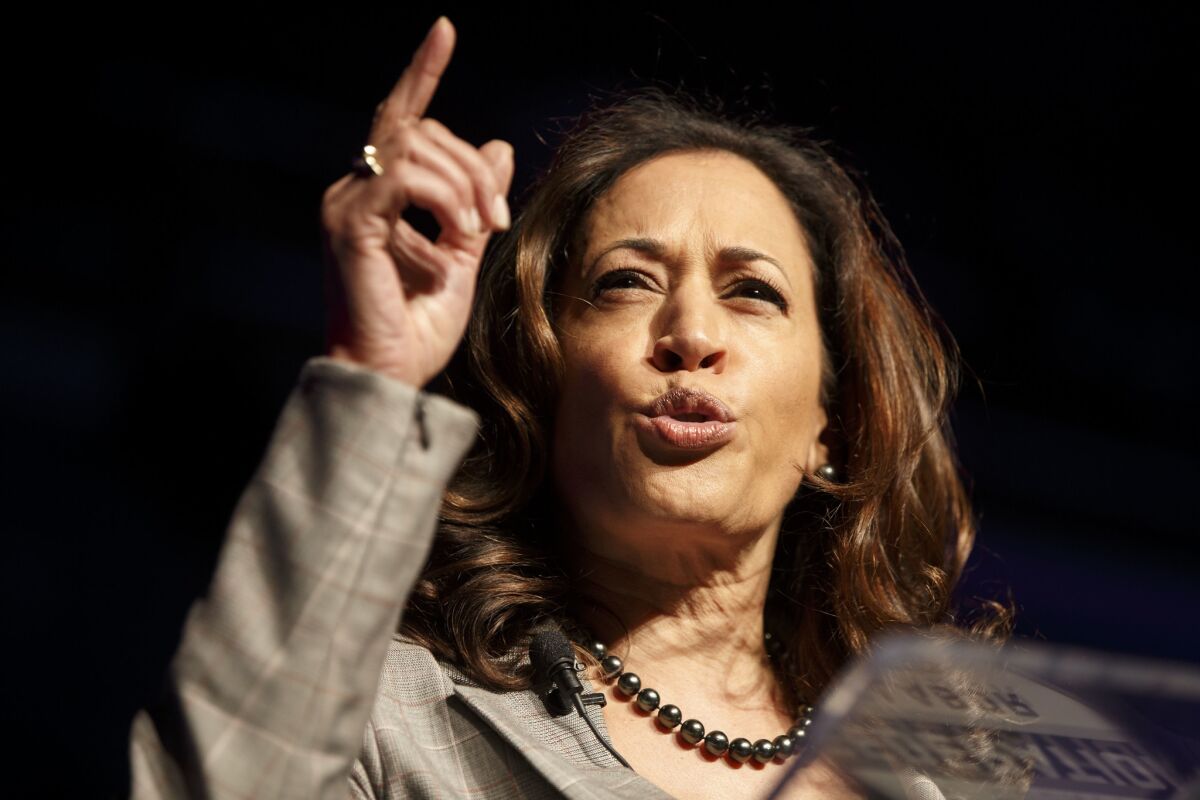 Betsy DeVos lacks basic knowledge of American schools and should not be confirmed as secretary of Education, Sen. Kamala Harris said Monday night as Democrats made a last-ditch effort to sink DeVos' nomination.
"Our country needs a secretary of Education who has demonstrated basic competency when it comes to issues facing children," said Harris (D-Calif.), who previously served as California's attorney general. "She cannot or will not uphold the law if she does not understand the law."
After watching DeVos' confirmation hearing, Harris said, "It was clear Ms. DeVos didn't know the difference between two basic theories of testing." Harris was referring to DeVos' inability to answer questions at her confirmation hearing about the difference between measuring student proficiency and student growth — two competing methods of evaluating how much students are learning.
Harris also criticized DeVos' unwillingness to commit to enforcing Title IX, which prohibits discrimination in education on the basis of sex, and "a complete lack of knowledge" about a major federal special education law.
Harris' remarks came amid a 24-hour marathon session that Democrats mounted to debate DeVos' nomination on the Senate floor — a last-ditch effort to secure the one additional Republican vote needed to torpedo her confirmation.
DeVos, a Republican fundraiser from Michigan, former state party chair and school choice activist, has faced intense opposition since her confirmation hearing in January — the most of any of President Trump's Cabinet picks. DeVos spent her career advancing school vouchers, which would allow students to use public dollars to attend private schools, both secular and religious.
At the confirmation hearing, DeVos appeared to be unfamiliar with the Individuals with Disabilities Education Act, or IDEA, a major federal law that promises students with special needs will get an appropriate public education.
On Monday, Harris called DeVos' lack of knowledge about IDEA "unacceptable."
DeVos had also raised eyebrows when she said it's up to states and districts to decide whether guns belong in schools, and said that a school in Montana might need a gun to protect against grizzly bears. Harris said DeVos "poses a far greater threat to public education" than grizzlies.
Last week, two Republican senators said they would not support DeVos' confirmation. With Democrats saying they would vote unanimously against her, her confirmation needs every remaining Republican — and would require Vice President Mike Pence to cast a tie-breaking vote for her.
Harris criticized DeVos' record of supporting the growth of largely unregulated charter schools in Michigan. "We cannot have someone who wants to lead our highest Department of Education who does not support the importance of oversight," she said.
Trump's campaign promise to divert public school funding to private school vouchers, Harris said, would mean "fewer teachers, fewer resources for students and parents."
DeVos has said throughout her confirmation process that she would not impose a voucher program on states that don't want one.
Harris was followed by Sen. Michael Bennet (D-Colo.), who addressed Trump explicitly. "This nomination is an insult to schoolchildren and their families," Bennet said.
He criticized DeVos' "dogmatic approach," and said she has shown a commitment to free-market choice and competition, but not to equity.
As some senators spoke, others joined protesters outside Capitol Hill.
Earlier in the day, Senate Majority Leader Mitch McConnell addressed the chamber, saying he was confident DeVos would be confirmed.
A final vote is expected around noon Eastern time on Tuesday.
ALSO
Betsy DeVos 'is unprepared and unqualified' to be Education secretary, charter school booster Eli Broad says
Trump administration says 'aliens' outside the U.S. have few legal protections
In an age of 'alternative facts,' a massacre of schoolchildren is called a hoax
The stories shaping California
Get up to speed with our Essential California newsletter, sent six days a week.
You may occasionally receive promotional content from the Los Angeles Times.