Great Read: Talk show host's stoner dream comes true, and it's high time
Comedian Doug Benson, left, with guests Adam Corolla and Ari Shaffir during his weekly show, "Getting Doug with High," in the Culver City studios of VPN last month. Benson smokes marijuana and encourages his guests to do so as well, during the show, seen on YouTube.
(Jay L. Clendenin / Los Angeles Times)
Comedian Doug Benson, right, jokes while his guests Adam Corolla and Ari Shaffir are photographed following the taping of his weekly show "Getting Doug with High."
(Jay L. Clendenin / Los Angeles Times)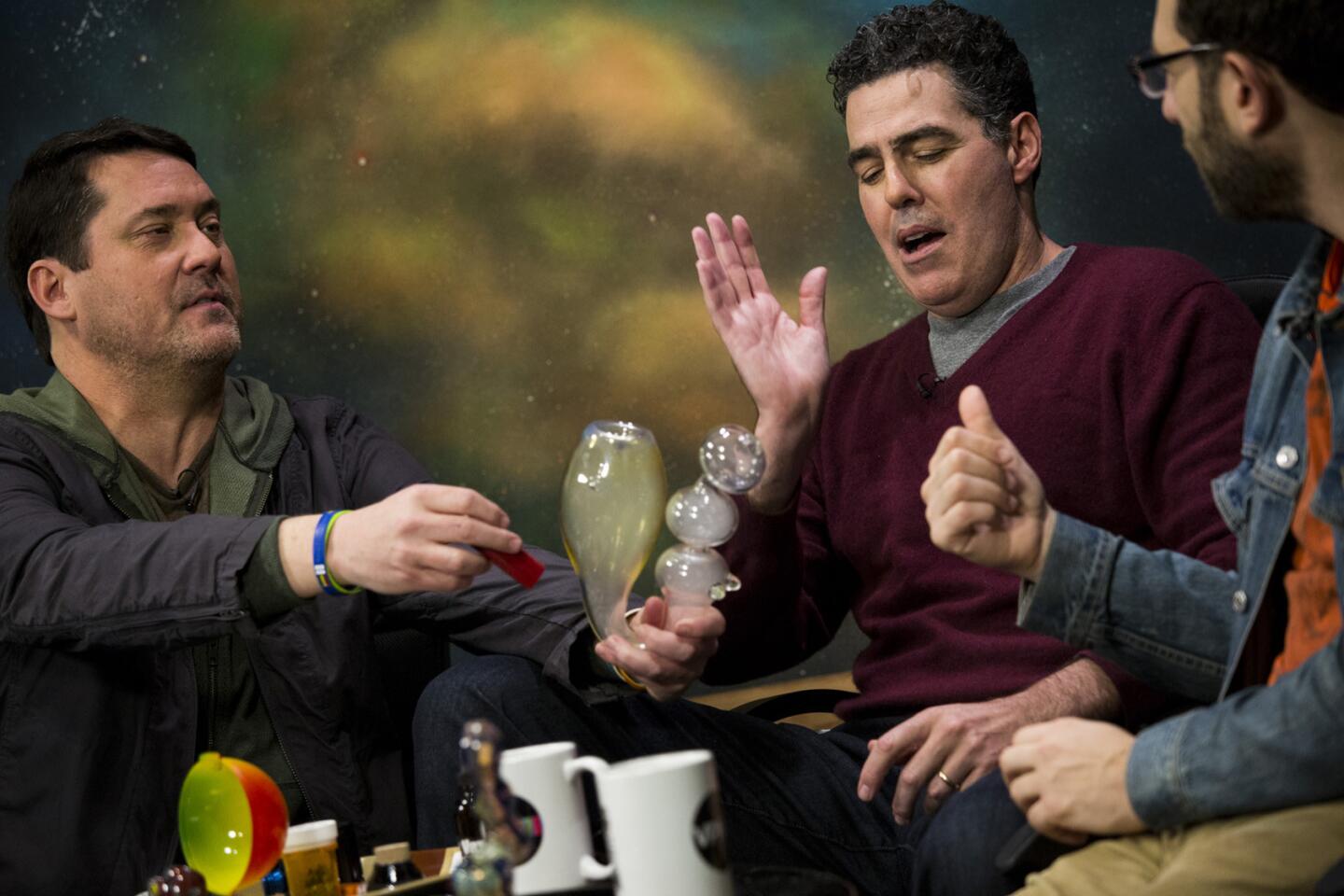 Doug Benson, left, passes a pot pipe during a taping of "Getting Doug with High," with guests Adam Corolla and Ari Shaffir.
(Jay L. Clendenin / Los Angeles Times)
Doug Benson smokes marijuana while posing for a portrait after taping "Getting Doug with High" last month.
(Jay L. Clendenin / Los Angeles Times)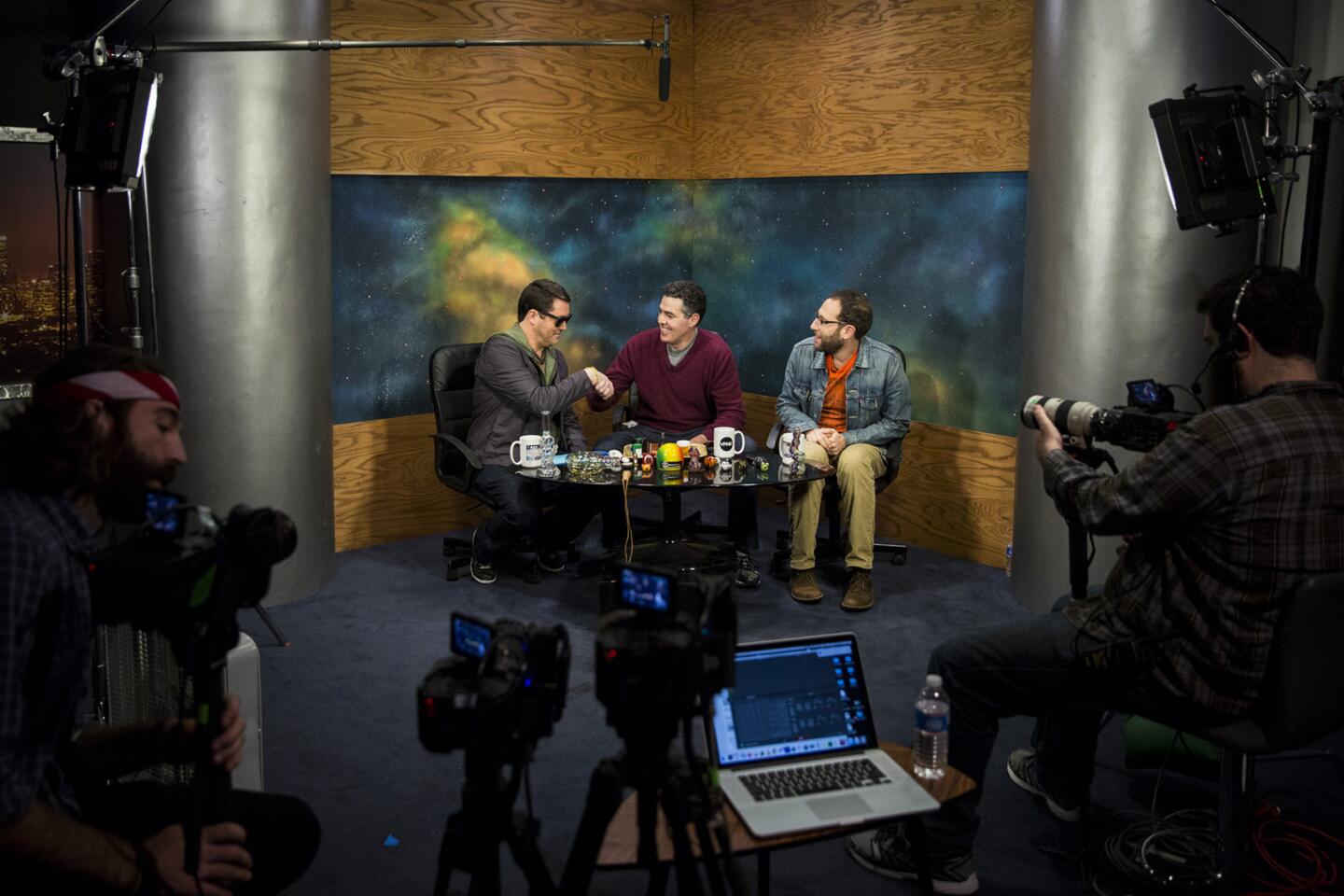 Comedian Doug Benson, left, greets guests Adam Corolla and Ari Shaffir before taping his weekly show "Getting Doug with High" in Culver City last month.
(Jay L. Clendenin / Los Angeles Times)
Comedian Doug Benson smokes marijuana while posing for a portrait after taping "Getting Doug with High."
(Jay L. Clendenin / Los Angeles Times)
Custom pipes and paraphernalia on set before taping.
(Jay L. Clendenin / Los Angeles Times)
It's 1:30 on a Monday afternoon, and on a quiet dead-end street in Culver City, three comedians are getting stoned and debating whether astronauts are, on average, handsomer than most people.
"No astronauts look like George Clooney," one of them, Ari Shaffir, says flatly.
"I don't know," counters Adam Carolla, who hosts a popular daily podcast. "Buzz Aldrin and those guys — they were pretty good back in the day."
Doug Benson smiles, his eyelids heavy, and bites the head off a gummy-bear-shaped marijuana edible.
This in itself might not sound remarkable — at this moment across the entertainment industry, a not-insignificant number of people are probably getting high and having similarly random conversations.
But they don't have a camera crew filming them. They don't have a medic in the next room in case anyone has a marijuana-related emergency (a panic attack, a coughing fit). And they don't have thousands of people around the world watching them live on YouTube — many, if not most, stoned themselves.
Some people dream of getting an Academy Award or singing "The Star-Spangled Banner" at the Super Bowl. Benson, 50, a stand-up comic who has carved a successful career around his boundless enthusiasm for marijuana, dreamed of hosting a talk show in which he and his celebrity guests could get really, really stoned.
And for a little over a year, he's been living out that dream with his weekly Web series, "Getting Doug with High."
Unlike conventional talk shows, full of prepared comedy bits and rehearsed anecdotes, "Getting Doug with High" — which has featured comedians, actors and filmmakers of varying degrees of fame as guests since its launch in the fall 2013 –is loose and free-form. There are a few recurring segments, like a discussion of pot-related current events, but Benson doesn't always get around to them. (The only real rule is that guests must either state that they have a medical marijuana card orsign a legal waiver.)
Under the influence, some of Benson's guests get extremely talkative. Some get quiet and self-conscious. Conversations wander with their own non-linear stoner logic — over 45 minutes, today's topics will bounce from astrophysicist Neil deGrasse Tyson to texting and driving to obnoxious T-shirt slogans to nostalgia for old pornography.
"Going off and telling random stories and jokes is welcomed," Benson explained later, "just like in a pot circle at a party or in a smelly alley."
Think "The Dick Cavett Show" with bong hits and more giggling.
::
Benson came to the stoner life relatively late. Born and raised in San Diego, he didn't try pot until he was in his late 20s. He took to it like a duck to water, though, and, defying the lazy-pothead stereotype, was soon balancing a busy comedy career with a level of marijuana intake that would render most people perpetually couch-bound.
"Doug somehow has it all figured out," said comedian Sarah Silverman, a longtime friend of Benson and a two-time guest on the show. "He can somehow smoke all the pot in the world and still be sharp as a tack. There are a handful of people like that, and I'm in awe of them."
In mid-2013, Daniel Kellison, a former producer of David Letterman and Jimmy Kimmel's late-night talk shows, met with Benson to see if he was interested in doing an on-camera version of his film-centric comedy podcast "Doug Loves Movies."
Benson, though, had something different in mind.
"I spitballed an idea, telling Daniel, 'I want to do a talk show where we get high on camera and just see what happens,'" said the comic, who starred in the pro-pot 2007 documentary "Super High Me." "I wanted to show people that weed smoking is fairly harmless and have some fun at the same time. He didn't hesitate to say yes."
Kellison's only real concern: Even in generally pot-tolerant Hollywood, getting celebrities who aren't named Cheech Marin or Tommy Chong to partake in what is still a federal Schedule 1 drug on camera would be no easy feat.
"It's a different time – smoking pot isn't that scandalous or shocking," Kellison said. "But any publicist worth their salt would probably discourage their talent from doing this show."
Still, since "Getting Doug with High" first aired on Kellison's newly launched YouTube channel, Video Podcast Network, in October 2013, Benson has managed to wrangle an array of prominent guests, including Silverman, Kevin Smith, Margaret Cho, Jack Black – and, yes, Cheech and Chong.
Silverman said she's had no real hesitation about appearing on the show.
"I don't think twice, because I can't seem to actually believe that anyone sits and watches people getting stoned," she said. "But people eat it up! Who knew?"
::
From the outset, "Getting Doug with High" has been a fairly stripped-down affair.
The commercials, which help cover the modest production budget, are mainly for pot-smoking paraphernalia, like a ketchup-bottle-shaped device called the Buddy Power Hitter. The show's set — nicknamed "the spacement" — consists of a simple celestial backdrop, a small table piled with pipes and bongs (mostly Benson's own) and a couple of chairs. Benson owns a stake in the rights to the show but, otherwise, does it for almost nothing.
"We splurge at Trader Joe's for the craft-service table," Kellison said, "but that's about the extent of our luxuries."
Whenever possible, in observance of long-held stoner tradition, Benson likes to start the show promptly at 4:20 p.m. Cabs are offered so that no one needs to drive while high, and the aforementioned medic is on hand, primarily to offer peace of mind to any nervous guests.
"He has throat lozenges," producer Brent Butler said dryly. "He has forestalled a number of very serious, almost show-stopping coughing fits."
"Getting Doug with High" has amassed more than almost 300,000 subscribers on YouTube (the audience is predominantly male). Episodes frequently get 500,000 or more views, and a handful have received more than a million — numbers that would be considered respectable on some basic-cable late-night shows.
Booking guests is still a challenge. Some people turn the show down because they're forbidden by network-TV contracts from using drugs in public.Some don't want their kids or other family members to see them getting high.
Some potential guests are simply worried they'll become paranoid. Appearing on the show in September, Jack Black, who has laid off pot in recent years since having kids, warned Benson he might leave early if he started to spiral into "a bad trip."
Less than 15 minutes after taking his first hit off a vapor pen, obviously struggling with mounting anxiety, Black said his pre-arranged safe word ("cantaloupe") — but then managed to hang on, if in an almost catatonic state, for the rest of the show. That episode has been watched roughly a million times.
"I felt sorry for Jack," Benson said. "He's kind of a stoner icon, so I thought viewers might be pissed that he's such a lightweight these days. But there has been little backlash, so now I say, 'Bring on more lightweights!'" (The show's commenters often pass strict judgment on whether Benson's guests are getting high enough.)
As marijuana laws continue to ease and use in the open becomes increasingly normalized, Benson and the show's producers believe lining up celebrity guests will gradually get easier. (Snoop Dogg, Willie Nelson and Seth Rogen are three of the most requested.)
Kellison thinks the show could even end up on TV at some point: "If you look at something like [Comedy Central's series] 'Drunk History,' where people are getting drunk and vomiting on camera – I mean, why not?"
Benson himself, perhaps not surprisingly, has a laid-back attitude about the show's future.
"Any former or current president of the United States would be great," he said of his dream guests. "Other than that, I'm just happy that anyone is willing to do it."
He does have one more serious wish, though.
"I hope that a person who is anti-weed stumbles onto the show from time to time and maybe changes their mind," he said. "It's a silly show, so I doubt it happens often. We might be preaching to the converted, but at least we're out there — and getting away with it."
Twitter: @joshrottenberg
Sign up for Essential California for news, features and recommendations from the L.A. Times and beyond in your inbox six days a week.
You may occasionally receive promotional content from the Los Angeles Times.