Great Read: A tiny Eiffel Tower is a reminder of barbershop owner's daughter, killed in Paris attacks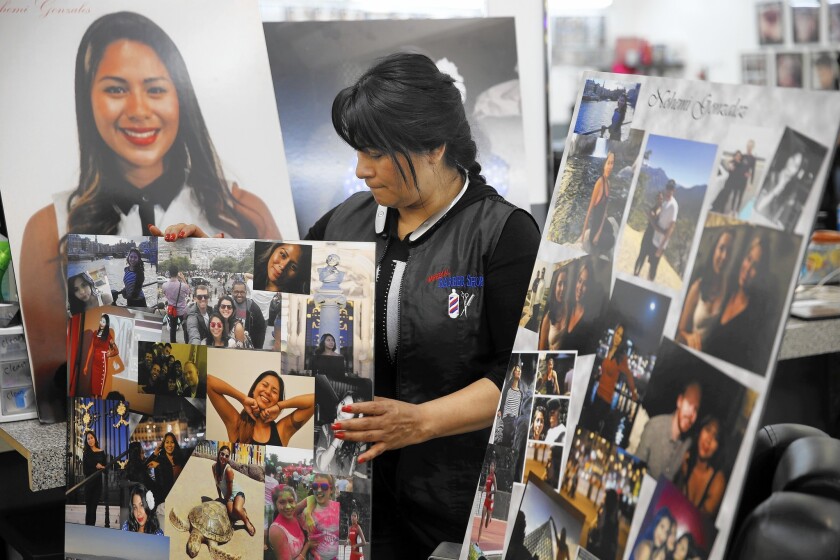 There was a salad, small sandwiches and peanuts.
Her daughter's send-off to Paris was a neat, organized and quiet affair that ended before the night grew old.
To Beatriz Gonzalez, it seemed like a formal baptism into a brave new world that many immigrants who came to America poor could only dream their children could penetrate. Nohemi wore a beach dress, her face beaming, her feet bare.
Because Beatriz lived and saw through her daughter's eyes, she felt, in a way, she too was traveling to the City of Light.
She hugged Nohemi a final time and told her she was happy she was going to Paris.
Nohemi was staying with her boyfriend Tim Mraz's family before her trip, and she remembered to leave him a Ziploc bag to give to her mother. The 23-year-old had slipped in a note with the address of her apartment in Paris — and a small gold Eiffel Tower.
::
Nohemi had been at a Paris bistro that Friday night in November when terrorists opened fire. She was one of 130 people — the only American — killed in the bombing and shooting rampage.
From the Norwalk barbershop where she worked seven days a week, Beatriz let her eyes drift to the TV as midday turned to night, occasionally seeing the explosions and rising death toll. Paris was a large city, she reasoned, and Nohemi had probably heard about the attacks and gone to a safe place.
She had just finished a haircut about 7:30 p.m. when her boyfriend, Jose Hernandez, pulled her aside.
"You're going to have to be strong," he said. "It's Mimi."
He took her to the back parking lot where Tim was waiting with his mother. Tim was crying. "Mimi didn't make it," he said.
"Mi niña, no. Mi niña. It's not true," she said, crumpling to the ground and weeping. "It's a mistake."
A few grim words could not make her child flicker away. Almost trance-like, she pulled herself up and walked back inside her barbershop. She dyed a customer's hair in silence.
When the shock wore off, Beatriz suddenly felt "huérfana de hija": Orphaned of daughter. In her heart, she knew she had lost the biggest love of her life. She wept then, and again hours later, when the FBI confirmed that Nohemi was dead.
She had company in her grief. On Facebook and Twitter, strangers mourned Nohemi Gonzalez's death. The heartache seemed particularly strong for children of immigrants, and parents, who saw in her a sister, a daughter. To them, Nohemi transcended the bonds of growing up poor and the tyranny of lowered expectations.
"This really hits home, because this is the story of many of us. Many [of] us see ourselves in her," one woman wrote on Facebook. "Her story is an amazing one."
"So many of us can relate: A woman. First-generation Mexican American. Educated. Smart. Independent. Driven. Ambitious. Motivated. Strong. Innovative. Goal-oriented. Immigrant Parents. Work ethic. The world needs more people like this. So sad this young woman's light was dimmed. RIP Nohemi Gonzalez," another woman posted.
On the evening of Nov. 13, 2015, a series of coordinated terrorist attacks occurred in Paris. The attackers killed 130 people. Among those killed was Nohemi Gonzalez, a 23-year-old student at Cal State Long Beach. Her mother and stepfather, Beatriz
In another terrorist attack less than a month after the Paris massacre, Syed Rizwan Farook and his wife, Tashfeen Malik, stormed the Inland Regional Center in San Bernardino, fatally shooting 14 people and wounding 22 others.
The mass killing happened just two days before Nohemi's memorial service.
Then, last month, terrorists set off explosions at the airport and subway in Brussels, killing 32 people. The attackers' links to the Paris massacre brought news crews back to the barbershop.
As a new group of families began to cope with their losses, Beatriz continued to struggle with her own. She took ZzzQuil at night to sleep and she attended counseling. Every day, she worked.
"Part of her is not there," Jose said. "She works now just to keep herself occupied.... Before she wanted to work for Mimi, so she could feel proud."
When customers ask, Beatriz tells them only that it hurts that Nohemi isn't here anymore. What else is there to say? Besides, people don't come to see a mother cry, she said.
::
While Beatriz pushed her sons to take the GED test, Nohemi finished high school with honors. She studied industrial design at Cal State Long Beach. The only one of Beatriz's three children who attended a university, she would have graduated in May.
When Nohemi applied for an international exchange program at the Strate School of Design in Paris, Beatriz was sure she would get it. Mother and daughter knew what it meant to work hard and succeed.
Nohemi was well acquainted with her mother's story:
How when Beatriz arrived from Mexico City in 1989, she did not drive or speak English. Over time, she learned both.
How Beatriz has worked almost every day since — first as a babysitter, then a cashier at a Chinese restaurant and a stylist at different salons. She eventually bought a barbershop in Norwalk, then another one last year about a mile away in a strip mall.
She would scrape up enough money to take her children to theme parks. Sometimes, a trip to the neighborhood park was all she could afford.
As her daughter grew older, Beatriz came to realize that Nohemi wanted a better life for herself.
"I don't want to live like I've seen you working," Nohemi told her mother when she was 19. "I want a real life."
She wanted to travel, maybe one day even own a vacation home. Higher education, she concluded, would be the key to her dreams.
Despite her youth, Nohemi was mature and sophisticated. Beatriz knew her daughter would care for the family if she no longer could. Mimi would decide what to do with the two barbershops in Norwalk, the house in El Monte.
"What is going to happen to everything that I got to build?" Beatriz wonders now. "The house, the barbershops.... Who's going to take the responsibility when I'm not here anymore?"
::
Beatriz Gonzalez arrives at her strip mall barbershop, squeezed between a massage parlor and a Coast Guard recruitment center, about 8 a.m. every day. She heads to her chair in the corner. When her workstation gets messy, she reminds herself Nohemi wouldn't like it.
She can hear her daughter's voice telling her to get things in order, to organize the boxes in the back of the shop.
"I have this feeling in my heart that she's still here," Beatriz said. "Almost everything I do, every moment, everything, I'm thinking about Mimi."
As the weeks go by, order gets restored. Shelves become neat. Salon chairs are added. Jose repaints some of the walls and installs new mirrors.
The wall Nohemi had painted gray — and decorated with plastic cutouts of scissors and a razor — has become her memorial. A short walk from Beatriz's salon chair, it is filled with reminders of her daughter.
There is a picture of Nohemi framed in the colors of the French flag. In another, she looks into the camera, a trace of a smile on her face, a white flower in her hair. There are also mementos — including a jersey with her daughter's name, given to Beatriz at a soccer tournament held in Nohemi's honor in Las Vegas.
As Beatriz goes about her work, her eyes never stray too far from the mirror where she taped the tiny gold Eiffel Tower that embodied her daughter's big dreams.
Twitter: @brittny_mejia
MORE GREAT READS
How an anonymous blogger stands out on California water policy
On a spiritual prowl for the elusive, endangered snow leopard
Not bound by history, L.A.'s Caravan Book Store continues to turn pages
---
The perils of parenting through a pandemic
What's going on with school? What do kids need? Get 8 to 3, a newsletter dedicated to the questions that keep California families up at night.
You may occasionally receive promotional content from the Los Angeles Times.