Great Read: In Watts, a Girl Scout uniform levels playing field for young girls
Edith Moreno, right, works on an arts and crafts project during a Girl Scout meeting at Grape Street Elementary School in Watts.
(Christina House / For The Times)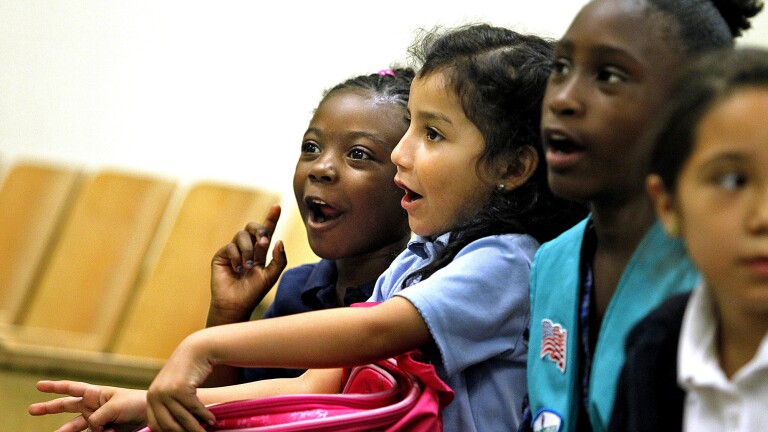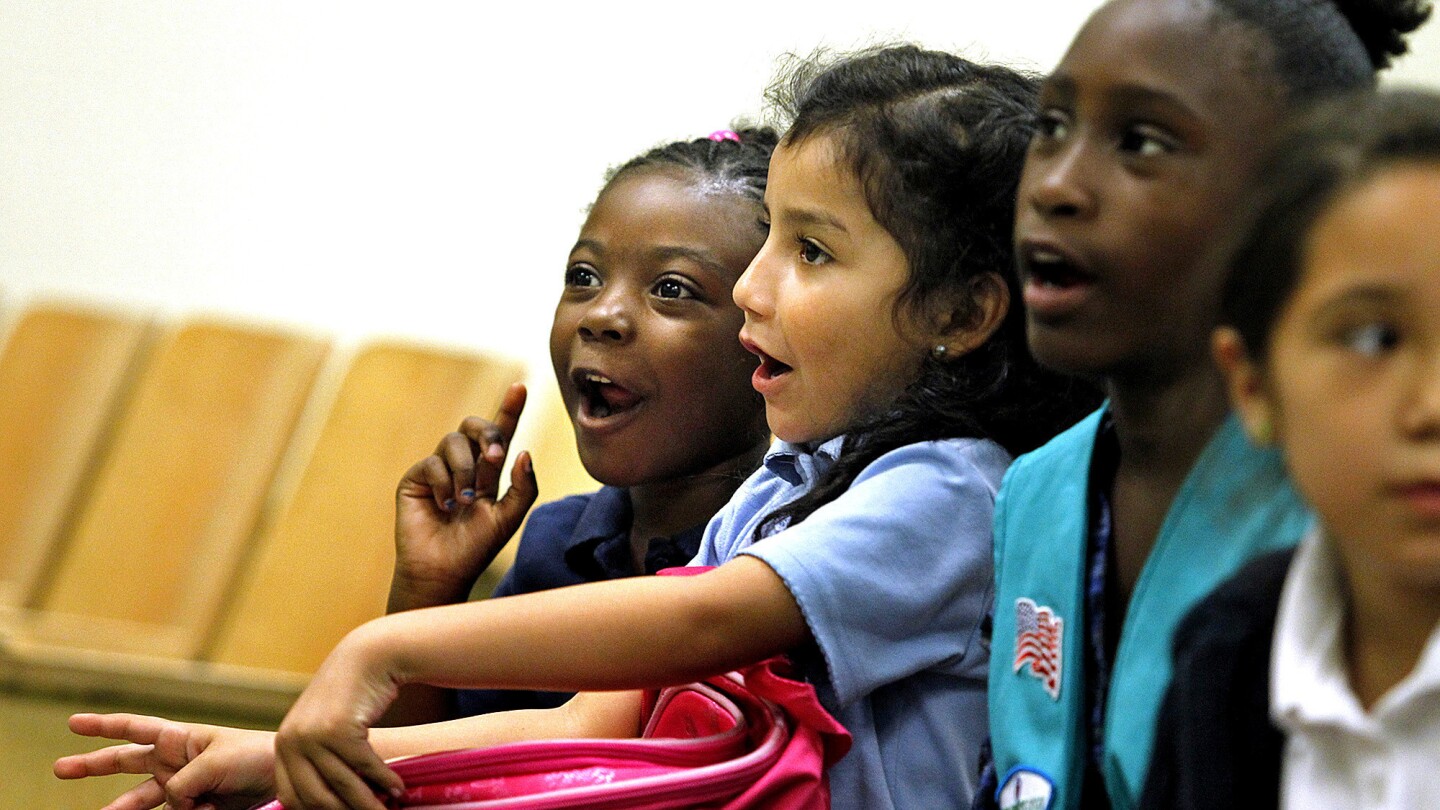 Chrystal Singleton, Edith Moreno, Mahogani Joseph and Ashley Osegueda, members of Girl Scout troop 19785, attend a meeting in Watts.
(Christina House / For The Times)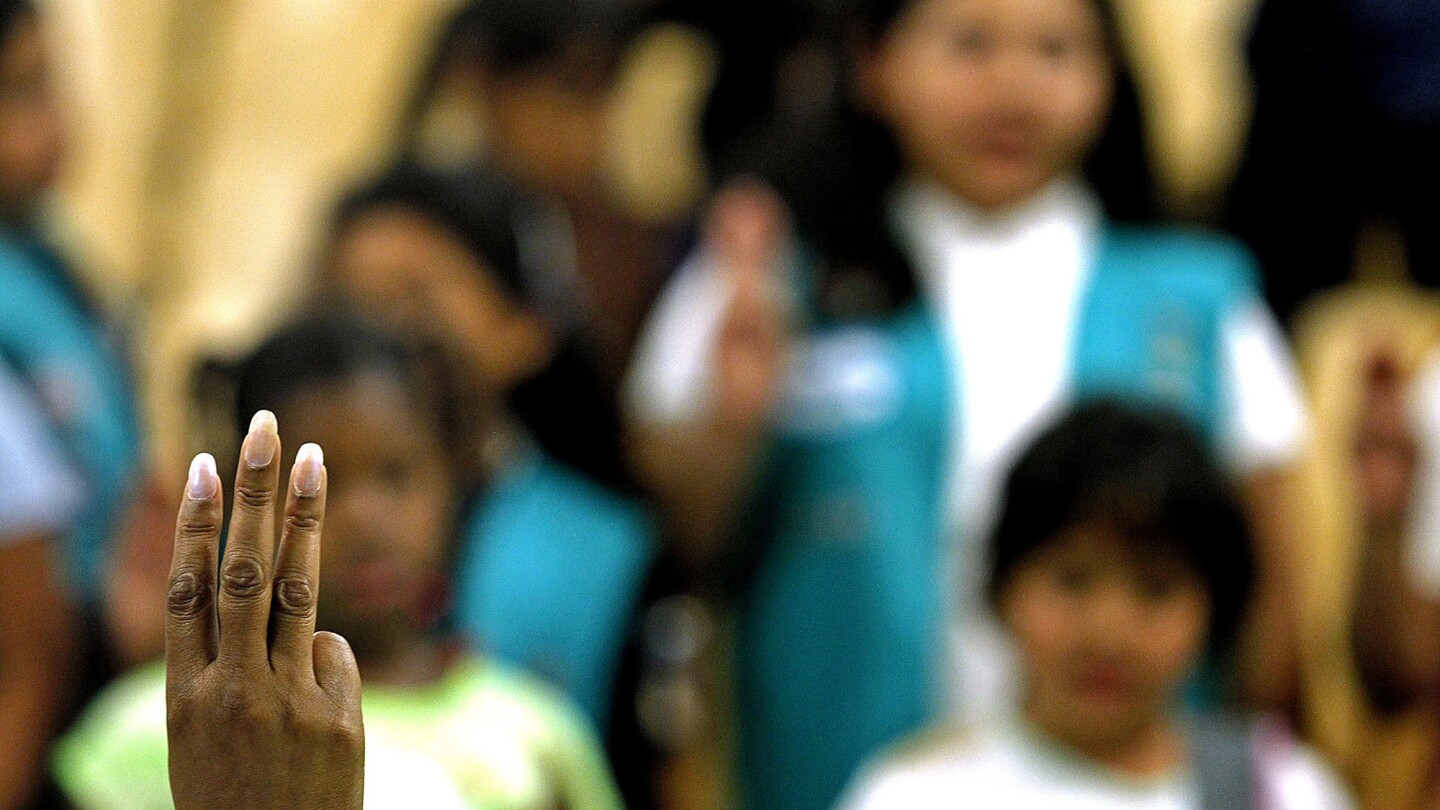 Troop leader Judith Jackson leads Scouts in reciting the Girl Scout promise and laws.
(Christina House / For The Times)
LAPD officers James Kelly, left, and Jesse Ruiz work with the troop. The troop is a partnership between the L.A. housing authority, Grape Street Elementary and the LAPD.
(Christina House / For The Times)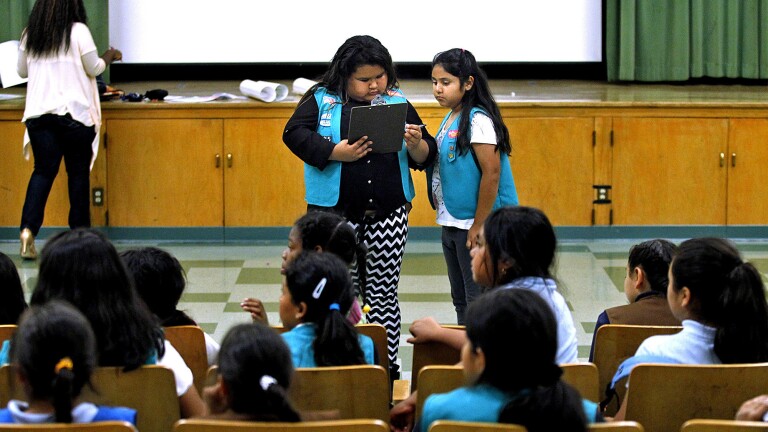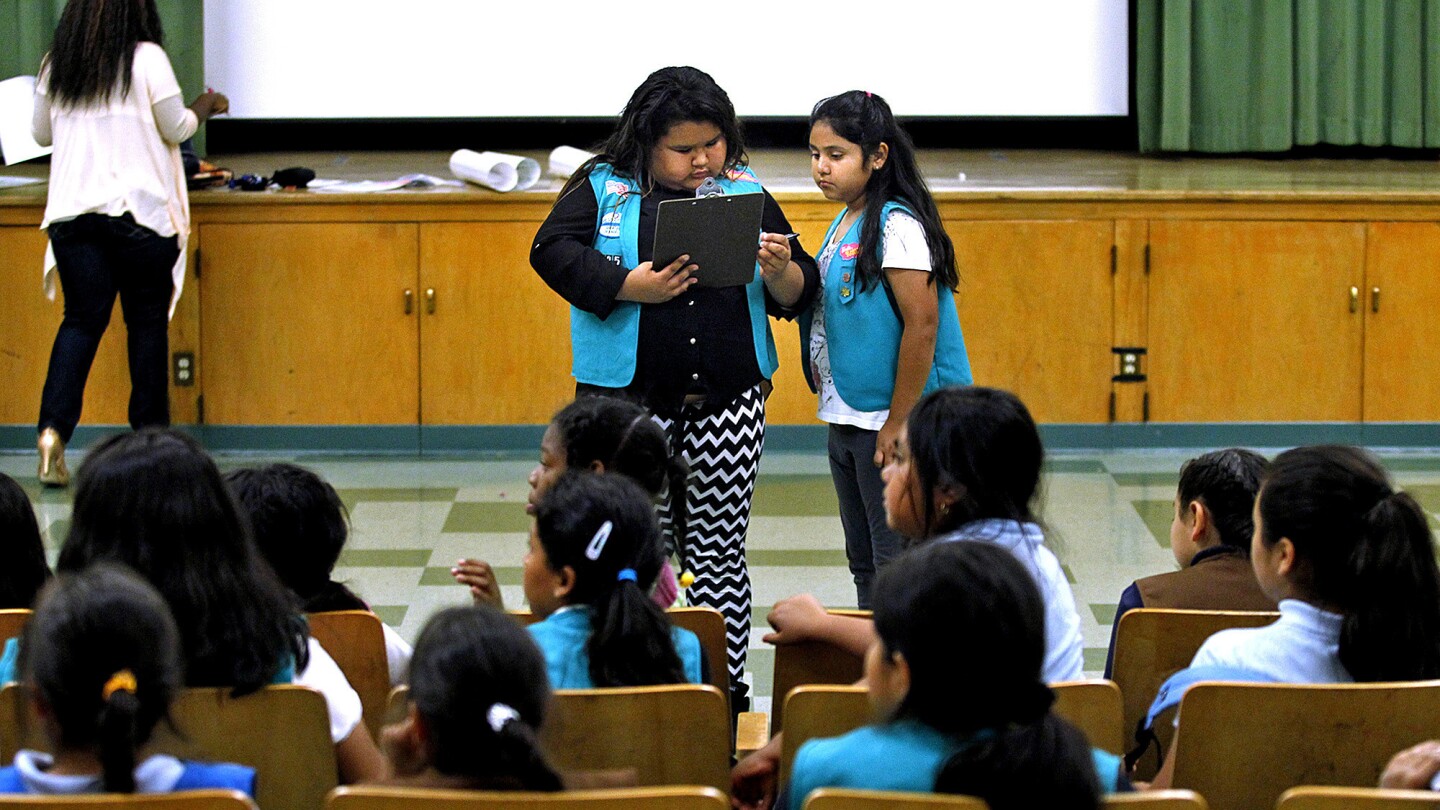 Fifth-graders Libby Garcia, left, and Zenyi Corrales call roll at the start of the Girl Scout troop meeting.
(Christina House / For The Times)
The troop instills pride in girls and offers one of the few activities in the neighborhood geared toward women.
(Christina House / For The Times)
LAPD officer Jesse Ruiz, a driving force behind the troop, looks in on a class at Grape Street Elementary. Scouting "just allows them to be kids, just an everyday kid," he says.
(Christina House / For The Times)
LAPD Officer Jesse Ruiz, right, chats with Grape Street Elementary School Principal Jera Turner. Turner wants students to have the same kind of empowering experiences in scouting as she had as a child.
(Christina House / For The Times)
Fourth-grader Nakila Hubbard, 11, center, fourth-grader Ladiamond Frison, 9, left, and fifth-grader N'dya Wilson play a game on the school playground after class.
(Christina House / For The Times)
Amy Piox, 6, left, Edith Moreno, 5, and Chrystal Singleton, 5, hold hands in the playground after a Girl Scout meeting.
(Christina House / For The Times)
Outside the police station in South Los Angeles, a group of girls assembled, colorful boxes in tow.
"Do you want to buy some cookies?" "Delicious cookies!" They called out, crowding passers-by and, in their excitement, forgetting the pitches their leaders helped them refine. Just inside the lobby, a kindergartner stood beaming near another stack of treats. That sweet face had no trouble making a sale.
Rather than catch grocery-laden shoppers on their way to their cars, the Girl Scouts of Troop 19785 in Watts had taken a tour of the police station, then sold their Thin Mints and Samoas to the officers and people passing through.
In a community that has one of the highest rates of violent crime in L.A. County, it was a chance to see law enforcement for a reason other than reporting a crime or visiting a family member — and they sold a ton of cookies, Officer Jesse Ruiz said.
The girls from Grape Street Elementary School sell the same cookies and wear the same uniforms as other girls and young women across the nation, but this troop is special.
Troop 19785 was formed two years ago through a collaboration of the school, the Los Angeles Police Department and the city housing authority, which pays for uniforms and other expenses.
With many moms unsure of how to volunteer or juggling work and parenting, the school's teachers have taken on the role as troop leaders. They stay for hours after class to lead meetings and wake up early Saturdays to take the girls to decorate Rose Parade floats or attend to scouting events.
Officers play an active role too, stopping by to say hello during and after school, and helping plan activities and outings for the nearly 80 kindergarten to fifth-grade girls enrolled in the troop.
Grape Street Principal Jera Turner, who grew up in the community, remembers how her mother drove her 10 miles to the nearest Girl Scout meeting, then waited for her in the car until it ended. She wants her students to have the same opportunity to find their voice that she did.
"They grow up in poverty, but we don't want them to live in poverty," Turner said. "They've been taught to be seen but not heard. And I've been taught if you're not heard, then you're not seen."
::
Watts is about two square miles of some of the most densely populated streets in Los Angeles. The average income is about $28,300, low for the county, and about 36% of families are headed by a single parent, according to the American Community Survey. The neighborhood is home to four public housing developments, one of them the largest west of the Mississippi.
The community lacks resources for youth, but particularly for girls. Many of the programs that do exist unintentionally target young men — soccer and football, for instance — so Girl Scouts was the perfect fit, said LAPD Sgt. Emada Tingirides, coordinator for the Community Safety Partnership. The partnership, started in 2011 in conjunction with the housing authority, focuses on improving relationships with the residents of four housing projects.
"We are going to make leaders out of these young girls," she said.
Ruiz, a driving force behind the troop, said the experiences they have with Girl Scouts show them another path in life and give them a set of values that might otherwise get lost in their daily lives.
"There's always something else on their mind. My safety or what's going to happen after school, is there going to be an issue or a shooting, a fight," said Ruiz, who gets emotional when he talks about the girls and what the troop means to them. "It just allows them to be kids, just an everyday kid."
On a recent Wednesday, about two dozen girls shouted adjectives describing the cookies they were preparing to sell outside the LAPD's Southeast Station.
"Coconut, chocolatey," leaders suggested as they walked around the room, helping the chattering girls refine their sales pitches and complete a cookie flower craft — and joining a few who paused to stand up and sing Pharrell Williams' hit "Happy."
Ruiz and Officer Tiffany Norwood stopped by the library for a quick hello, bending over the low tables to help the girls with their projects. After a few minutes of chit-chat, they waved goodbye and moved on to their next meeting.
Upstairs, the older girls dreamed up ways to spend the proceeds from their cookie sales, then outlined the difference between their wants and needs in small groups: Money. Electricity. Clothes. A new life.
::
Many Grape Street students live in the Imperial Courts housing development, just across the road from kids who live outside the projects. That division, along with ethnic differences, can create tension, Turner, the principal, said.
"Our kids have been taught, 'If I live on this side of the street, I'm better than the kids who literally live 50 feet away from me on the other side of the street,'" she said.
Girl Scouts has helped bring together students who in the past weren't allowed to play with someone who didn't look like them or lived in a housing project.
They're all members of Troop 19785, Turner said.
"It's not just about selling cookies — it's about bringing people together," said Evelyn Romero, 9. Referring to another Scout, she said, "Like, if I didn't know Maria, I could work with her on a project and we might become friends."
One mother, Jameka Johnson, said she was shy when she was young but realized her voice mattered when she joined Camp Fire Girls. She wanted her daughter, Brooke, 7, to have that same experience and has watched her go from standing on the sidelines to speaking up to defend herself and others.
"It's a beautiful thing to see my child just blossom and just grow," said Johnson, whose daughter joined the troop when it began. "I just want to thank God that the program has come to Watts and was able to adapt to the young girls that's here."
::
It was Girl Scout Wednesday at Grape Street, and police activity and a lockdown in the neighborhood that day had effectively canceled recess for Monique Banks' fifth-grade class. By 2 p.m., students were itching to leave.
Tatorrie Cleveland, 10, and N'dya Wilson, 11, giggled together at a table with two classmates, quibbling over answers to a weather systems assignment and erasing errors on each other's papers.
Their teacher, already clad in her green trefoil shirt, would meet them again after school with the rest of Troop 19785.
An hour later, dozens of girls in green and brown vests stood in four lines on the blacktop spinning in slow circles, listening for Vice Principal Judith Jackson's next instruction for a game of "Simon Says."
"Stop," shouted Jackson, a troop co-leader.
A handful of girls froze, tricked, and were shepherded away, chatting and skipping over to the next activity. Tatorrie guided kindergartner Chrystal Singleton by the hand over to the cluster of girls, leaning over to chat and give her a hug.
Girl Scouts gives her something fun to do, Tatorrie said, and she enjoys spending time with the younger girls, who are the same age as her little brother.
For N'dya, the draw was the friends, the activities — and the chance to be in charge without boys around.
"Boys, they always wanna have it their way, and when it's just girls, we get to have more fun," she said.
::
Being a Girl Scout gives these young women a purpose, said Angela Kimble, a troop co-leader and an attendance counselor at the school.
And that purpose translates back into the classroom. "You're a Girl Scout: How are you supposed to act?" leaders ask in class and outside it.
Kids get angry because of what they have going on at home, Jackson said, and Girl Scouts reminds them to be kind and courteous.
When girls put that vest on, they're equal to any other girl in any other neighborhood, regardless of affluence, said Joel Lopez, residences services manager for the housing authority.
"When you grow up in that kind of poverty, you don't exist. Nobody even knows you're there," he said. "These girls, all of a sudden, they're somebody. They exist."
The troop has been such a hit with the community that the LAPD is working to bring several more to schools in Watts, Ruiz said, and officers support an additional troop in Boyle Heights.
"There's no disappointment in being a Girl Scout," Ruiz said. "Your success is my success."
Times data analyst Sandra Poindexter contributed to this report.
---
The stories shaping California
Get up to speed with our Essential California newsletter, sent six days a week.
You may occasionally receive promotional content from the Los Angeles Times.