The best potato salads around L.A.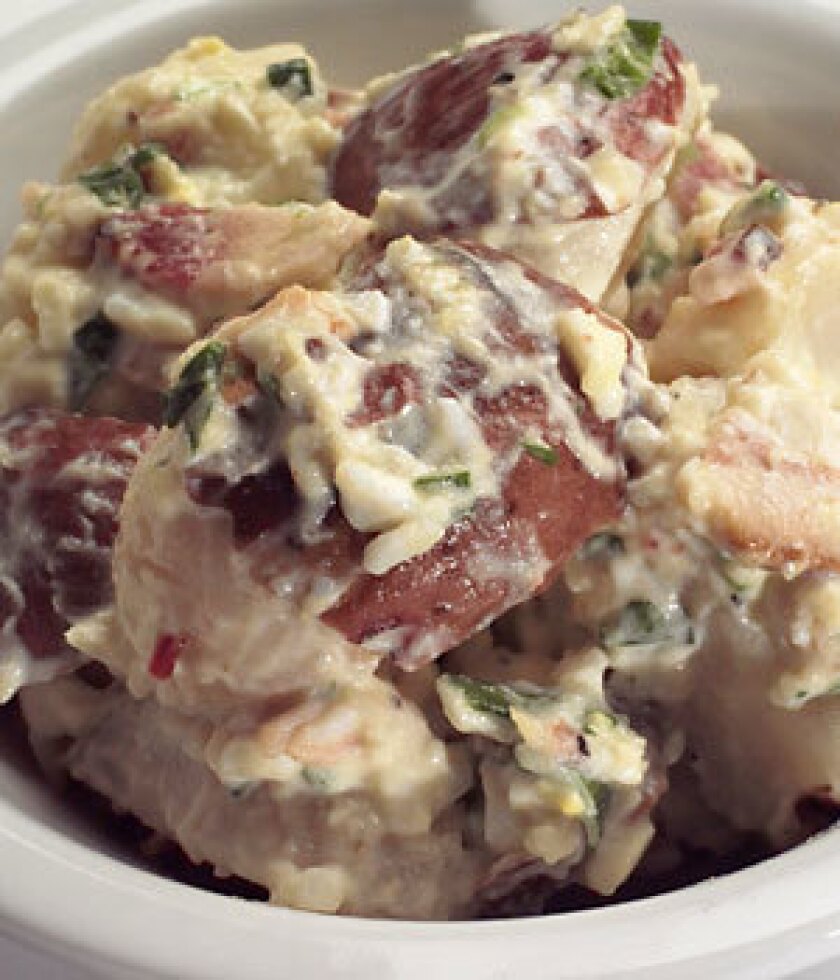 Special to The Times
IT FEELS like summer, the Weber's fired up, the meats are sizzling, the tea is iced -- who's brought the potato salad, creamy with mayo and dense with chunks of potatoes? It's the takeout salad that makes the best contribution to backyard barbecues and patio parties, because what goes better with your perfectly grilled burgers or dogs or even rib-eye?
Still, the potato salad of your dreams isn't so easy to find in just any deli case or refrigerated section. It can be a disappointingly mushy affair. You'll need to hunt around a bit to find the more imaginative versions -- smoky or spiked with wasabi, made with roasted potatoes or vinaigrette. One we found boasts fresh, crisp vegetables; another is fragrant with celery seed and fennel pollen. Try a Japanese American style potato salad or a vegan combination.
We've selected our favorites, just in time for Father's Day, July 4 and summer fun days ahead.
That's amore: Our favorite, this house-made Italian-style potato salad is spiked with celery seed and heady, wonderful fennel pollen, which makes this a refined dish. The bright acidity of the vinaigrette is a nice counterpoint to the licorice-herbal undertones.
Porta Via, $5.95 per pound. 1 W. California Blvd., Pasadena, (626) 793-9000. Open 9 a.m. to 7 p.m. Monday to Friday, 9 a.m. to 6 p.m. Saturday, 11 a.m. to 4 p.m. Sunday.
A single scoop, please: Japanese mayonnaise (made with rice vinegar) and mashed potatoes are what distinguishes this creamy, simultaneously sweet and tangy, Japanese-style potato salad dotted with sliced carrots and cucumber. It's typically served à la mode-style (as in with an ice cream scoop).
Nijiya Market, $2.98 per serving. 124 Japanese Village Plaza Mall, Los Angeles, (213) 680-3280. Open 9 a.m. to 9 p.m. daily.
For the vegans (and non- vegans alike): This one's packed with color and texture -- from tender potatoes and crisp vegetables: romaine lettuce, cucumbers and haricots verts. A sweet wasabi-inflected dressing (made with vegannaise) gives it a playful Asian twist.
M Café de Chaya, $6.50 per pint. 9343 Culver Blvd., Culver City, (310) 838-4300. Open 8 a.m. to 9 p.m. daily.
Perfect with ribs: It's as if a classic potato salad found its way into a smoker; the essence of smoky bacon infuses every forkful of red-skinned potatoes, mayo and green onion.
Gus's Barbecue, $12.95 per quart
808 Fair Oaks Ave., South Pasadena, (626) 799-3251. Open 11 a.m. to 10 p.m. Sunday through Thursday, until midnight Friday and Saturday.
Say cheese: A creamy, sharp dressing studded with pieces of blue cheese pulls together well-seasoned, roasted (yes, roasted!) potatoes and loads of crisp green beans in a one-of-a-kind potato salad.
Joan's on Third, $7.85 per half-pint, $14 per pint and $25.20 per quart. 8350 W. 3rd St., Los Angeles, (323) 655-2285. Deli hours 10 a.m. to 8 p.m. Monday through Saturday, until 6 p.m. Sunday.
---
For reporting and exclusive analysis from bureau chief John Myers, get our California Politics newsletter.
You may occasionally receive promotional content from the Los Angeles Times.