Thomas Keller returns to L.A. with a new Bouchon bistro, lean days far behind him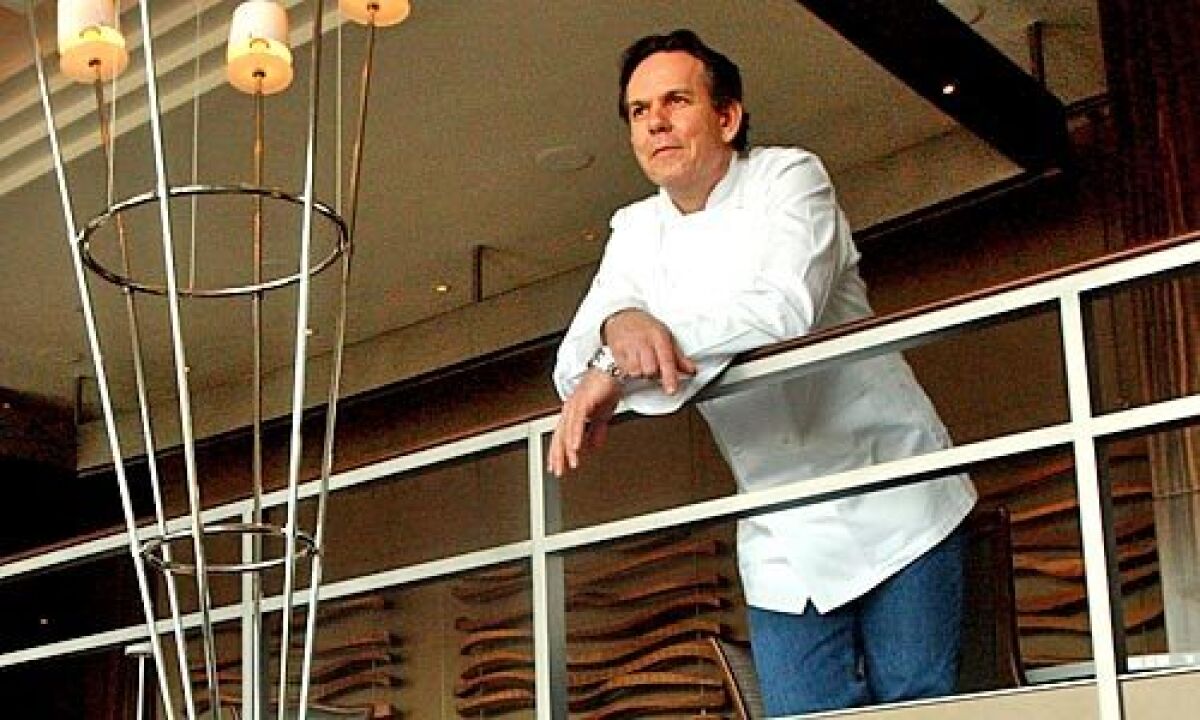 Los Angeles Times Staff Writer
FOR Thomas Keller, opening his new Bouchon bistro in Beverly Hills is more than just starting a new restaurant, it's a return to a place where he spent a couple of the toughest years of his life.
Now that he's on top of the world, with Michelin three-star restaurants on both coasts and a grand seven Michelin stars to his credit, it's easy to imagine that success for Keller must have been preordained.
Surely, the chef behind the French Laundry and Per Se -- the guy whose golden touch has extended to his own line of fine china, bestselling cookbooks and even movies -- must always have been destiny's darling.
But when Keller left Los Angeles for the Napa Valley in 1992, it would have been forgivable to have written off his career entirely. In fact, with two failed restaurant attempts behind him, he almost did himself.
"That was a time in my career that I didn't know if I was going to be able to continue as a chef," Keller says. "I was beginning to think that maybe this wasn't my career."
Back in 1991, after the folding of his first restaurant, Rakel in New York City, Keller came west to cook at the dining room at the Checkers Hotel in downtown Los Angeles. He got great reviews, but left the restaurant after only a year when the hotel was sold and, he says, the new owners didn't have the same commitment to fine dining.
To make ends meet, Keller even began a small project bottling olive oil, which he sold under the EVO label.
"For 19 months, things were pretty difficult," he says. "I was basically out of work and living day to day on credit cards and money I could make on olive oil and cooking private dinners. I remember standing at the end of the row at Gelson's and Bristol Farms and peddling olive oil to whoever walked by."
In fact, Keller was so broke that he paid part of his lawyer's fee in olive oil when drawing up the business plan for the French Laundry in Napa Valley. The remainder, he says, he gathered by withdrawing the maximum amount of cash from the ATM machine every day for a week.
"Every morning I'd wake up in a cold sweat thinking that somebody else was going to buy the French Laundry," he says.
Quest for quality
BUT NOBODY else did, and the restaurant has been a smashing success almost from the day it opened in 1994. Perhaps most remarkably, one of the keys to the restaurant's success was Keller's refusal from the outset to compromise his quest for quality, even when there would have been tremendous financial advantages to doing so.
Keller returned to New York triumphantly in 2004. Ignoring doubters and naysayers who warned that the French Laundry magic could not be repeated, he opened Per Se, earning rave reviews from the toughest critics right from the start.
And now he's coming back to Los Angeles. The city of Beverly Hills gave final approval July 8 to a deal that will bring one of Keller's casual dining Bouchon bistros to Beverly Hills by late 2009, if all goes according to schedule.
The restaurant complex will be in the city of Beverly Hills' Garden Building between Beverly and Canon drives, just north of Wilshire Boulevard and next to the new Montage hotel.
It will occupy more than 11,000 square feet in two stories, including a full-service Bouchon restaurant and an accompanying Bouchon Bakery. It will be designed by Adam Tihany and the chef will be Rory Herrmann, currently chef at Per Se's private dining room.
His take on bistro
THE BOUCHON restaurants -- there are two others, one in Yountville a few blocks from the French Laundry and another in Las Vegas at the Venetian Hotel, as well as a Bouchon Bakery downstairs from Per Se in New York -- offer Keller's interpretations of French bistro fare. (He also has the Yountville restaurant Ad Hoc, which offers traditional American dishes in a family dining setting.)
The menu at Bouchon includes such warhorses as roast chicken, steak frites and quiche; entrees average around $28.
The dishes may seem old school, but Keller modernizes them by bringing to them the same maniacal focus that he applies to famous French Laundry dishes such as "oysters and pearls" and risotto with white truffles. The Yountville Bouchon has even earned its own Michelin star.
"We are modern in the sense that we're refining and enhancing the flavors of classical dishes through sourcing the best products and using the best equipment and technique, even if it's just for roast chicken," Keller says.
"Our standards -- high-quality products, quality facilities and quality staff both in the kitchen and the dining room -- are the same no matter which of our restaurants you're talking about."
Keller is looking forward to coming back to Los Angeles, in a frame of mind that might allow him to have a little fun. "When I was there before, it was a very difficult time for me, so I wasn't able to enjoy it the way I would have liked," he says.
"But in another way, at the end of the day, it was my time in L.A. that got me to Yountville, so it was a very significant time for me there."
---
The stories shaping California
Get up to speed with our Essential California newsletter, sent six days a week.
You may occasionally receive promotional content from the Los Angeles Times.