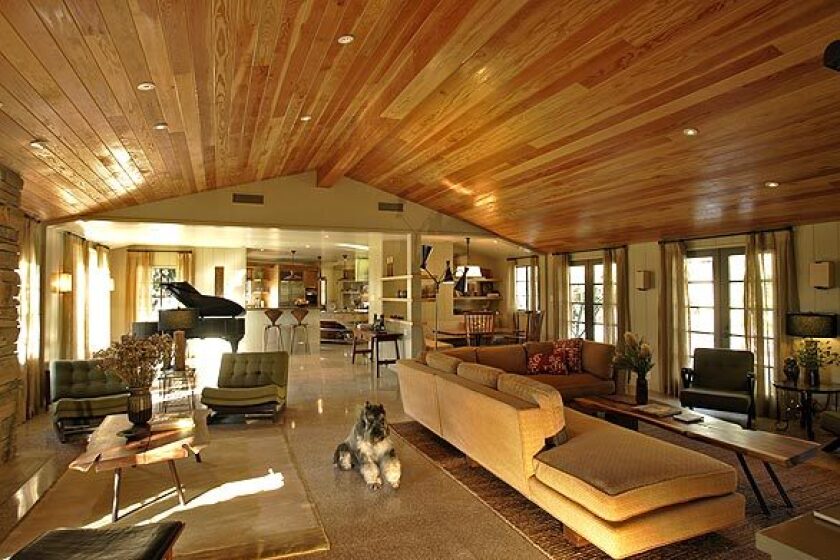 Standing 6 feet, 4 inches tall, wearing an orange linen shirt and blue jeans, animator Don Hahn strides through the foyer of his newly renovated La Cañada Flintridge home, juts out his square chin and proclaims, "I wanted a Mr. Incredible house."
As a producer of Disney blockbusters including "The Lion King," "The Hunchback of Notre Dame" and "Beauty and the Beast," for which he received an Oscar nomination, Hahn has worked on some of Hollywood's biggest animated hits.
Though "The Incredibles" wasn't one of his projects, with his larger-than-life presence, Hahn sort of resembles that movie's tall, barrel-chested superhero-turned-suburban insurance salesman.
And his house? Its clean lines, vintage styling and 1940s- and '50s-inspired furnishings make it a dead ringer for the modern residence of Mr. Incredible and his crime-fighting cartoon family. Perhaps more important, it's a ranch house remodeled with restraint, an example of how a home can look beautiful and be filled with fine things but still feel casual, comfortable and free of ostentation -- hallmarks of the classic California ranch.
Acquiring and remodeling the house represented a dramatic change in environment for Don and his wife, Denise, an animation artist. They left behind a two-story 1928 Spanish Colonial Revival in Glendale.
"We wanted to get on one story again," Denise says. But it was more than that, she adds. "I guess we're on track with baby boomers who want to live in the houses they grew up in."
Denise's family lived in an "Eichler-esque modern" in Orlando, Fla., and she recalls being enchanted with her Aunt Jackie's house "and its big open spaces and 1950s black terrazzo floors with purple flecks." Don spent his childhood in a ranch house in Bellflower.
When they discovered the aging La Cañada Flintridge home, the Hahns loved its proportions and location, but they knew the crowded floor plan and Ozzie-and-Harriet finishes needed updating. The architect's identity was unknown, although the sellers did pass along circa 1941 color home movies of the house's construction.
The Hahns sought help from Pasadena architect Georgie Kajer, who designed renovations for two of their prior homes.
"This house had fairly good bones, so it was mostly a case of editing," Kajer says of the 4,000-square-foot home. "They didn't really need more square footage, but they needed the space to work better."
The redesign required a careful eye to choose materials, finishes, color palette and lighting. Kajer took one look at Denise's idea notebook stuffed with glossy magazine clippings and suggested Jamie Bush, a West Hollywood interior designer with whom she had collaborated before. (When Denise discovered a Bush-designed home in her pile of tear sheets, it seemed predestined that he would join the design team.)
Refined yet upbeat, the finished project invokes a midcentury vibe, but it isn't a period piece.
"Don and Denise really wanted a modern space, but one that's also warm and inviting," Bush says. "We married the design of the architecture with the furnishings, so the overall effect reads as having one author."
Ken Rideout of the Pasadena-based contractor Newhaven Builders removed interior walls to create an open floor plan. Kajer likens it to a loft: "Spaces are defined by how the furniture is placed. We opened up the volumes and allowed spaces to flow from one to another."
The fluidity is conveyed via a cream- and amber-toned terrazzo floor that begins in the kitchen and living room and continues into the master suite, an uninterrupted flow that runs all the way into the shower stall. The designers persuaded a local terrazzo contractor to take on the residential project, considerably smaller than his company's typical airport- and shopping mall-scaled jobs. A thin bronze grid divides the floor's large, rectilinear sections; its composition includes broken beer glass and bits of mother-of-pearl, making it beautiful yet durable.
"We live on it. The dogs live on it," Don says. "You can even roller-skate on it."
A "cottage cheese" dropped ceiling was peeled away, revealing a vaulted space more than 12 feet high, with a beam running along its ridge.
"We decided to work from the roof line down, creating a volume more in proportion to the enlarged room," Kajer says.
The raised ceiling, now finished with tongue-and-groove Douglas fir planks and beams, is a warm contrast to the cool terrazzo. A palette of greens, golds and reds unifies the main spaces in the house.
"All of the rooms are variations on a theme, yet they have the underlying foundation of the terrazzo floors, wood ceilings, tile and stone," Bush says. "The colors are enhanced or subdued, depending on the location." (Only daughter Emilie's bedroom was off-limits; the artsy teenager chose a blue-and-orange scheme.)
At the kitchen's new half-wall and counter, guests can perch on bar stools to chat with Denise as she cooks.
"The kitchen is my nerve center," she says. "Now I have a little 'sweet spot' where I stand at the snack bar and see all the way through the house."
Instead of a separate dining room, an L-shaped upholstered banquette lies at one end of the living room, forming a cozy booth that seats eight. "After all, we love getting the nice booth in the restaurant," Denise says. "Now we get it every night."
Toward the other end of the house, a hallway leads to the bedrooms and an exercise room. Don steers guests to the first door to the right: his den.
With cocoa brown walls, a kilim-covered chair, a tribal area rug and a chenille sofa, the room is true to its 1940s origins. Once guests are comfortable, Don flips a hidden switch and stands back as three framed Raul Coronel ceramic collages rise slowly on nearly invisible cables, revealing a trio of wall speakers. Recessed blinds descend in front of the windows, and a screen drops from the ceiling.
"This is my James Bond room," Don says of his film-lover's haven. As a member of the Academy of Motion Picture Arts and Sciences, he uses the screening room to view Oscar nominees or rough cuts of his current projects, including "Earth," a documentary feature for the new Disneynature film division scheduled for release in theaters on Earth Day in April.
When the Hahns entertain large groups, their spacious living room feels intimate thanks to two self-contained furniture groupings. Bush mixed vintage and contemporary with a few custom pieces, and muted area rugs anchor the two vignettes. The seating areas are oriented toward outdoor views or the fireplace, whose brick façade has been re-clad with Idaho stone.
Similar sets of kiwi green and ebony tufted lounge chairs from Lawson-Fenning in L.A. punctuate both groupings, arranged around Bush's custom walnut slab coffee tables, modeled after vintage George Nakashima designs. A teak-framed, black leather Bwana chair by Danish designer Finn Juhl serves as a sculptural counterpoint to the orthogonal chenille sectional from Emmerson Troop in L.A.
The generous furnishings accommodate Don's height but are equally cozy for his wife and daughter, Bush says.
"When we shopped, it was all based on what was comfortable for Don, but things don't appear overscaled in this house because the spaces are quite open," he says.
The master bedroom was enlarged to 17 by 27 feet, and it now has a stone fireplace and a vaulted ceiling similar to the living room. The custom bed has a walnut slab headboard, also with echoes of Nakashima.
Denise likes how this wing turns away from the heart of the residence, toward the garden. "Like Cliff May's houses, ours has an 'embrace' that curves around, circling toward the backyard," she says.
Double doors in the master lead out to a garden of mostly California native plants, a gas fire pit, a barbecue area and a 1950s lanai, updated with full-length curtains and modern furnishings. There's even a kidney-shaped swimming pool, also added in the early '50s, ready for Mr. Incredible to dive in.
---