Breezy haven
Julia and Marc Whitman are framed in the gathered, white drapes of the porch, with its pillars sculpted into the shapes of tree trunks. The floor is randomly scattered with inset tile leaves.
(Stephen Osman / LAT)
Master bedroom
The Whitman house's master bedroom has a fireplace and a sitting area next to a window that looks out to the pool.
(Stephen Osman / LAT)
Rustic rambler
The Whitmans built their new house of Ojai stone and timber, adding structures around the tree trunk, including a spacious outdoor living room, right, with a fireplace.
(Stephen Osman / LAT)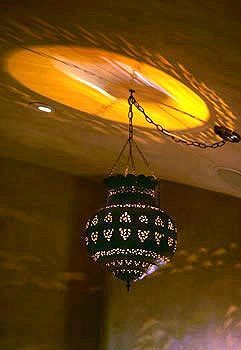 Lighted living
A handcrafted hanging lamp casts a patterned glow on the curving ceiling, which has a circular skylight. "We live out here," architect Marc Whitman says.
(Stephen Osman / LAT)
Soaking it all up
The old-fashioned bathroom captures a treehouse feeling with its arched ceiling of wood and curved window.
(Stephen Osman / LAT)