The Happiest Hour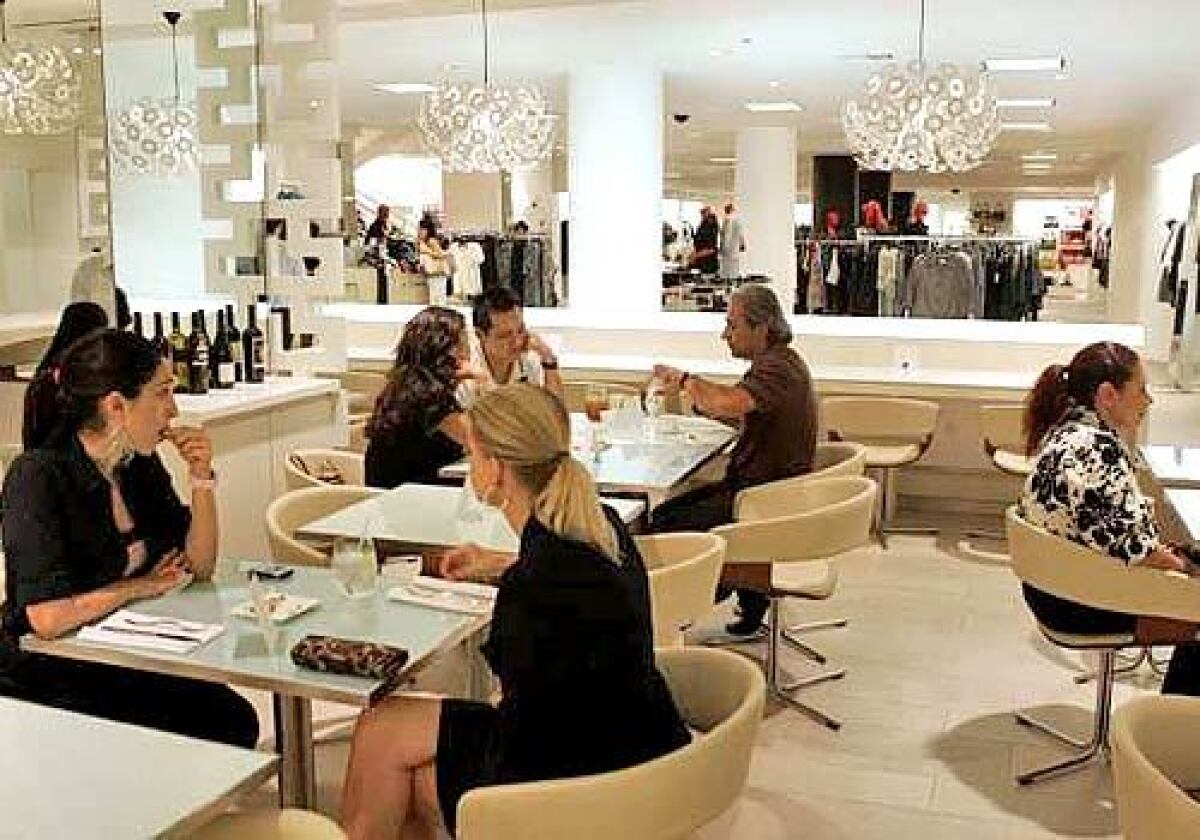 "WELCOME to happy hour," the maitre d' says, as I shift my gaze from the mannequins in sportswear to the shoppers at glossy tables.
Happy hour? Of all the conveniences that stores are offering -- online shopping, reward points, alterations -- here's the one we've needed for years. Years!
Here at Saks Fifth Avenue in Beverly Hills, food and fashion have dropped their hostilities. SnAKS Cafe, the retailer's new in-store restaurant and bar, opened in June, marking a revival of a grand old tradition, but with a twist. Say goodbye to the tearoom. Hello to the cocktail lounge. OK, they're just wine-based drinks, but the trend is unmistakable and too delicious to pass up.
Not only have smart retailers realized that patrons can't calculate percentage markdowns on an empty stomach, but also, niche restaurants have sprouted up with nearly the same alacrity as new retail districts.
Whether the restaurants are offering a cup of coffee more authentically Italian than a Dolce & Gabbana bustier or a farmers market salad as fresh as next season's new silhouette, these establishments cater to discerning customers. Most are casual, calm and spacious enough for the biggest shopping bags, and each offers patrons who want just a little taste of something, quickly, a reason to stop and take notice. All that we visited are in vibrant shopping areas and execute their menus with skill.
And then there is SnAKS with its happy hour, Five at Five, offered at the new fifth-floor restaurant, nicely done up in swimming-pool blues and midcentury accessories that are as stylish as the clothes displayed a few feet away. A special 15-item menu with five wine-based cocktails, imported beers or French wines, and five small plates is available from 5 to 7 p.m. every Thursday, and arguably it's the best deal in the entire store: Each item on the happy hour menu is $5.
One could sample the entire menu for a total of $75 and still not approach the price of a good cellulite cream. But don't. Instead, opt for the grilled shrimp, served tails-up in a pool of cilantro pesto sauce. Chase with the Fifth Avenue Mimosa -- tangerine juice swirled with French Champagne (they swear it's the real stuff, and vintage too). It may be the best deal in Beverly Hills, giving the Beverly Wilshire bar, the BLVD, with its $20 Big Pour -- a rather large Riedel glass nearly brimming with fine summer wine -- a run for its money.
Saks Fifth Avenue, 9600 Wilshire Blvd., Beverly Hills; (310) 887-5389.
--
'ROUND TOWN REFUELING
If Beverly Hills isn't your style, we've snacked and sipped our way around five other hot shopping districts within an hour's drive of downtown Los Angeles.
Caffe Luxxe
If you start shopping along Montana Avenue at, oh, say Kiehl's at 15th Street and meander down to Leona Edmiston and Jill Roberts at around 9th and 10th streets, you'll need a pick-me-up, or at least a place to watch the always-shifting scene. The street is ready to oblige with no fewer than seven coffee shops, including two Starbucks seven blocks apart.
One, however, is markedly different from the rest: Caffe Luxxe makes cappuccino as authentic as any Italian cafe. The pretty leaf design that the barista pours freehand into the traditionally sized 6-ounce porcelain cup isn't just for decoration. The deft pouring of the velvety, foamed whole milk marries the tight, tiny foam in the dark, red-brown crema to the rich, chocolaty espresso below, creating una bella tazza, a beautiful cup. Arrive before noon and not only will the Bread Bar pastries still be fresh, but so will the many celebrities who frequent the light, bright and arty place.
Caffe Luxxe, 925 Montana Ave., Santa Monica; (310) 394-2222.
Chado Tea Room
If you used your last ounce of energy snagging the latest designer collection at H&M in Old Town Pasadena, you may need a respite. A short walk but a world away from the crazy crowds along Colorado Boulevard, the Chado Tea Room offers shoppers a light and quick meal that will get them ready to reenter the fray, from Val Surf to Forever 21 and onward.
Chado may be familiar to those Old Town newcomers who recognize its sibling from West 3rd Street near the Beverly Center. Both shops attract an international array of men and women who come for tea and the all-day afternoon-tea menu. Look past the fussy teapots to the nearly 200 varieties of loose-leaf tea in tins: They're serious here. The short but satisfying menu offers an array of sandwiches served on golden-toasted potato bread. The favorite? The punjab is a chive-spiked egg salad made of hard-boiled eggs marinated in lapsang souchong smoked tea. Runner-up? The souchong features a chicken breast-mayonnaise mix layered with cranberry-lingonberry sauce. For $7, the combination plate serves two quarters of each sandwich, plus a nice heap of baby greens. As for tea, try something unexpected. You can't go wrong, because the experts here don't bring it to the table until it's been perfectly brewed.
Chado Tea Room, 79 N. Raymond, Pasadena; (626) 431-2832.
Cube
La Brea Avenue's shopping district stretches for nearly a dozen blocks that are quickly filling in with destination boutiques including Sugar, Stussy, American Rag and Iconology, and newcomers Lily Savitch, Publik Park, Studio R.C. and Presse. If you start at the southernmost end near West 3rd, bring a roll of quarters for the meters and end your day at Cube, a combination gourmet food store, cheese bar and restaurant. With indoor, outdoor or bar seating, it's perfect for dining solo or socially among a crowd that may include architects, interior designers and fashion retailers from the neighborhood.
The most innovative items on the menu feature seasonal produce, and the top among those is the $14 heirloom tomato and peach salad, served with half a ball of imported fresh bufala mozzarella. Chef Erin Eastland serves the popular salads on a white oval plate; the salad's alternating layers of thinly sliced red, yellow and green heirloom tomatoes and yellow peaches match Cube's sunset-tone interior. Topped with ribbons of fresh basil, a sprinkle of pink Himalania salt and drizzles of olive oil and sweet-tart aged balsamic vinegar, the dish is a gourmet update of the dieter's staple, cottage cheese and fruit. You don't have to stop shopping, either. Cube sells all but the tomatoes to make your own version, including the 6-year-old vinegar that tastes like a much older vintage.
Cube, 615 N. La Brea Ave., Los Angeles; (323) 939-1148.
Bastide
When Bastide opened in fall 2002, it became a sensation for its design, its all-French wine list and the reviews that named it the best restaurant in Southern California. And for nearly one glorious year, the serene, $3.5-million Melrose Place restaurant with the soothing courtyard served lunch. But in January 2006, Bastide closed, leaving many to wonder.
Today, a hotly anticipated reopening looms, including a new menu, chef and interior design. It comes none too soon for the neighborhood, which is rich in shopping, poor in upscale dining. The shady stretch is home to such high-fashion boutiques as Marni, Carolina Herrera, Diesel, Mulberry, Santa Maria Novella, three Marc Jacobs stores and, coming soon, Chloé, Balenciaga and Monique Lhuillier.
The new Bastide is sure to be a stunner. French decorator Andrée Putman returns as the interior designer. She's a fixture in international design circles, having already created Paris boutiques for Karl Lagerfeld Gallery and Thierry Mugler.
Chef Walter Manzke says the new shopping activity along the street may be reason enough to resume lunch service. But when will it open?
"When it's ready," the chef says. Only the Hermès wait list is greater torture.
Bastide, 8475 Melrose Place, West Hollywood; (323)651-5950.
Marché Moderne
One moment you're scanning the glittery windows of the St. John boutique at South Coast Plaza and the next, you're immersed in a contemporary French bistro, complete with fresh breezes coming from the garden patio. Tucked away on the remote third level of the mall, the 3-month-old Marché Moderne brings a high level of bistro food that is unusual not only for Costa Mesa but, quite possibly, for all of Southern California.
You can feel like an authentic Parisian, not a refugee from the O.C. when you get a quick salade or vin at the bistro, which emphasizes the food, not some clichéd idea about French décor or dining.
Chef-owner Florent Marneau has created a tempting grazing menu, stacked with light appetizers and 4-ounce "tastes" of 23 wines, each $4 to $10. The $9 Marché salade composée is fast becoming a light-lunch favorite. The signature salad -- a diced blend of smoky ham, buttery avocado, Petite Basque cheese, cucumber, artichoke hearts, asparagus, pearl tomatoes and, I had to ask, rare fresh chickpeas, dressed in a red wine vinaigrette -- is not only an appetizer, but it also accompanies several other dishes on the menu. Pair it with a New Zealand Sauvignon Blanc and order another appetizer, the $16 langoustines. Three creamy-succulent prawns straddle yellow and green haricots vert. Dip them all in the yogurt-and-egg-white-based chive emulsion. Voila!
Marché Moderne, 3333 Bristol St., No. 3003, Costa Mesa; (714) 434-7900.
valli.herman@latimes.com
The stories shaping California
Get up to speed with our Essential California newsletter, sent six days a week.
You may occasionally receive promotional content from the Los Angeles Times.